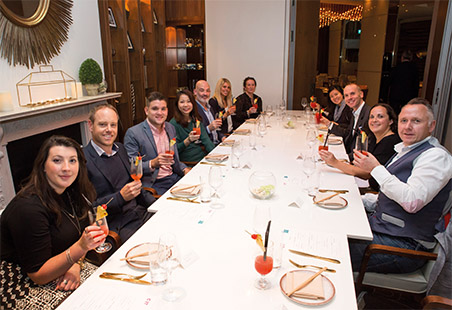 Long-haul conference and incentive travel is on the rise in the UK events market. That growth looks set to continue, particularly for incentive groups, as clients seek new and authentic experiences to reward and engage younger audiences, according to a group of senior UK event-industry professionals from agencies including Make Happen, CWT Meetings and Events, Principal Global Events, Capita Travel & Events, AOK Events, Corporate Rewards and Clogwork Orange.
In partnership with Singapore Tourism Board, C&IT held a roundtable event at London's Nirvana Kitchen to debate the opportunities and threats for long-haul destinations looking to attract UK C&I groups.
Guests enjoyed an Asian-fusion sharing menu and discussed which factors are affecting destination choice, what more tourist boards and convention bureaux can do to encourage travel further afield, and how to capture the imagination of millennials and Generation Z.
Make Happen managing director David Greaves said that for his clients, accessibility is key. "Can people get to a destination from key emerging markets? That is important, as is on-the-ground logistics and how easy it is to move around once you are in the destination. The third thing that is important is food. Emerging markets don't want Western food, they want a multicultural experience of a destination across all elements," he said, referring to one particular client whose destination choice was heavily influenced by food.
Andrew Edwards, event director at Capita Travel and Events, said the agency's clients are often looking for the next emerging or new destination to experience. "Budget is always a big factor in decision-making, as is the weather, and it has to be direct flights," he explained, adding that there had been increased interest in South America with new direct routes opening up.
None of the attendees were seeing an increase in budgets. Nonetheless, client expectations of what they can get out of their budget continues to grow. This is a potential threat – long-haul flights take up so much of the budget that it can mean there is little left to deliver the amazing experience groups expect when they reach their destination.
However, the recent fluctuation in exchange rates, in particular the decrease in the value of sterling following the UK's Brexit vote, has not all been negative. While it has meant that events in the rest of Europe and the US have become potentially more expensive for UK groups, it means that some long-haul destinations now price more favourably when compared with short-haul competitors.
Experience counts
Jo Kelly, head of events at Corporate Rewards, said that when the agency had compared long-haul versus short-haul destinations for several client pitches, in some cases the cost worked out the same. However, she added that the increase in long-haul travel was largely being driven by millennials, for whom experience is everything. "People want to brag about incentives when they get there – you need to sell destinations into the target audience as well as the clients," Kelly explained.
Edwards agreed that incentives are increasingly about creating "VIP experiences for social-media bragging rights". While the destination is important, planners around the table agreed that it's becoming more about the experience and memories that are created for delegates.
Sometimes it's the little things that create the most buzz. For example, Victoria Sloan, head of event operations at AOK Events, described a situation when they put a pink nose on a private jet for a client incentive, and it turned out to be the element of the trip that was most talked about.
So, in a competitive market with new destinations emerging all the time, how can more established destinations like Singapore stand out and be remembered?
Edwards pointed out that choices are, to a certain extent, "dictated by how a destination markets itself" and what is out there in the media. Again – it goes back to bragging rights when trying to attract those younger audiences – if they feel they are going to the hot destination of the moment, they are more likely to be engaged.
Cassander van Eerd, project director at Clogwork Orange, agreed that having a strong brand message out there in the market is important, adding that destinations need to tell stories and create authentic experiences that connect with audiences on an emotional level.
Tan Yen Nee, regional director, Europe, at Singapore Tourism Board, said the destination's new branding 'Passion Made Possible' – launched in the UK in October – aims to do exactly that.
It looks beyond just tourism to tell a fuller Singapore story, presenting the more passionate, unique and exciting side of a destination that has built a strong reputation as a global business hub, renowned for its quality infrastructure, safety and accessibility. Initiatives have so far included tying up with London Cocktail Week to showcase Singapore's vibrant cocktail scene, and partnering with Gingerline on events.
Van Eerd praised these kind of initiatives as great, and said the more visual content and relevance that destinations can provide agencies to use in pitches the better – it all helps with selling in that destination. "Find and tap into something that resonates and make it easy for us to pitch," he added.
For more information on Singapore for MICE groups, contact:
Email: mathew_web@stb.gov.sg
Web: www.visitsingapore.com/mice
Have you registered with us yet?
Register now to enjoy more articles
and free email bulletins.
Register now
Already registered?
Sign in