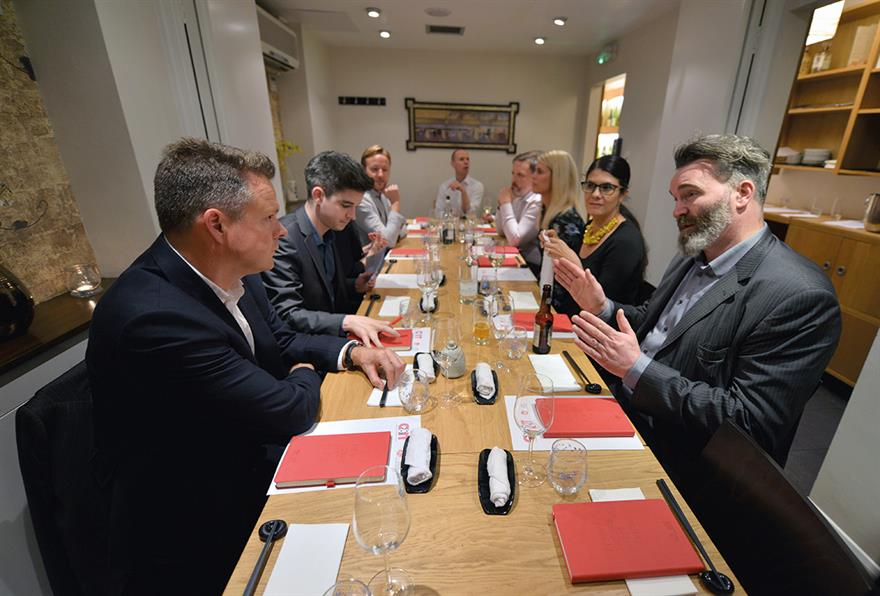 Risk, safety and security of delegates underpinned an important debate held at Japanese restaurant Chisou, in London's Mayfair, hosted by C&IT and the Japan National Tourism Organisation. Event agency execs enjoyed culinary treats including sushi, gyoza and kimchi and discussed how to keep people safe in our – at times – unpredictable world.
"We have a certain responsibility but we don't have the whole responsibility. We enter into decisions with clients, work with venues [and] work with emergency services, but ultimately we're mere mortals – we're event planners and we can only do that to the best of our abilities," said Tim Collett, head of live events UK at WRG.
Is anywhere safe?
Several destinations have been affected by terrorist attacks, natural disaster or political uncertainty. Countries previously viewed as safe, enjoyable and prospective event options are now being called into question. But is there such thing as a safe place, or do event planners face uncertainty everywhere?
Peter Clive, owner of agency Clive, said: "I do think places recover from these type of events quite quickly. We had a big event in Nice recently and they were still rebuilding the pavement due to the attack over there. It all ran very smoothly. The barrier is people's perceptions and the client's perceptions. But it depends on how risk-averse the client is." He added that "FOC (Foreign Office and Commonwealth) is important to us – we wouldn't propose anywhere that isn't FOC-approved."
Collett warned that it's difficult to know where will be safe. "You're looking at destinations up to four years in advance – you can't always predict what the issues will be," he said. But some things are more predictable than others. "Weather is one of the key factors when selecting destinations. It's predictable to a degree."
FreemanXP vice-president of business development Andrew Savill agreed that risk of natural disaster plays a growing role in destination choice. "In Florida last year, we had to move everyone from our temporary structures to a base underground. Increasingly, naturally elements are a challenge," he added.
Speak up on risk
Event planners are calling for more information on safety and risk – especially from convention bureaux.
Lidia Sakarapani, head of sales and marketing at Principal Global Events contended that there is a need for more clarity so that planners can measure risk and plan for it. "A lot of convention bureaux don't have a direct contact in case of an emergency. We want (destinations) to say they have someone dedicated to security, they're addressing concerns and communicating what they know," she added.
Japan National Tourism Organisation convention manager Margaret Mann said: "In Japan, staff are well equipped and have strong contingency plans in place to protect visitors. We need to make sure we're providing the right information on crisis management and communicate it to those interested or planning to visit."
AOK Events managing director James Maclay also called for all venues to tackle these issues. "We need to make sure venues have clearly outlined precautions," he said.
Educate, educate, educate
Educating the right people is a key priority, according to Sakarapani. "Identify who the strong leaders are in a stressful situation, who will be the people you trust to take control and put in place what they've been told to do," she advised. "Ultimately it involves educating, training and communicating with people properly."
Clients – who provide the investment – also need educating. "Tell them – here's the risk, here's how much it's going to cost to put these contingency plans in place, and here's what might happen if we don't," explained Sakarapani.
Corporate Rewards head of events Jo Kelly advised that "communication is massively key". She said: "We had an event in Athens and had a bomb scare – luckily we'd put a safety presentation together which the speakers and agency staff had been briefed on, so everyone knew what the plan was and how to act in that situation."
Whose responsibility is it?
It's also important to know where your expertise ends, according to AOK Events' Maclay. "The challenge is how much responsibility should we take on ourselves?" he said. "Within London, for example, we can create our own plan but ultimately it sits under the national plan or the plans of the police force or local government. We're concerned about our guests and our staff, but whatever plans we have, would that protect our people when these events happen?"
Corporate Cape's founding director Louise Garlick concluded: "We're there to advise how to put an event together but ultimately, we are only people. We all lean on each other."

Contact Japan National Tourism Organisation
Email: margaret@jnto.co.uk
Web: www.japanmeetings.org
Have you registered with us yet?
Register now to enjoy more articles
and free email bulletins.
Register now
Already registered?
Sign in