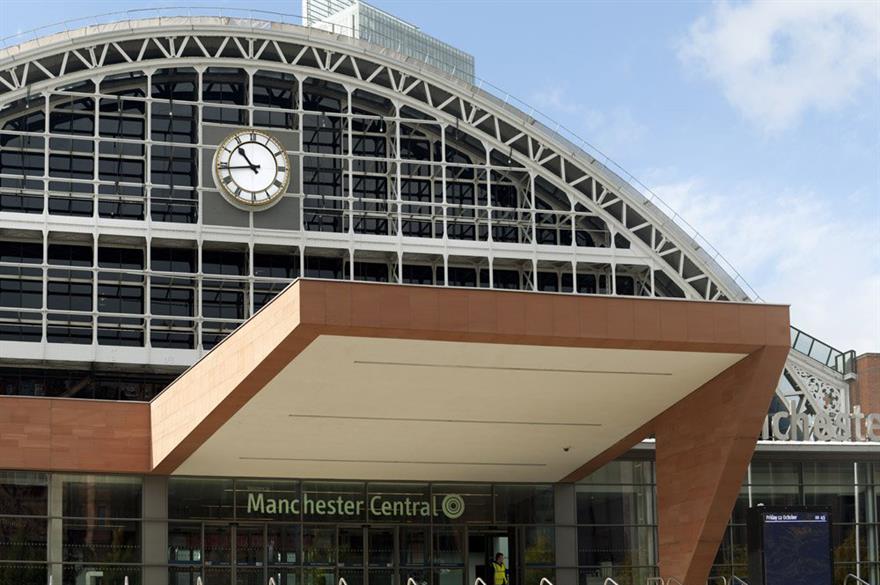 They are the big-hitters, the heavyweights and the main players in the conference game, providing venues for up-scaled events while still delivering on style and quality. And while there are many new venues offering something unique, something bespoke that is particular to their location, it's hard to ignore some of the biggest locations on the map. We've chosen six conference centres that are at the top of their game in terms of hosting large-scale (and sometimes smaller) events and conferences.
Manchester Central
Manchester Central is at the heart of one of Europe's most vibrant cities. With its station clock and iconic vaulted arches, the venue has been a feature of the city for more than 130 years. It sells itself as having the capacity to handle intimate corporate functions and large-scale conferences or exhibitions.
A purpose-built 804-seat Exchange Auditorium and a 1,800m exhibition, conference or 1,200-capacity dining space, dubbed Exchange Hall, are key for those booking in Manchester. There's also a 10,000m2 column-free and divisible Central Hall and a range of smaller conference and meeting rooms.
Venue details
Meeting rooms: 29
Largest room: 10,000m2
Built: 1880
Renovated: 2010
Distance from airport: 9 miles
ExCeL London Convention and Exhibition Centre
ExCeL London opened in November 2000 as one of Europe's largest regeneration projects. The venue was built alongside Royal Victoria Dock, which was opened by Prince Albert as a working dock in 1855 (the docks closed in 1981). Also home to London's International Convention Centre, from 2018 ExCeL will have an on-site Elizabeth Line station, providing direct access to Heathrow in 43 minutes. The London ICC includes a flexible auditorium, catering and exhibition space and a variety of meeting rooms with capacity for 10 boardroom to 1,000 theatre-style.
London City Airport is on its doorstep along with on-site stations linking to the London Underground for access to St Pancras International and London's other major airports.
Venue details
Meeting rooms: 85
Largest room: 100,000m2
Built: 2000
Renovated: 2010
Distance from airport: 1 mile
National Exhibition Centre (NEC)
The NEC is sited right in the middle of the UK, eight miles east of Birmingham city centre. Since the Queen officially opened the NEC in 1976, it has grown significantly in size from seven exhibition halls to the 20 on site today. There are 34 conference suites and a host of additional outdoor spaces. Its flexible spaces now play host to more than six million guests and 500 events every year. Some small, some big, some massive.
The venue has 65 spaces for events, conferences and meetings. It also has everything you could want in one place including cinema, hotels, shopping and restaurants.
Venue details
Meeting rooms: 65
Largest room: 25,000m2
Built: 1975 Renovated: 2009
Distance from airport: 2 miles
Bournemouth International Centre
Open since 6 September 1984, Bournemouth International Centre is a premier conference, events and entertainment venue, situated in the heart of Bournemouth. The venue has hosted the Communication Workers Union (CWU) Annual Conference yearly since 2009 and was selected in both 2015 and 2017 to host the Liberal Democrats' Autumn Conference.
The largest purpose-built conference venue on the south coast consists of four main auditoria: Windsor Hall, Purbeck Hall, Solent Hall and Tregonwell Hall. It has the capacity to host conferences, gala dinners and exhibitions from 250 to 4,000 delegates.
Venue details
Meeting rooms: 21
Largest room: 2,025m2
Built: 1984 Renovated: 2004
Distance from airport: 7 miles
The ICC Birmingham
The ICC in Birmingham offers elements key to delivering a successful conference, seminar, banquet or meeting, including in-house catering, production and graphics services. A rolling refurbishment programme that began in 2015 has resulted in a multimillion-pound facelift to five of the venue's halls, including its largest flat-floored space, the 3,000m2 Hall 3, its registration area, mall and six meeting rooms. In 2016 a further four halls and four executive rooms were updated, along with a Wi-Fi upgrade, and almost half a million pounds was spent on digitisation improvements throughout the venue. This programme is set to continue into next year.
There are 10 meeting rooms, 10 conference halls and a dedicated registration area and foyer spaces outside all halls, which boasts one of the UK's largest media walls.
Venue details
Meeting rooms: 22
Largest room: 3,050m2
Built: 1991
Renovated: 2016 (ongoing)
Distance from airport: 12 miles
The Convention Centre Dublin
With panoramic views of the city, the bay and surrounding mountains, the CCD spaces flood the venue with natural light. The CCD has hosted events ranging from five to 5,500 delegates. It boasts 4,500m2 of exhibition space, banqueting for up to 3,000 guests and six foyer spaces.
It offers 22 flexible halls, meeting rooms and boardrooms, including a 2,000-seat auditorium. The CCD also incorporates the latest technology, including Wi-Fi for up to 22,000 devices.
Venue details
Meeting rooms: 22
Largest room: 2,721m2
Built: 2010
Distance from airport: 7 miles.
Have you registered with us yet?
Register now to enjoy more articles
and free email bulletins.
Register now
Already registered?
Sign in