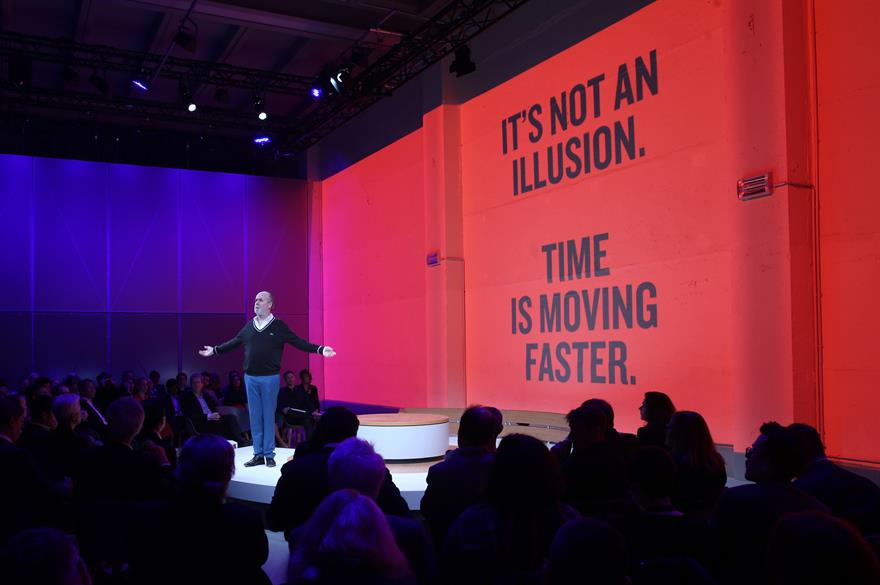 Objectives
Konica Minolta briefed Jack Morton to develop a global marketing communications campaign, 'Spotlight', to support the launch of its new product, Workplace Hub – a revolutionary IT services offering.
A key part of the campaign was Spotlight Live, a TED-style speaker event for Konica's employees, as well as an audience of global IT and technology news media and business influencers, designed to engage audiences with Konica Minolta's workplace of the future.
The aim of this event was to position Konica Minolta as a thought leader – engaging the audience with its vision of the workplace of the future and to demonstrate the brand's credentials within the IT solutions space by showcasing its newest innovation – the Workplace Hub.
Solution
The launch featured experts and influencers drawn from a wide variety of disciplines and industries. This included Douglas Coupland - most famous for coining the phrase 'Generation X', and Shoei Yamana – the global CEO of Konica Minolta Inc., who discussed the evolution of technology and its role in the workplace of the future.
The Spotlight Live event also included a multimedia showcase that highlighted Konica Minolta's rich history and heritage of innovation, as well as a reveal of the Workplace Hub. An interactive demonstration zone was also developed, allowing Konica Minolta to preview its new range of products and services.
Verdict
Knowing that the primary audience for Workplace Hub was concerned about the future capabilities of its existing IT infrastructure, Jack Morton created a multichannel, content-led marketing campaign which allowed Konica Minolta to focus on the future.
The Spotlight Live event was a key part of this campaign, bringing discussions around the future of the workplace to the forefront and providing a platform for Konica Minolta to unveil its latest and future technology products to the IT and tech industry and media.
In addition to this, a range of content was created around Konica Minolta's thought leadership and extensive research into the workplace of the future which included films, photography, infographics and whitepapers. These were sent to influencers, media and customers before, during and after the event and were housed on a dedicated online portal.
Stacey Sujeebun, director of marketing communications at Konica Minolta: "Spotlight live and the overarching comms campaign that Jack Morton created for Konica Minolta not only surpassed our expectations in terms of results but also marks a very proud and unprecedented moment in our history.
"It has gone on to inspire all events and campaign activities across Konica Minolta globally. The experience that was created even warranted our global CEO Yamana-san to comment on its success."
Factfile
What: Spotlight Live
Agency: Jack Morton
Attendees: 352
When: March 2017
Where: Umspannwerk Alexanderplatz, Berlin
If you're interested in registering for the C&IT Corporate Forum, you can find out more here.
Have you registered with us yet?
Register now to enjoy more articles
and free email bulletins.
Register now
Already registered?
Sign in