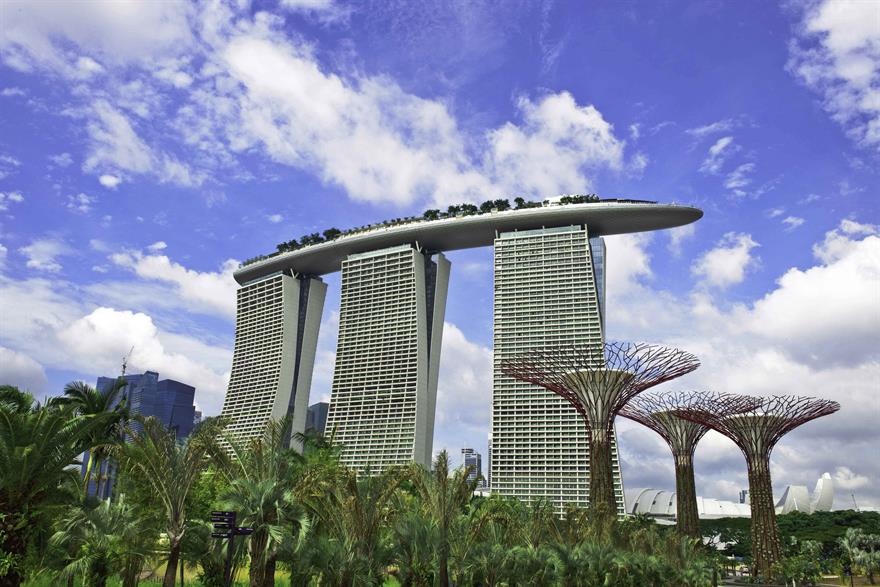 The vice president of sales at Singapore's iconic Marina Bay Sands integrated resort Mike Lee, says businesses are increasingly adding Asia to their rotation of events in an attempt to tap into the region's buoyant economy.
Lee says while firms are still holding events in Europe and North America, many are now including Singapore on their roster.
And he should know. An industry veteran, he arrived at Singapore's iconic Marina Bay Sands in 2010 with the aim of transforming its MICE, business and leisure tourism and revenue responsibility. With around 50 years of experience in the hotel business, including marketing and sales, he has consistently set the bar for standards in the industry. He spoke to C&IT recently at the MICE Business Centre in Marina Bay Sands.
Mike Lee
What proportion of events, meetings and conferences do you see in your business?
We do something like around 70-75 exhibitions a year. We are a little different to a lot of our competitors in that we are heavily focussed on the B2B. We don't really do much B2C. We do about 3,500 events a year, some of them are very, very large. Some are very influential, some are small. The mix varies from year to year.
What are the trends you're seeing in meetings, exhibitions and events?
Number one - because of our location - we are seeing more and more interest in international events adding Asia to their rotation. By that, I mean somebody that has been meeting in North America and in Europe they have added Asia in. They are still meeting in the other places, but they are adding in a new rotation.
What are the advantages of hosting an event in Singapore?
In terms of associations coming to the region, it allows them to spread their message wider, to hope for better attendance than they are used to having. In actuality, most of them do so by coming to Singapore. I am guessing that also happens if they go to some of the other destinations like Hong Kong. That gives them better reach for the thought process, whatever agenda they are pushing on a more commercial basis.
Are firms trying to tap into Asian markets like China?
Usually when they come to Asia, the first time it is an experiment. With us that's been quite good, and their experiment has generally been met with better attendance than the European or North American markets.
There is a lot going on in terms of the organisation of the activities on the social side, in that more and more of the event planners are asking for something unique: 'give me something different'. Or they want to do something that no-one else has ever done before.
The trend has been good for Singapore. It's kind of hard to call it an emerging destination, but I don't know how else to describe it. There's been a dramatic difference in the last five to eight years.
What are the challenges for Singapore and what could Europe learn from how they're being handled?
As opposed to many of the world's markets, Asia in general, and Singapore in particular, is in a little bit of a better shape because the market has grown. The infrastructure is improving all the time with the various Asian cities. In Singapore, we've added extra non-stop flights from west coast of America this year. Two from L.A. and one from San Francisco, with another one coming non stop from New York to Singapore.
So infrastructure is key?
We are seeing a lot of infrastructure in the region improve, alongside a lot of extremely favourable publicity. Singapore was recently announced as the world's number one passport. It's mainly bragging rights, but its also a boost for Singapore having the number one airport for six years in a row.
It's becoming far easier for a meetings planner to organise, and it's becoming far easier for the transients to set their schedules to be able to come here.
What we have seen in Singapore at this hotel is record attendance. Probably 80% of the programmes have a record attendance each year, so it's becoming easier. The interesting thing for me and this destination has been, as we've tried to pitch Marina Bay Sands, we've come to the realisation that we really can't pitch ourselves unless we are very positive that the audience, and in particular, buyers know what Singapore is.
What sort of support are you getting from the tourist board?
Singapore is working very hard at expanding its infrastructure. We have three terminals at the airport, but are opening terminal four within a month and terminal five is under construction now. There is a tremendous investment of funds by the destination to increase Singapore's attractiveness as a destination.
The Singapore Tourism Board is very aggressive and very professional in terms of how they go to the market. So if I can go to a new customer with support from STB it takes away the unfamiliarity with the destination off my plate.
For more breaking news and in-depth features, sign up to C&IT's daily News Tracker here.
Have you registered with us yet?
Register now to enjoy more articles
and free email bulletins.
Register now
Already registered?
Sign in