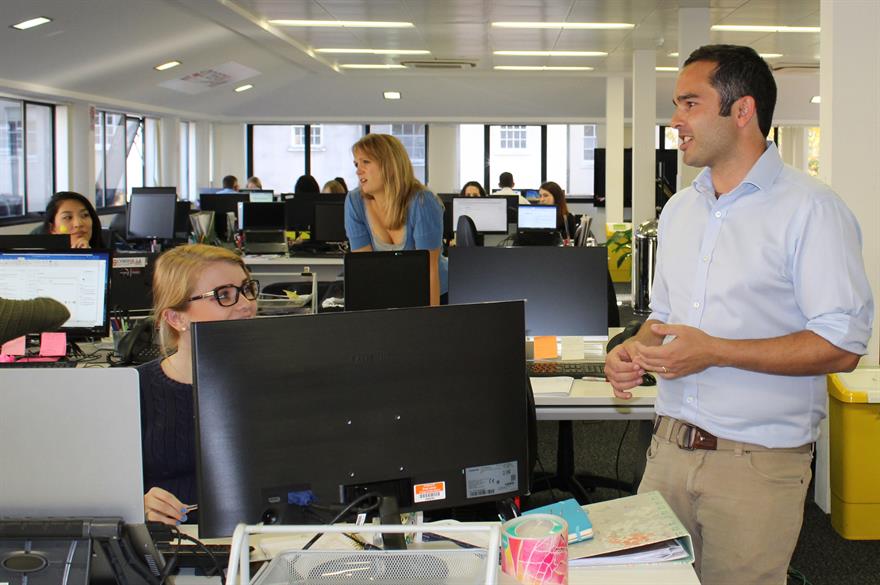 Bray Leino Events landed an "enormous" win as they secured a three-year contract to be the official events agency for the DIT.
MD of event delivery Luke Brown over saw the whole DIT project from tender to delivery – rapidly growing and preparing a team to deliver a hugely complex international event series.
For the past 10 years Luke, 34, has delivered thousands of live events, experiences and campaigns across the globe – working with government, businesses, academic organisations and institutions.
He says every day is different – delivering the UK National Day at the World Expo in Milan, briefing (hanging out with Tim Peake at the UK Space Conference) or overseeing the install of a plaque before Her Majesty the Queen arrived for a grand opening.
He remains committed to forging strong partnerships, delivering memorable experiences and achieving clients' objectives - always looking to break the mould and develop new and innovative solutions to "amaze audiences" and "wow stakeholders".
Luke now spends most of his days building teams, developing best practice, challenging briefs and horizon-scanning how digital, social and engagement techniques will influence and enable new levels of excellence in event delivery.
What have been the most challenging aspects of delivering on the contract?
Mobilising contract and assembling team of 40+ in 10 weeks. We had lots of people lined up, should we be successful. There was a lot of planning around (what we would do) if we were awarded a number of the lots.
We were in a good place, but having said that it meant rapid mobilisation within 10 weeks, to have everyone ready in place to deliver our first event. We went live from 1 October, from the award in mid July, to full systems go with boots on the ground. It was a quick turnaround.

What are the innovative things you've done to solve them?
A lot of emphasis on process and training of teams – we created an Event Delivery Blueprint for Standard Operating Procedures, best practice etc.
Has your recruitment drive revealed anything about the state of the events industry?
It's healthy. There are really good people out there.
What are the common reasons for leaving other agencies?
The value of keeping work varied and interesting for teams, making them valued with structured progression.
What's your advice to other events businesses, based on this experience?
Be proactive in resourcing early, slow down and take time to train and provide guidance before tackling briefs. Strategy doesn't only happen in the boardroom – the Alma Tavern beer garden is also pretty good.
What advice would you offer on building relationships with brands and clients?
We have lots of established relationships. And even though we weren't incumbent for this (DIT) contract, we had worked with the client on many occasions and we never dropped the ball. I think that was a big part of it. We were known for the quality of the work. From the smallest of events, to doing a UK pavilion at Milan Expo with the Prime Minister at a huge event with a massive stakeholder involvement. We always delivered and we always exceeded expectations. That was the key thing throughout.
It was not just worrying about the big stuff, it's making sure the small stuff goes just as well. That was so key to our reputation across the organisation. Really listening. I think that is so important. Not just coming in as the event expert saying, 'no you should be thinking about VR or AR' or any gimmick that's going. It's about understanding their objectives and seeing what they want to do. It starts with listening to clients about how they work and what they want to do.

Do you have any tips for pitching to win?
I personally don't believe in slick, glossy pitch teams going into a client. We bring the team that will be actually be delivering their project. I think that is so important to have people who can talk really passionately about the event, and understand the personalities they will be working with for the next three to five years. It's being open and honest. Think if you bring your delivery team to the table, treat it as a kick off meeting not a pitch. It's a people business at the end of the day, so that's how we approach it

How do you come up with idea so that an event delivers a wow factor?
We are fortunate that we have lots of really good creatives, planners, digital experts around us, but creativity can come from anywhere. It's not just the creatives coming up with the ideas. We really do work with the team from all sides. From the event administrators, to logistical planners and every person that touches the event - to be part of the brainstorms and discussions. And it's not just doing them in boardrooms. We have garden areas and the pub down the road.
It's about changing the environment and getting everyone involved in the conversation, with ideas that may or may not be ground breaking, but exploring different ideas with different sets of people. But then we've got the creative directors to draw their inspirations out as well. Like most agencies, we horizon scan, we look at new technology, the trends, what others are doing. We go to lots of galleries and museums, festivals and shows and see what's happening out there in terms of what we can convert into B2B experiences for our delegates.


Have you registered with us yet?
Register now to enjoy more articles
and free email bulletins.
Register now
Already registered?
Sign in