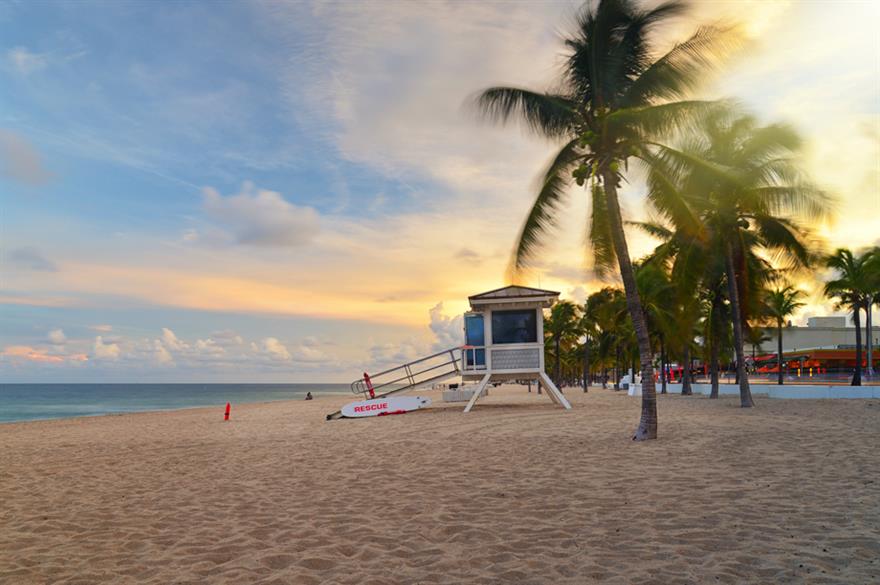 Miami has been on the meetings map for many years, with its numerous hotels and beachside bars. But when it comes to south Florida's event options- there's a new kid in town for UK visitors. Whether you drive up the coast from Miami or fly in directly from London Gatwick on BA's new service, Fort Lauderdale is rapidly establishing itself as one of the US's best spots for events and incentives. Soaked in sunshine year-round, there's no bad time to visit- and it provides a more relaxed alternative to some of the country's busier cities.
1.) Louie Bossi's
Catering to large groups, Louie Bossi's Ristorante Bar Pizzeria is one of the town's most popular dining venues. With an air-conditioned indoor section for those that struggle in the heat and spacious gardens for al-fresco dining, the restaurant serves a range of Italian classics. Famed for its anti-pasti sharing plates and pizzas, guests should make sure they try the truffle cheeses and salamis, ideal for pairing with a bottle of wine. Those looking for a lively vibe can go for the boozy brunch option, with a choice of unlimited cocktails to keep the party going all afternoon.
2.) Wildlife tours
Exploring nature is one of the most relaxing incentive activities a group can take part it- and there's no shortage of options near Fort Lauderdale. Just a short drive from the Everglades, visitors can take an airboat tour of the nearby swamplands, and learn about the habitat of the famous local alligators. There's numerous points of entry to the Everglades and trips can be arranged for a range of group sizes. For those who prefer their reptiles with smaller teeth, Fort Lauderdale is also home to Loggerhead, Leatherhead and Green turtles, who nest in the region between March and October. Groups interested in turtle education should head to the Anne Kolb Nature Center, where you can find a range of guided nature walks on offer. There's also the option to try geocaching, a treasure hunt using GPS devices.
3.) Fort Lauderdale Waterways
Sometimes known as 'the Venice' of America, Fort Lauderdale is home to the winding Intracoastal Waterway. Groups can take water taxis or hire their own private boats for a trip along the palm tree lined waters. You'll cruise past Millionaire's Row, where you'll spot some of the town's most spectacular houses- and possibly their wealthy inhabitants. The waterways are popular with tourists and locals alike, and will regularly be packed with party boats over the summer months. For adrenalin junkies, there's also the option to try parasailing and jet skiing, or just jump into the water to cool off for a swim. While there's plenty of boats available with onboard dining experiences, there's also a wide selection of bars and restaurants lining the ports.
4.) Cycle party
If you want to celebrate on your incentive tour, a cycle party tour of Fort Lauderdale would be a great choice. Combining teambuilding with fun, the 15-person quadracycles are a good way to get around town- and you'll even have your own onboard bar. As well as seeing the sights of the tropical town, groups can schedule stops at bars and restaurants to soak up the atmosphere (and have a bathroom break). Other alternative sightseeing options include a Segway tour of the town- with plenty of stops for food and picture sharing on Instagram.
5.) Bonnet House
Located on the beach front, the historic Bonnet House Museum and Gardens is a must see for visitors. Created by Chicago-born artist Frederic Clay Bartlett in 1920, the house and its grounds are now protected, and available for public tours and viewings. Packed with quirky art collected from around the world, the house's knowledgeable guides will be able to fill you in on the incredible history of the family who lived there. The die-hard romantics will be particularly impressed by the shell room, orchid room and private bar, which Frederic built in honour of his second wife. The grounds themselves are also worth a tour, and local experts can help visitors to explore the flora and fauna hidden within the undergrowth.
More:
C&IT recently reviewed the Sonesta Fort Lauderdale hotel, a beach front property ideal for corporate groups. Find out more here.
Have you registered with us yet?
Register now to enjoy more articles
and free email bulletins.
Register now
Already registered?
Sign in