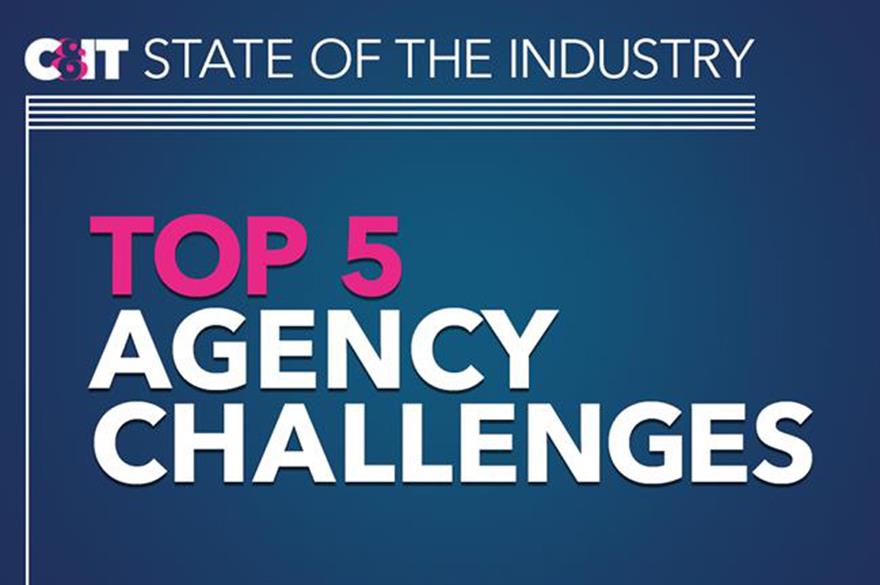 1) Managing/maintaining growth
The financial outlook for the majority of agencies in 2017 remains positive, with 83% of agencies surveyed saying they expect to report some financial growth for the 2016/17 year, down from 91% a year ago. However, managing and maintaining that growth is now the top challenge for agencies in 2017, up from third place in last year's Top 5 Agency Challenges. Almost a quarter of agencies (23%) cited maintaining growth as one of the biggest challenges facing their business, compared to 13% a year ago.
Alistair Graham, CEO, emc3 says: "Managing and maintaining growth is always a challenge for us - we want to carry on expanding and growing so we have to ensure that we are constantly transforming."
Growth is also the key challenge for FIRST London managing director Mark Riches: "We have a fantastic track record in client retention because we are completely focused on delighting them. But client acquisition is tough, particularly in the challenging market."
The increasingly competitive agency landscape and saturated market was also identified as a key challenge facing the industry by 9% of agencies. Smyle managing director Rick Stainton says that the huge amount of boutique agencies and one-man-band consultants that are offering not dissimilar services to some of the more established businesses has resulted in a lot of businesses flatlining or seeing a reduction in market share.
The demise of AddingValue earlier this year, which went into voluntary liquidation in April, was in part due to increased competition. AddingValue's founder Randle Stonier said that too many agencies competing for too little business, a very sizeable unrecoverable debt, plus changes in both client buying and payment patterns had led to the agency's closure.
2) Talent/recruitment
While still a top challenge for many in the sector, talent and recruitment dropped from the number one spot in the top 5 agency challenges for the first time in several years. 14% said recruiting talent was the biggest challenge facing their business, though this was half as many (28%) that said talent was their biggest issue in 2016.
More than half (55%) of agencies said that recruiting/retaining talent is more challenging than previous years. Two-thirds of agencies increased their headcount in 2016 and 85% said they are recruiting or expect to recruit in 2017, meaning competition for the best talent remains fierce, particularly outside London.
"There has been an increase of candidates preferring freelance or permalance contracts as opposed to a full time position within the event sector in the north of England – particularly at a senior level so account manager and above," says Katie Clark, director of client relationships at The fresh Group, which is based in Manchester.
"There is also a shortage of specialist expertise for content, venue sourcing and local marketing roles. In general, it is more challenging to retain junior talent as there is a higher expectation for fast–tracked promotions and salary increases and recruitment agents are in regular contact offering inflated positions/salaries to entice candidates into moving."
3) Political uncertainty/Brexit
More than a year on from the UK's shock vote to leave the European Union, and there is still a huge lack of clarity around what Brexit means for UK businesses. The recent General Election result, which resulted in a minority Tory Government didn't exactly inspire business confidence either. So it's unsurprising that 10% of agencies cited political uncertainty as the biggest challenge facing their business.
Nic Cooper, CEO of Sledge, says: "I still don't think we know what Brexit means. I think it has been compounded in a negative sense by the result of the General Election – everyone was hoping for a strong result, and we haven't got that. So I think 12 months on, we are still in a similar position, perhaps a slightly more nervous position."
When asked what the biggest challenge facing the wider events industry is, a quarter (26%) of agencies cited Brexit, and a further 14% said general political uncertainty. Despite this, many of the UK agency leaders that attended C&IT's State of the Industry MDs dinner said that it is not impacting on business currently.
Elizabeth Heron, managing director of OrangeDoor, says: "When the announcement was made last year, there was utter shock but nothing has happened since, nothing has affected my business. Honestly, I'm not seeing any changes."
Alex Hewitt, CEO of AOK Events believes this is down to the business environment: "We now live in a very digital age, and you can't afford as a business to stand still and not do anything anymore, otherwise you will be overtaken very quickly by your competitor. So whilst nobody really knows what Brexit means, clients have made decisions regardless of Brexit because if they don't, they think they will be overtaken by someone else."
4) ROI/measurement
Event budgets may have picked up slightly since last year, but there still remains a lot of focus on where the money is being spent and whether businesses are getting the best value for their spend.
7% of those surveyed said ROI and measurement is one of the biggest challenges facing their business, pushing it into the Top 5 challenges for the first time, tied with short lead times.
"In the environment we find ourselves, we need to be able to effectively demonstrate ROI (return on investment) from the activity we deliver. This will be a challenge for the industry due to absence of a recognised industry standard method to demonstrate the value of an event," says Luke Flett, global head of marketing at Ashfield Meetings & Events.
"Traditional methods, such as the Phillips methodology, seem outdated with measurement not tracking audience response, behaviour, belief and responses. The industry will need to become more adept at understanding how these benefits can be measured to demonstrate the worth of our activity."
5) Short lead times
Lead times have been in the top 5 challenges for the past few years and continue to be an area of concern for agencies in 2017, with 7% citing it as the top challenge facing their business (down slightly from 11% in 2016).
"Increasing pressure is being put on the industry to develop creative campaigns in short time frames as our clients planning time frames are getting ever squeezed. This adds pressure to agencies and suppliers in turn," says Nicky Morgan, client services and talent director, TRO.
Ashfield's Flett adds: "With the political uncertainty there will be a cautiousness around committing to event spend in anything but the short-term. This will see short lead times become more commonplace and make forecasting for agencies more difficult. It is hoped this will only be short lived and in the mid to long-term bookings have longer lead times as confidence in the markets increases."
Have you registered with us yet?
Register now to enjoy more articles
and free email bulletins.
Register now
Already registered?
Sign in