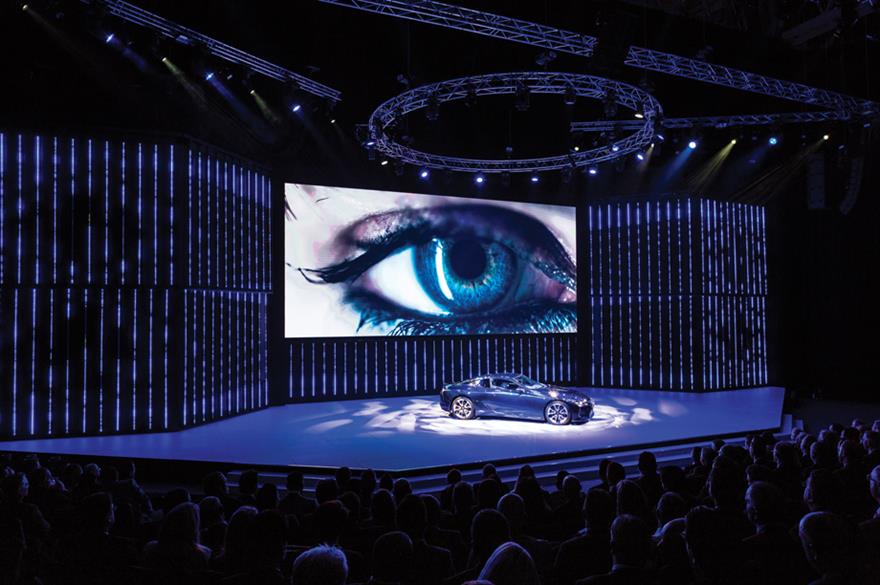 Objectives
The two brands traditionally held separate events that took place at opposite ends of the year. However, it was decided that, for the first time, the car brands would bring their delegations together in the same week and at the same venue. Laing Gale and Associates was appointed to help marry the two events together, with Birmingham's NEC chosen as the host venue.
"The purpose of the event was to bring our dealer network from across the UK together in one place to cascade information on our plans for 2017, 2018 and 2019," says Lance Bates, manager - experiential & events, Toyota (GB). "We wanted to use these conferences to both instil confidence and to motivate our retail network."
Solution
The NEC had been used by Toyota before, and the Midlands venue was chosen for its accessibility and its high standards of delivery.
Bates explains: "The NEC understands our objectives, our standards and requirements. We have a national network of 180 dealers for Toyota and 42 for Lexus, so with the motorway, train and airport links it means our events are easily accessible."
Bringing together two different audiences with alternative messaging was a challenge for Bates, who revealed that despite the two events happening in the same week, his team was still delivering projects for two separate clients. "We had decided to host the events consecutively for logistical and resource reasons so that we could deliver two great productions in close proximity," says Bates. Both the Toyota and Lexus events teams worked together to decide what they wanted to achieve, looking at wider opportunities and trying to find ways of working more collaboratively and efficiently.
"We found that it focused everyone being in one venue at one time for both events rather than three or four months apart," Bates continues. "So, while this was initially a challenge it brought us more opportunities."
Verdict
The NEC ensured that the production was in place and running smoothly beforehand, which enabled the events teams to focus on delivering the event, and Bates revealed that the president and managing director of Toyota was in attendance for the first time and was very complimentary of the event.
He concludes: "By the end of the week, having delivered two major automotive productions, it was a great feeling that we managed to do everything that we wanted and everything we had been working for on for many months came together so successfully."
FACT FILE
Brands: Toyota and Lexus
Date: December 2016
Venue: The NEC, Birmingham
Delegates: 222
Agency: Laing Gale & Associates
Have you registered with us yet?
Register now to enjoy more articles
and free email bulletins.
Register now
Already registered?
Sign in