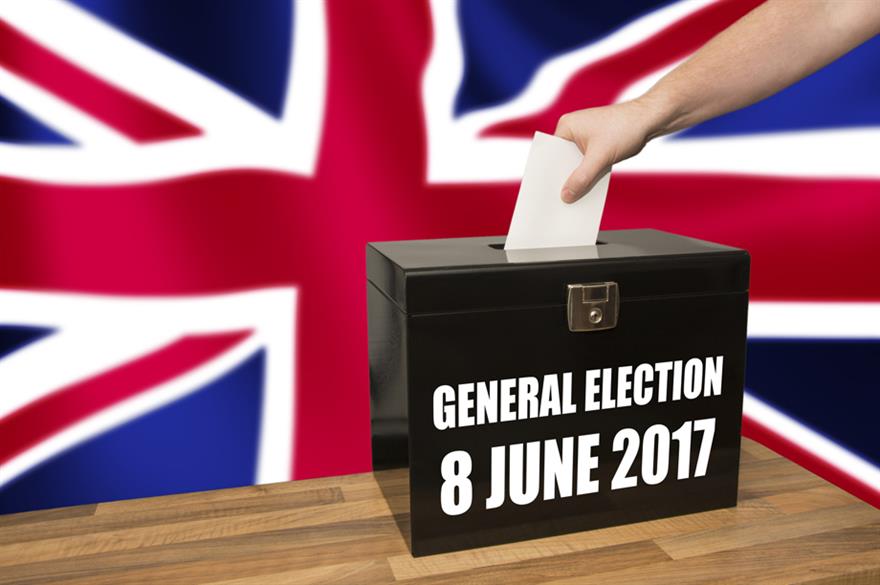 This general election has seen a shock result, with a hung parliament as the Conservatives failed to win a majority. At the time of writing, Theresa May's snap election had left her party with 15 fewer MP's, 11 seats short of a majority.
Labour has made huge gains, up 29 seats with 261 seats in total, winning seats from other parties in areas which voted Remain. The Liberal Democrats have gained four seats, but with Nick Clegg losing his seat to the Labour candidate. James Heappey MP, chair of the APPG for events, has also been re-elected as MP for Wells in Somerset.
The result leaves the UK in a state of uncertainty as it waits to see whether the Conservatives will be able to form a coalition government. Jeremy Corbyn has this morning called for Theresa May to resign.
Dale Parmenter, group CEO at drp, said: "Given the election result this morning, it was the worst possible result and just adds to the instability and uncertainty. Politicians need to stop their petty squabbling, get real and realise that the only source of income for the UK to pay for social care, education and alike comes from business and trade.
"They need to protect and look after important sectors like ours, which pumps billions of pounds into the economy and employs vast numbers of people. My hope is we don't see a further drop in confidence, adding to a slowing down of our sector.
"Above all, there must be clarity regarding how the government will handle the impending Brexit negotiations. We need to maintain 'business as usual' and ensure that we do not hyper-inflate this morning's results."
Mark Buist, MD of Penguins, added: "This could have serious repercussions for the events industry. The global business community were sceptical as to whether any government aside from a Conservative majority would be beneficial for operations in the UK. I think we will see this in our economy and particularly within the events industry in the coming years. Let us hope that the eventual coalition government can achieve a strong position for us in the Brexit negotiations and reinstall faith that Britain is a strong secure market to conduct business in."
There was concern around what this could mean for Brexit negotiations, with Chris Peacock, director at Conference Care commenting: "I honestly find the political events of the past year hard to swallow, culminating in a spectacular own goal yesterday by Theresa May. This result demonstrates just how little faith the British public have in any of the choices currently in front of us.
"The process of our exit from the EU now looks to be strung out further, with the government in a weaker negotiating position than before. As for how this might affect our own industry - well we are a barometer of public and corporate confidence so the impact of yet more uncertainty can only be negative in the foreseeable future."
Other industry professionals were more optimistic about the result, with Denise Ellis, founder & CEO of Conference Contacts, commenting: "I think the hung parliament will potentially come as a surprise to many companies both here at home and abroad. It may take some time for confidence to totally return to the UK as a leader in business after so many months of uncertainty, but I know that we will get there!
"Having worked in the industry for so many years, business fluctuates constantly, often regardless of the political or economic climate, and I have confidence that global business leaders will continue to see the benefit in coming to the UK for their events and conference organising. Economists have warned of the pound value dropping if the Conservatives do not hold on to power, but even if this does happen, it will only make Britain a more attractive (cheaper!) option for many global companies, so we do not expect to see a drop in business in the slightest."
Chris Doggart, VP operations at George P Johnson praised the Labour campaign for its reflection of the power of the events industry. He said: "I think this is a fantastic result for our industry as it has provided a validation of what we do. The difference in the Conservative and Labour campaigns was stark- the momentum of Labour, and the way in which they used live events to deliver their messages was so different to the Conservative campaign. Corbyn got out there and engaged with people face to face and the large audiences he was able to attract had a big impact. Brands can learn from this, in particular the power and importance of face of face."
However, he also added that: "The future is as uncertain now as it ever has been, and a lot of people will suffer from the fall in the pound. This is especially true for businesses holding international events, where fluctuations will have a big impact."
Tristan Norman, sales and marketing director at Corporate Events said: "Regardless of last night's result and Brexit for that matter, the United Kingdom remains one of the top global business destinations of which events form a central pillar. I think we echo the sentiment of all businesses that work a lot in both the UK and Europe, regardless of their industry.
"We hope the upcoming negotiations with the European Union end with the best possible result for both sides to ensure a conducive business environment for the future. So, despite the current political uncertainty this General Election has caused, for us it really is business as usual and we have to ensure we focus on continuing to deliver world class events for our clients."
An anonymous Twitter poll run by C&IT yesterday, showed that 60% of event professionals favoured a Labour government as best for the events industry. A similar poll before the last general election in 2015 revealed 60% of eventprofs in favour of a Conservative win.
Have you registered with us yet?
Register now to enjoy more articles
and free email bulletins.
Register now
Already registered?
Sign in