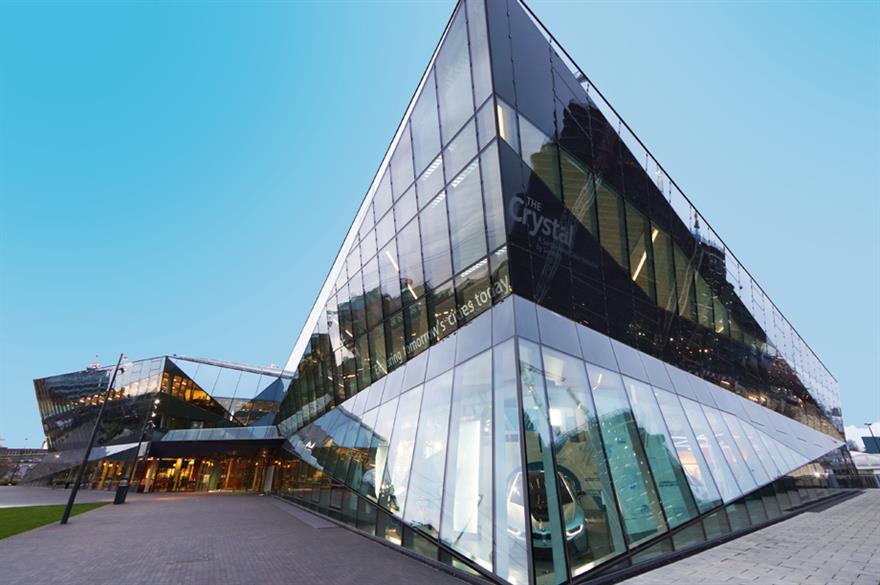 Stunning riverside location? Arrive by cable car? Looks inspired by, well, a crystal? That's not even scratching the surface...
1. The eye-catching exhibition and events venue sets the benchmark for sustainable building design: it's the first building in the world to achieve the highest certification in both the BREEAM and LEED schemes and also hosts the world's largest exhibition on the future of cities
2. The Crystal is built on a brownfield site in an historically industrial area; prior to construction, the ground was treated and reclaimed. A green roof covers the building's energy centre and provides storm water attenuation and a habitat for a rich variety of plant and animal life
3. It's intelligent. The Crystal Building Energy Management System controls all electrical and mechanical systems in the building. Information from an outdoor weather station supplements more than 3500 data points within the Crystal. Connected systems include heating, air-conditioning, lights, solar thermal hot water, black and rainwater, evacuation and fire alarms
4. The unusually shaped range of flexible spaces inside includes a large exhibition area, a business lounge balcony, seven multi-purpose meeting rooms and a state-of-the-art 270-seat auditorium, which can change according to the needs of any particular event. In addition, the first floor dining area provides panoramic views over the Royal Victoria Docks, while the outside space can host anything from an informal barbecue to a marquee. There's a dedicated in-house AV team, too
5. Six different types of highly insulated glass have been used to clad the all-glass building, each with varying levels of transparency. Reflective glass is used on the backward-leaning facets to reflect the sun, while transparent glass is used on the inner faces angled towards the ground. Triple glazed windows allow in 70% of natural light but only 30% of solar energy. Almost every space in the building has access to natural daylight, meaning minimal artificial light is needed
6. Every time a toilet is flushed, it uses 100% recycled water. Rainwater is collected directly from the building's roof and stored in a vast underground storage tank – water is treated using filtration and ultraviolet disinfection. Around 80% of the building's hot water is heated by a combination of solar thermal water heating from the roof and ground source heat pumps
7. There's no heating bill. This is achieved by using 100% natural heat sources. Ground source heat pumps supply virtually all of the building's heating and most of its cooling. The system works by pumping water through pipes that loop deep into the ground – there are 199 pipes that total 17km in length and reach as deep as 150m. Around 60% of outgoing heat or cooling energy is recovered
8. CO2 emissions for the Siemens offices in the Crystal are around 70% lower than in comparable office buildings in the UK. How? The Crystal is a 100% electric building, around 20% of which is generated by the huge 1580 m2 of solar photovoltaic roof panels that cover two-thirds of the roof. Every kilowatt of electricity used can be measured, which in turn, can be compared with the performance of other buildings across the world.
Have you registered with us yet?
Register now to enjoy more articles
and free email bulletins.
Register now
Already registered?
Sign in