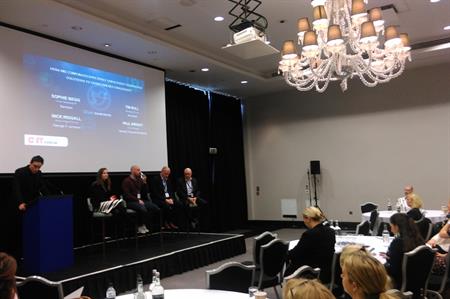 At a panel at this week's Corporate Forum, held 6 and 7 February, speakers from technology specialist companies, agencies and corporates gathered to discuss the key technology trends driving the events forward.
Pre-event engagement
According to Sophie Begg, event marketing vice president at Barclays, apps should be used to engage delegates before and after an event. "We had an internal conference group who were based all over Britain," she explained. "We opened up the app a month before the event started and divided the 300 delegates into groups to get them conversing before the event. This created connections between them all before the event had started."
Nick Riggall, head of digital strategy at George P Johnson, added that engagement should be fun for delegates, as it increases the excitement and interest surrounding an event. "We worked on an event where delegates created and avatars which could then be posted to social. This gave delegates a more personal experience and made it fun."
Dashboard reporting
For Tim Bull, managing director for sales EMEA at etouches, the implementation of dashboard-style reporting at events can be a huge asset, to compare separate events side by side rather than just by the data.
Paul Wright, events manager at HP Enterprises said this strategy had been successful for his team. "For our flagship Discover event everything was focused around the app. Videos and photos were posted after the event so that there was still a level of engagement after it finished. Messages were pushed out and we recorded their preferences, tracked their movements and pushed them towards the demo sessions. We had a record number of meetings and leads. We also implemented a post-event dashboard with organisational values measured against the achievements of the event."
Data gathering and engagement
Technology for data gathering and event analysis is only useful if it can be interpreted, according to Bull. "Stats don't tell you what value an app brings to delegates, only that they have downloaded it. If you are using tech, it must tie back to your event objectives," he said.
As more and more companies use apps to report and measure different variables, Wright said the engagement with apps and the amount of data that can be derived varies in different regions. "An interesting insight that we have had is that the level of engagement differs between different nationalities. For example, we found that the French prefer face to face interactions and that engagement was only 24%. In Dubai the figure was 65%. The further east you go the more enthusiastic people are about adapting tech. We found that audiences in western Europe are less likely to engage."
VR
Despite the rapid development of technology and the increased popularity of VR, face-to-face events will remain popular, according to Wright. "People value face to face- they like to meet in person and use tech to communicate before, during and after the event."
Bull added that while virtual reality will make a big difference in future, it will take time. "VR will make a big difference but we are not quite there yet. People get more done and build better relationships face to face. Tech will become more about ROI and companies will need to prove it is worth the investment."
---
See more:
In Pictures: C&IT Corporate Forum
C&IT Corporate Forum: Five conference trends for 2017
C&IT Corporate Forum kicks off
Have you registered with us yet?
Register now to enjoy more articles
and free email bulletins.
Register now
Already registered?
Sign in