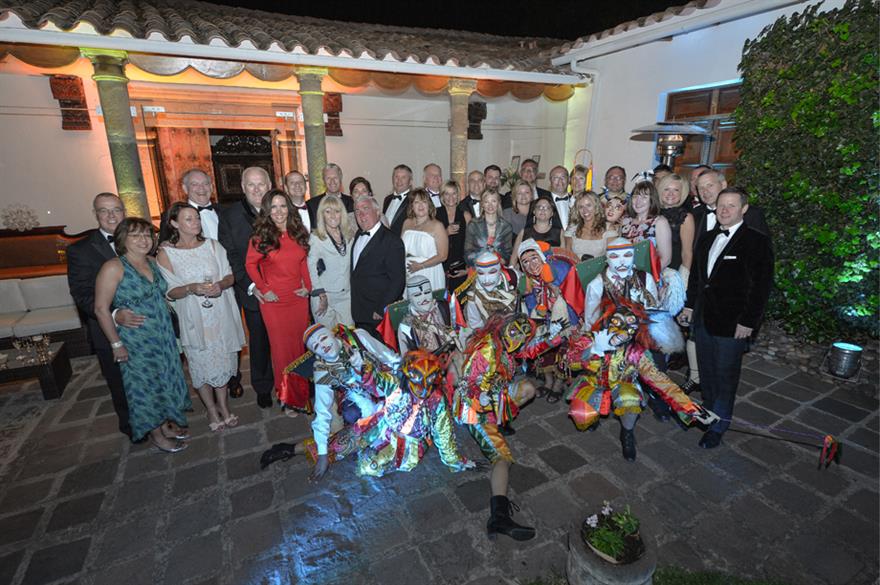 New Holland Agriculture's French foray
Objectives
The objective of the incentive was to reward the top 50 dealers salesmen of New Holland Agriculture. Agency Paragon was chosen to help deliver the event, which needed a wow factor.
Solution
Nantes was chosen because the city has so much to offer, with a direct flight from London Gatwick or City Airport, in addition to being the closest city to the New Holland Factory in Coex, France.
Attendees were welcomed on the first night with a private dinner and tailor made cabaret show provided by Cote Sud which included singing the English national anthem and a performance by her majesty, the 'Queen'.
The following day delegates were able to race super cars up to 200km per hour at the Circuit of Fay de Bretagne. This was followed by a visit to Machines de L'ile where guests rode on the world famous Grand Elephant and Carrousel des Mondes Marins. The day was rounded off with a wine tasting session at the Château de la Galissonnière featuring Celticae sparkling wine followed by a local food tapas selection. One of the challenges was making sure the mechanical elephant was available. With the support of the local tourism promoter Le Voyage a Nantes, Paragon was able to secure the Grand Mechanical Elephant ride exclusively for the group.
Verdict
Brian Magee, sales manager of New Holland said: "In a nutshell it was the company that made it happen but the people that made it great, a big thank you and well done, I hope we use Paragon more often if this is the normal standard that you deliver."
---

Callcredit's all-inclusive Cape Town reward
Objectives
In 2016, Callcredit Information Group shook up its annual '100 Plus Club' staff incentive trip, deciding to travel outside Europe for the first time and expanding the trip to include non-sales staff. In addition to rewarding top sales staff that hit their targets, Callcredit started a 'wildcard' campaign to include seven 'wildcards' from different areas of the company nominated by other members of staff for their contribution to the team. This meant that, in the end, the trip was for 32 staff members and their partners.
Solution
The company worked with agency Pickled Egg and Cape Town was chosen as the destination for the event, with delegates staying at the luxury One&Only hotel.
Callcredit had a range of ages and personalities on the trip, so delegates were given a choice of activities each day, such as a cultural trip to Robben Island or a tour of the Winelands. These activities were sent to delegates in advance so they could pick what suited them best, although some activities were undertaken by the whole group, including a safari day and a trip up Table Mountain.
"We detailed the activities that delegates could choose from, but we kept quite a few other bits secret - it was far more fun that way," explains Charlie Burrows, events executive at Callcredit Information Group. "For example, one night they knew they were travelling to a beach club for dinner, but they didn't know how they were getting there. Everyone assumed they were travelling in coaches, but when they left the hotel 67 Harley Davidson motorbikes drove up to the entrance to collect us. They made a huge roar and everyone started screaming and taking videos and selfies with them."
Verdict
Burrows says: "We had a full debrief after the event with the executive board and everybody was really buzzing and happy; it was a massive success. Bearing in mind this year's trip took us a year to plan, I've already started planning next year's."




---

Konica Minolta's Peruvian adventure
Objectives
Konica Minolta has been running an annual Dealer Invitation Trip incentive programme for the past 34 years to recognise and reward top partners across its UK network of dealers and retailers that sell the brand's products.
The trip is always long haul and generally a five- to-six-night programme, taking place mid-May with around 13 top dealers plus partners and five members of the senior management team from Konica Minolta. Previous destinations have included Vietnam, South Africa and Singapore.
Solution
Paul Taylor, event director at Mobile Promotions, has a long-standing relationship with Konica Minolta. Following BA's announcement in August 2015 that it was launching direct flights to Lima, the agency put forward Peru as a destination for the 2016 trip.
"Prior to that, we couldn't have considered Peru because we'd have had to get a connecting flight and it wouldn't have worked for a five-night programme," says Taylor. "The flights started on 6 May and we flew out on 15 May so I am pretty sure we were one of, if not the first, incentive group from the UK using that direct route."
The trip included the first night in Lima before a short internal flight to Cusco, where the group stayed at the Cusco Belmond Monasterio for four nights. Activities included a walking tour of Cusco, a visit to Chinchero, a nearby village, to spend time with local villagers, and a day at Machu Picchu traveling there and back on the Belmond Hiram Bingham luxury train, with brunch served en route as delegates enjoyed views across the Sacred Valley, and dinner on the return journey.
Verdict
Konica Minolta says the Dealer Invitation Trip to Peru exceeded all expectations, with positive feedback received from the group.
One dealer says: "We had a fantastic time on the recent Dealer Invitation Trip to Peru. The organisation and planning could not be faulted and the visit to Machu Picchu was something we will never forget."
---
More from C&IT's Incentive Travel Report:
Incentive Travel Report: Incentive case studies
Incentive Travel Report: Global overview
Have you registered with us yet?
Register now to enjoy more articles
and free email bulletins.
Register now
Already registered?
Sign in