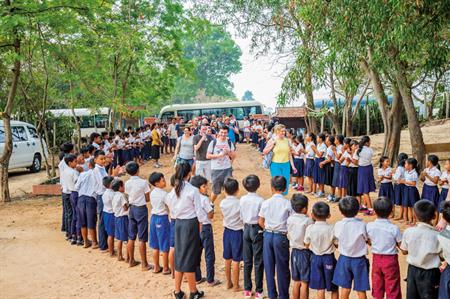 "I think all companies need to make sure employees are engaged and share the vision, direction and goals of the company," says Jason Sullivan, employee engagement and recognition manager for Colt Technology.
The global brand, which specialises in network communications and data connectivity, is all about the personal touch when it comes to company ethos and employee engagement.
---
Colt Technology choose ACA Live for leadership event
Colt Technology staff inspired by Oman
---
"It's really important to make our staff feel valued and it helps with retention – one of the main reasons why people leave companies is because they don't feel valued. We want to generate a culture of saying thank you, both through our events and our day-to-day activities," explains Sullivan.
The company runs approximately eight events a year. These include six sales and leadership conferences and one or two recognition incentives, where a group of high performers win a trip abroad.
Destination choice
Destinations for these trips are carefully selected, with budget, safety and objectives all taken into consideration. "We are always looking to create a wow factor with a destination we've never been to before, where we don't have offices," says Sullivan. He adds that there's always a reason for choosing a particular destination, whether it's because of the beach, the cultural activities or the fact that it's an iconic city. "Previous destinations have included Oman, Dubrovnik and Marbella, all of which were completely different experiences. This year the company has organised two recognition trips, one to Miami for sales staff and one to Cambodia and Vietnam for non-sales staff."
While Colt Technology recognises its employees' efforts on a regular basis, there's a limited number of places for the big trips, which means the company must undergo a careful selection process.
To choose who goes on the trips, the brand looks at employee appraisals, asks for management recommendations and encourages employees to nominate their peers. "Once a shortlist has been drawn up, we ask the executive leadership team to make the final decision," explains Sullivan.
For the Cambodia and Vietnam trip, 50 winners were invited away with their partners, hosted by senior staff members, including the CEO. "We spent three nights in Cambodia doing cultural activities, such as temple visits, before we chartered a private plane to take the group to Vietnam for some rest and relaxation time on the beach," says Sullivan. Meanwhile, on the three-night Miami trip, guests could explore the beach and city with their partners, before gathering for an awards dinner.
Giving back
For Colt Technology, no incentive trip is complete without a CSR activity. "It's part of our brand ethos to give something back to the communities we visit," says Sullivan. "We encourage our staff to give back in day-to-day life and we apply these values to our recognition trips. Sometimes people have been a bit sceptical before taking part in the activity, but it's always the highlight of every trip."
It's important for the company to choose a teambuilding activity that will leave a lasting legacy, rather than a feel-good exercise for volunteers. In Cambodia, the group worked at a local school to improve infrastructure, refurbishing furniture, building classroom space from bamboo and reeds and creating a fence around the school to keep animals out. "This all aimed to improve health and safety for the children and could be done in a short space of time with a large group of people and a well-thought-out plan," says Sullivan.
On the Miami incentive, the group opted for a similar task, regenerating the outdoor area of a children's home to make it more accessible for the young people living there.
More:
Colt Technology chooses ACA Live for recognition trip
C&IT incentive programme of the year
• For more breaking news, as well as case studies and in-depth features, sign up to C&IT Magazine's daily Newstracker here
Have you registered with us yet?
Register now to enjoy more articles
and free email bulletins.
Register now
Already registered?
Sign in