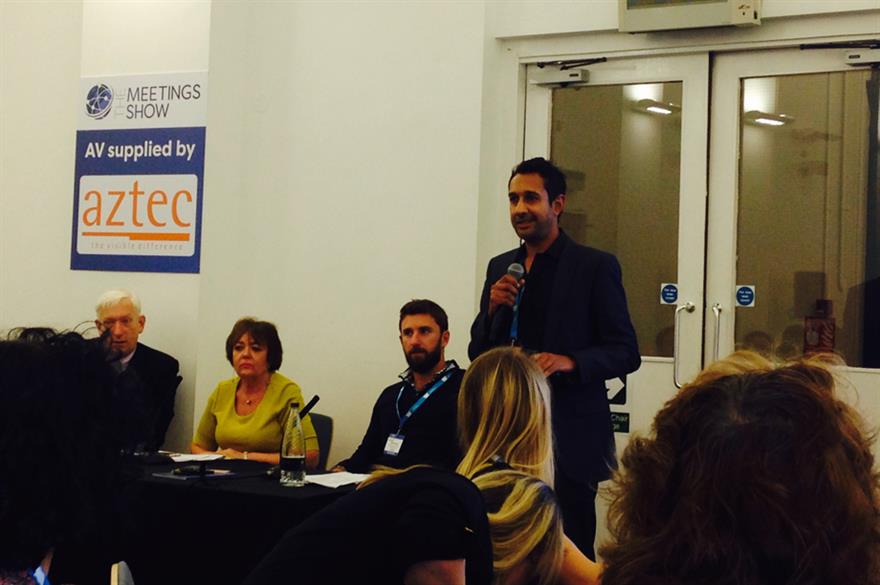 The panel, which was chaired by MICEBOOK founder Chetan Shah and included Andy Cooper, CEO at Owens Cooper Consulting; Tina Morris, managing director of events at AddingValue; and Elliott Grant, business director at The Black Tomato Agency, discussed what had worked for them in past crisis situations.
1. Quick and 'upscale' reactions are key
Cooper said: "If you don't react to a crisis quickly, you're in trouble because the media will act very quickly. If it looks like a crisis deal with it as if it is, because you can always downscale if it turned out not to be as bad as it could have been, but far its harder to speed things up and upscale."
2. Take tasks away from the team on the ground
Grant spoke about how his team at The Black Tomato Agency dealt with the Paris attacks in November when they were running an incentive trip to the city at the time.
"Taking as much responsibility as possible off the people on the ground is really important – they need to just concentrate on everyone's safety. The team back in the office should worry about things like booking onward travel, contacting next of kin or lawyers. We mobilised a separate UK team and they took on the responsibility of onward travel for our group in Paris. The group got back to London and our team were there in the stations with signs, having organised taxis, trains and flights ready for them to get home to their families."
3. Tailor your crisis plans
Morris said: "We tailor our crisis document depending on the event and it's tailored to the destination, too. Also we now do destination health checks, carried out before anyone goes on site. The front of every document says what's going on in the country and who's been there. After the attacks last year we also reviewed our threat of terrorism plan - it's about ten pages long now and we look at it every time we do an event."
4. Think about social media
"Historically we've said for every customer involved in an incident, you will get 100 phone calls," explained Cooper. "Now social media means you can drive the message and reach a large number of people who would be calling you, easing the pressure on your call centre during a crisis and delivering them information in a different way. Social media is becoming so much more effective if used well. Through using it, we've seen calls drop about 50% per person affected."
5. Don't forget the rest of your business
"When there's a crisis going on, you can't afford to forget about the rest of your business," said Cooper. "It's best to have a focused team that works on the crisis. Statistics show that 30% of businesses that have gone through crisis go out of business in next three years. It's best to have a team to concentrate on resolving the crisis and others who work on keeping going with usual business."
More:
C&IT TV: What are the key security challenges facing the events industry?
Black Tomato evacuates incentive group from Paris
Security update: where's off the pitch list?
• For more breaking news, in-depth features and case studies, sign up to C&IT Magazine's daily Newstracker here

Have you registered with us yet?
Register now to enjoy more articles
and free email bulletins.
Register now
Already registered?
Sign in