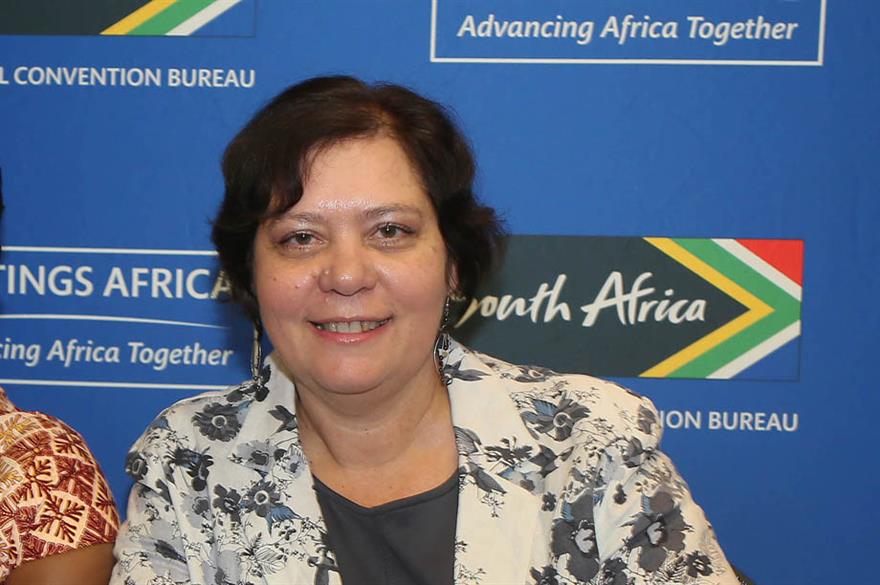 How has the first day of the show gone so far?
It's been exciting. Having friends of Africa from around the world to shower love on our destination and continent has been amazing.
I think we had a good opening with our minister of tourism, Derek Hanekom, encouraging our buyers to do business with the exhibitors and there's now a lot of buzz on the floor. The buyers and exhibitors seem happy, which makes us happy.
Has the hosted buyer programme grown this year?
Yes, but the problem is that it becomes more and more expensive and the hosted buyer budget isn't expanding. But, what did grow and what we're very excited about is the African association buyers. We didn't have them before but now we've seen more than 50 come from across the continent, each of which represent their own meeting.
The other area that grew is our corporate buyer programme and that is really exciting because for some of our exhibitors, corporate events are their bread and butter.
Are there plans to develop Meetings Africa in the future?
We will always look at new ideas; we have to. As the world continues to change we need to think of new ideas. For example, it's the third year we hosted the media face-off, but we're looking at how we can broaden it and bring it to a bigger audience.
Discussion groups are something we're looking at to diversify the show. I would love to host some kind of politicians' forum, where we bring leaders from around the continent to converse around business events.
Meetings Africa is a trade show and we will keep on bringing fantastic buyers that have business for our continent.
How important is it to strike a balance between the trade show and the content?
If there's one thing that has grown at meetings Africa it's content. Yesterday, we had the Business Opportunity Networking Day with a variety of experts, 74 students and industry players and it was fantastic.
For me, the joy is sharing knowledge. People were blown away yesterday by the content of the sessions and it felt like we gave the delegates the tools they needed to be ready to do business the next day.
How has interest in South Africa grown over the last few years?
If we talk ranking, we didn't necessarily move up many places, but we have sustained our position. With more and more fierce competition that's quite remarkable.
When Meetings Africa began, we didn't have very good qualifying process so we would have buyers coming and not really doing business. However, 60% of the buyers in recent years have never been to Africa and that says for me that there is a lot of interest in South Africa and in the continent.
How has the product for corporate events developed in South Africa in recent years?
I think it has developed in uniqueness and authenticity. We had the president of SITE here a year ago, we now have a board member attending this year and the association is very active, which has helped us start to look at the type of product we need to put forward.
Offerings have started to diversify. It's not just a lodge any more; it's a lodge with an experience that will give delegates authenticity and the cultural exchange. South Africa is an explosion of so many different venues and we are blessed with natural beauty in South Africa, but I think we want to add to that.
With the issue of security now gaining in relevance, are there issues over the perception of South Africa when it comes to safety?
I think it's an unfair perception. Because when I went to IBTM World in Barcelona, for the first time in my life I felt unsafe in Europe. It was the day after the Paris attacks and the fact that they had all these security guards around every corner made me feel unsafe.
The perception of security in our country and the continent is there because we over compensate. We put guards on every corner and it's because corporates feel like that is a requirement.
Let's not forget that South Africa delivered the biggest spectacle in the world with the FIFA 2010 World Cup and not one single issue occurred. Visitors that were told to come with bulletproof vests were partying to the early hours with the locals on the streets of Soweto.
The best way to overcome this perception of security is to bring them to the destination. If they come here they will see it and they will buy it.
Any city in the world must make sure that their delegates are safe and we understand the value of that because when they go home they become our best ambassadors. In other countries security is far more of a reality than in South Africa in both leisure and business environments, but because we're African we get slaughtered.
More:
In Pictures: Meetings Africa 2016
Meetings Africa 2016 kicks off today
• For more breaking news and in-depth features, sign up to C&IT Magazine's daily Newstracker here

Have you registered with us yet?
Register now to enjoy more articles
and free email bulletins.
Register now
Already registered?
Sign in