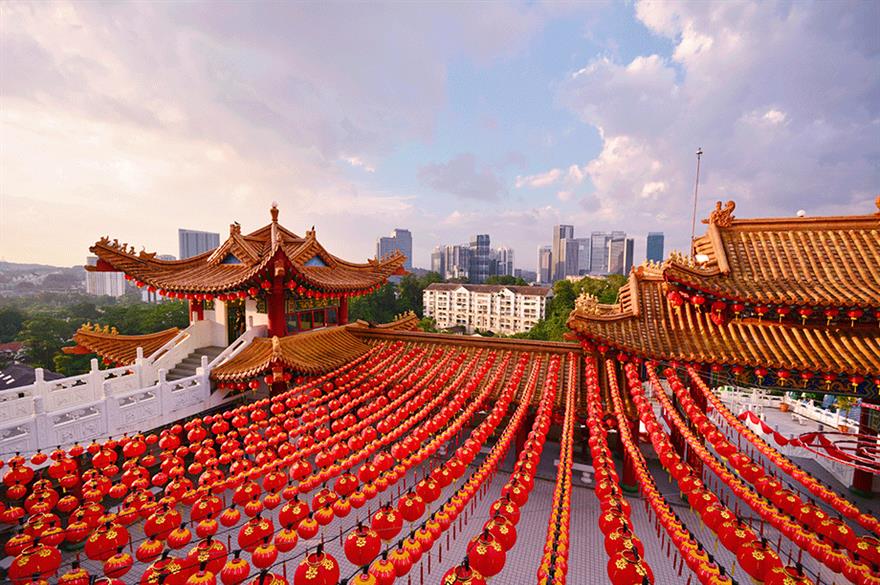 Glasgow, Michelle Christie, event planner at BAM Properties - part of BAM Construct UK
For me, Glasgow is always surprising and positively unpredictable - no two events are ever the same. We bring clients and colleagues from all over the UK and Europe to the city. They are always taken aback by the architecture, the diversity of the venues and Glasgow's authenticity.
One of my favourite hotels in the city centre is citizenM. It is quirky, unique and very reasonable. We often use it to accommodate our visiting directors from across the UK.
We regularly use the Glenfarclas room at Hutchesons Bar & Brasserie for private dinners, meetings and gatherings. We hosted a breakfast briefing there following the topping-out of one of our latest projects at the end of last year.
The Gallery of Modern Art is a really versatile venue. We have used it for various events, including an intimate dinner in the clock tower and a large showcase event for 80 guests.
Micro brewery West Brewery has a private room for hire, and events can be combined with tours of the cellar. We hosted a comedy night there with comedian Gary Little in October.
Hong Kong & Macau, director of regional accounts for Global Cynergies Les Sinclair
Hong Kong has a unique culture because of its amazing history and location. We organised an event in September 2014 for a group of 24 delegates, staying at the Langham Place hotel, which has recently rebranded to Cordis Hong Kong, in Mongkok. Our client thought that Hong Kong was a perfect location for both a regional and global meeting because of its position as the business-friendly gateway to China.
The added advantage of being able to visit the Chinese mainland - Guangzhou in particular - for up to six days without a visa was a big positive. As part of the event, the group travelled to Guangzhou for a day meeting and returned to Hong Kong in the evening - the journey time was around two hours each way.
Hong Kong also has a fantastic C&I support infrastructure and a great range of world-class venues and hotels. Having hosted international events for many years, it has a well-proven track record and there will be no (or very few) nasty surprises.
The destination offers everything for everyone: nightlife, culture, sports events, history, gastronomy and shopping. But choose your location carefully - if you want to visit the Chinese mainland base yourself on the Kowloon or Mongkok side. If not, consider Hong Kong Island.
To take advantage of free fireworks displays and a lightshow - if it suits your plans and budget - check out hotels that have a good view of Victoria Harbour, on the Kowloon side. Rooms with a harbour vista, or bars and restaurants on higher floors, will provide a great view of the free pyrotechnics across the water on the Hong Kong Island waterfront.
The Algarve, Gareth Davage, senior managing director at Michael Page Finance & Consultancy
In July 2014, we ran our quarterly High Flyers incentive trip - one night and two days in Vilamoura. We flew in 19 employees from across the country, from four different UK airports.
Our agency, Assured Events, chose the excellent Dom Jose Beach Hotel, which is just a five-to-ten minute walk from the marina. Assured Events had an impressive level of local knowledge and worked brilliantly with the hotel to make sure it had the flexibility and added touches that we were looking for.
It was a trip focused on relaxation and taking in the glorious sunshine. Having the choice of the hotel pool or the nearby beach was a bonus. Our group were guests at the Il Trio Restaurant and the Atlantic Bar, both of which were fantastic. You're not very far from North Africa on the Algarve, so there is plenty of sunshine.
The two days weren't just spent lying on the beach, though - when guests weren't topping up their tans, they were hitting the casino on the marina. My main tip for event organisers looking at the Algarve is to plan ahead as much as possible, and note that many hotels don't take single night bookings for the summer months.
Although it is easily accessible from the UK, it isn't cheap, though that in itself can add to the aspirational aspect. All in all, Assured Events managed to create a package that generated positive chatter around the office without breaking the bank.
Cape town, Robert van Amerongen, manager, marketing communications at NEC Enterprise Solutions
With South Africa being an important country for our activities, Cape Town was an obvious choice. The city is easily accessible from Europe and the Middle East and offers an attractive environment.
We stayed at the Westin Cape Town. The quality of the hotel, the rooms, the conference area and the restaurant were excellent, as was the support.
We took our guests on a bus tour around the Cape Peninsula, and offered them the opportunity to visit Robben Island on the day after the conference (Saturday).
We had dinner at GOLD restaurant, with dining areas adorned with African decor, as well as dinner at Hildebrand Restaurant on the V&A Waterfront. These were the right choice for our group, as well as the activities described above.
Dubai, Rob Edwards, head of events, Sungard, Financial Systems
Dubai is ideal for MICE business for a few reasons. There are unrivalled, top-class hotel options, and it also has excellent flight lift, a central location on the world map, a beautiful climate and one of the best infrastructures globally.
The possibilities for incentives are endless. Conferences are also a strong point, because there are so many quality business hotels available, it ensures the service levels stay high.
The One&Only Royal Mirage has this ingredient that I can't quite put my finger on - there's something very special about it. Elsewhere, the Marriott Marquis Dubai is a very large hotel which still manages to provide great personal service for groups of any size.
My top options would be golf, a trip to Ski Dubai, a 'Yellow Boats' tour of the marina, a private yacht excursion or a seaplane flight. Another of my favourites is the lesser known Silk & Spice Market Tour - there's nothing like immersing yourself in the local culture.
I remember thinking that the quality of the hotels was phenomenal - it seemed like every event planner's dream location. The impressive service culture was also apparent straight away, and I've not been to many places that do it better.
Have you registered with us yet?
Register now to enjoy more articles
and free email bulletins.
Register now
Already registered?
Sign in