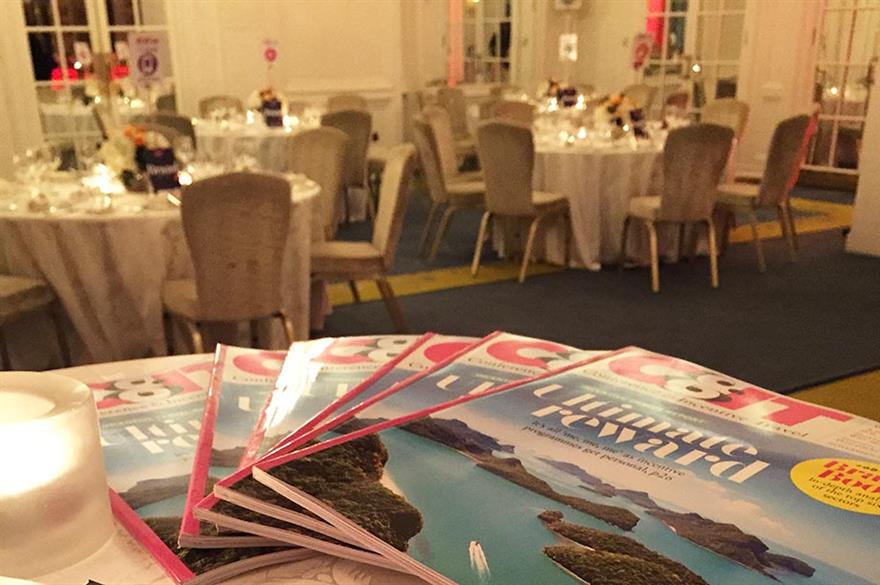 Around 60 senior event professionals, including representatives for Sanofi Pasteur, Barclays and HSBC, met for a drinks reception and dinner at the Mandarin Oriental, London to discuss key trends and challenges across the top six sectors.
Here's an overview of each of the discussions:
Financial
What defined 2015?
Budgets were flat but the number of events was up for many clients in this sector – so more for less a key theme for financial sector events.
The focus moved from sponsored conferences and exhibitions, eg events focused on new client acquisition to events focused on existing clients.
Limited agency need – financial corporates often have bigger in-house departments so only require help with certain events, and there are more internal staff events than client ones.
2015 challenges
Being creative with budgets was a big challenge, particularly trying to get the most out of flat budgets.
There is a certain amount of churn and burn with financial events due to the high volume, so it can sometimes be difficult to challenge the status quo and change things up.
Rising supplier and venue costs have started to become an issue – with higher demand, suppliers are less willing to negotiate costs, so getting best venues (particularly in London) is more of a challenge.
2016 outlook
Budgets will remain flat for the foreseeable future.
The number of events being held will continue to increase slightly.
Negotiations with suppliers and venues will continue to be a key challenge.
IT & Telecoms
What defined 2015?
There was growth in incentive markets, particularly destinations such as Miami, Ibiza and Croatia. In addition to the sales teams, there's been an increase in start-up technology companies running trips for their employees.
Budgets are expanding but people are looking for more for their money. Budgets vary depending on the type of event, whth larger budgets available for conferences and trade shows.
2015 challenges
Short lead times and competition from new agencies can be a challenge, particularly 'one man bands'.
Internet prices and available technology can cause problems for events, with venues sometimes failing to deliver what companies need for a reasonable cost.
Using technology properly (rather than for technology's sake) is another challenge.
2016 outlook
The outlook is positive, with huge opportunities in technology such a virtual reality.
There will also be an increase in personalisation during and before events, tailoring networking opportunities.
Pharmaceutical, Health and Beauty
What defined 2015?
Meetings were often smaller but happening more frequently. Clients wanted more for less, because during the downturn they learned this was possible.
Content was becoming increasingly more important, as opposed to added extras.
Businesses wanted their events to give delegates an 'emotional connection' to the product they were launching, and wanted events to put delegates in the shoes of the people who would be using the products.
Compliance is still a big issue, although agencies are becoming more used to this now.
2015 challenges
Patients becoming more self-informed due to the internet, creating extra challenges when educating delegates.
Agencies will need to be able to adapt and be agile, with all the new products coming out companies are looking at different ways of marketing them.
2016 outlook
The Pharma sector will continue to grow and is also catching up with other sectors in terms of e-meetings, event technology and apps, which clients are starting to ask for.
Automotive
What defined 2015?
2015 was a strong year for incentives and product launches, as many new models were unveiled.
There was a resurgence in shopper activation and increased spend on press events.
There has been a growth in communications around events, with the 'before and after' becoming as important as the event itself.
2015 challenges
The ad-hoc nature of briefs and changes to sales cycles makes it difficult to plan and prepare.
There was an increased focus on the strategic planning and scheduling of events.
2016 outlook
The future is 'optimistic', with brands remaining positive about the expansion of the events sector in the industry.
As buyer purchasing needs change and automotive moves to digital platforms, there will inevitably be an impact on sales and dealer event.
Food & Drink
What defined 2015?
2015 was a changing year in the retail sector, and it became more difficult to find opportunities. For example, major supermarkets doing less internally.
Agencies were pitching for more business in the retail sector, though were facing more competition from other businesses.
2015 challenges
Keeping up with social media and new technologies as they become more advanced and retail brands' staff, customers and clients become more tech-savvy.
2015 outlook
Overall, the feeling is positive, with the shift towards 'marketing and PR' becoming more important. While this would previously have been considered a different sector to events, the two are becoming integrated.
Retail
What defined 2015?
Retail continued to prosper in 2014. One of the hot topics was the blurring of lines between B2B and B2C events, with experiential elements being taken from the consumer area and incorporated into training events and conferences. We are seeing increased need for retail staff to become brand ambassadors so engagement is key.
This vertical sector is probably second only to IT & Telecoms in the need for differentiation and to keep up with technological advances. Staff are being trained to use apps more and more.
Across the board it was agreed that 2015 was more competitive in terms of pitches, with concern over how much of it was genuine.
2015 challenges
Procurement remained the age-old bugbear for agencies, being described as "the wall" and being "stuck in their own little box".
Venue costs were increasingly becoming a problem, with "negotiation levels minimal". However, increased use of alternative spaces for events, e.g. blank canvas venues, helped increase competition.
2016 outloook
A mixed bag. While some agencies expect the same number of events, others were genuinely optimistic (while touching the wooden leg of the table). "The Death of the High Street" is over and retail is a leaner, more savvy sector going forward.
Have you registered with us yet?
Register now to enjoy more articles
and free email bulletins.
Register now
Already registered?
Sign in