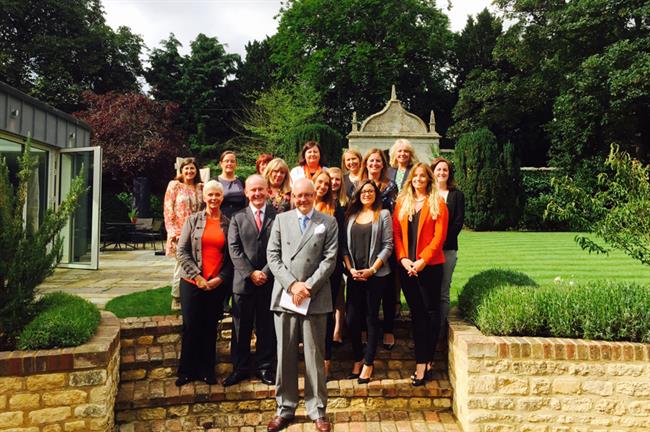 Objectives
On 27 August, C&IT was lucky enough to join a team of project directors and managers from BI Worldwide as they embarked on a staff training day at Raymond Blanc's famous two-Michelin-starred hotel and restaurant. The visit was part of the agency's revamped staff training programme, where it partnered with suppliers including Virgin Atlantic, Le Manoir aux Q'uat Saisons and FHRI Hotels & Resorts, to see its events staff put through their paces in airline, food & beverage and hotel training.
The visit to Le Manoir was intended to give staff a deeper understanding of excellent service, understand the difference between 'value' and 'cost', learn more about fulfilling a client's culinary experience and feel equipped to host a menu and wine-tasting session.
Guest experience
After arriving at Le Manoir, we enjoyed a coffee reception first off, and from the outset I was very impressed with the service from Le Manoir's staff. They always seemed to know when your coffee cup was empty, and had a way of serving without interrupting conversations that were going on.
The sessions started with an address on delivering a great guest experience from Le Manoir's managing director and general manager, Philip Newman-Hall. He gave a fascinating talk on his years at Le Manoir and how the hotel and restaurant had developed during his time there.
I was fascinated by the amount of attention he said was given to every detail in the hotel and restaurant, such as matching sugared almonds to a room's colour scheme, and asking every guest what magazines they'd like to read, so these could be supplied. We were told that although the hotel has only 32 bedrooms, 12 staff work in reservations, and booking a room can require a 45-minute call as the staff enquire about all the guest's preferences, to ensure a 'once in a lifetime' experience. Newman-Hall said 70% of Le Manoir's guests will only visit once, and they come for a very special occasion or treat.
He maintained that it was important for the hotel and restaurant to keep their prices high, because the moment they were dropped, it started devaluing the service and experience that was provided, underlining the difference between 'value' and 'cost'.
Georgie Hunt, project manager at BI Worldwide, says: "My key learning from Philip's time with us was that a high level of service is always expected. However, the thing that really sets you apart from the competition is how you exceed this level of expectation. This can be by delivering above and beyond what the client was expecting you to deliver, or the ability to manage and resolve an unexpected problem. Service recovery is often more or as important as the service itself."
Food and beverage
Before lunch, we enjoyed a wine tasting with Le Manoir's Chef Sommelier, and – after a five-course tasting menu lunch – we had a Q&A session with the restaurant's head chef and head pastry chef. They offered a fascinating insight into how to present wine and menu choices to clients without being pushy, and offered tips on how to get around client choices that would be unsuitable.
The chef's talk underlined the importance of seasonal dishes and choosing a menu that works well with larger groups, as some dishes that might be particular favourites just don't work well for large gala dinners and groups.
"We gained invaluable knowledge in relation to refining our skills in food pairing, wine selection and compilation of tasting notes, as well as restaurant and kitchen management," says Shaun Casey, operations director.
Project director Hazel Ward adds: "It was also great to understand how they manage the different dietary requirements that today's society requires."
The right staff and training
The day was rounded off with a workshop with Le Manoir's operations manager Paul Shanahan and restaurant director Mourad Ben Tekfa. They both highlighted the importance of staff training to the client's overall experience. Shanahan stated that when hiring, a person's personality and abilities were more important to them than prior experience – they had to fit well with Le Manoir's ethos. As well as this, it was important to train staff extremely well, and to give them the authority to fix anything that came up without worrying that it went beyond the boundaries of their role.
Amy-Jo Brown, events project manager, says: "There are lots of things I have taken away from the training day, including 'the people process' - how attitude and emotional intelligence really are such an important part of your product."
More:
Agency BI Worldwide doubles operating profit amid 'exceptional growth'
BI Worldwide invests £1m in office revamp and training
BI Worldwide to launch content division
• For more breaking news and in-depth features, sign up to C&IT Magazine's daily Newstracker here
Have you registered with us yet?
Register now to enjoy more articles
and free email bulletins.
Register now
Already registered?
Sign in