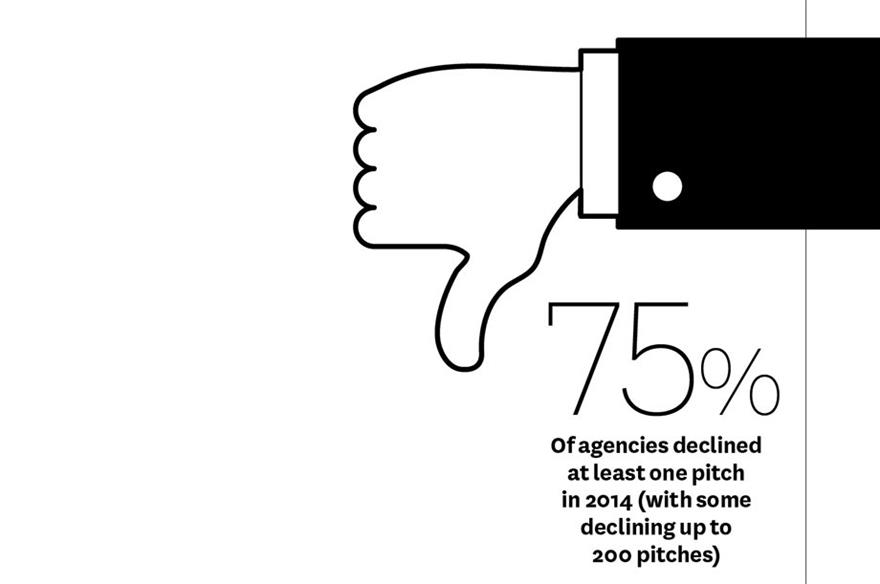 It's rare for a conversation about challenges facing the events sector not to feature the thorny issue of procurement. It came up again in this year's State of the Industry Report, with eight per cent of agencies surveyed citing it as the top challenge facing their business, and many more listing it among their key issues, making it the third biggest challenge for agencies in 2015, on par with 2014.
In last year's report, corporate procurement departments were blamed for everything from the huge increase in the number of pitches to playing hardball on costs and enforcing unfair payment terms on agencies. So, 12 months on, has the situation improved?
The number of pitches taking place continues to rise, with more than two-thirds (73%) of agencies saying the number of pitches they took part in increased in 2014 compared to 2013, while three-quarters (75%) said they declined pitches last year.
Jason Megson, managing director at George P Johnson, says the agency pitched a lot in 2014 but didn't win much. "We put this down to the fact that the landscape in the last year has been more competitive and we have also found that many of the pitches we attended have been procurement driven. They seem to have been testing existing agencies with the pitches as a cost exercise rather than a desire for creativity or new thinking," he explains.
Lack of understanding
Agencies' biggest beef with procurement departments is that they don't understand events business. Mark Scales, head of event solutions at Banks Sadler, says: "My concern is where you're looking at commodities, venue finding, travel, tech to some extent, it kind of fits, but when you're looking at services, event management, creatives etc, it gets difficult to start using a commodity-based model for a service. Because do you really want to buy the cheapest, when what you're buying is talent?"
Another criticism of procurement departments is that they fail to share the necessary information for agencies to properly respond to an RFP. Top Banana managing director Nick Terry says: "We started a tender process for a multinational company but we pulled out because we couldn't understand how we would make money out of it. We had no dialogue with anyone other than procurement, we didn't know the event budget or what events they typically did.
"We couldn't get appropriate answers to help us make a good business decision. It's hard to get a strategy together. Face-to-face, open and candid communication where people roll up their sleeves and invite dialogue and have clarity and understanding of what they're looking for is the way forward."
It's not just agencies that struggle with procurement departments, but also internal event departments. BMW Group's general manager of events Yvonne Holden says that procurement is quite a recent thing on the events side at BMW, and that it has been quite a difficult journey to "bring them onto the same page" because they were used to dealing with automotive parts rather than marketing and event services. "We feel its the responsibility of our agency partners to help us to educate procurement with what we want to achieve," she adds.
Collaboration is key
But there are signs the tide is turning and that internal procurement departments are becoming more open and collaborative, while agencies and client event planners who work closely with them are finding things easier and seeing the value procurement can offer in return. GPJ's Megson says: "We are sensing a shift in the procurement function - they are becoming experts at understanding agencies, looking more at what agencies can achieve rather than just viewing the bottom line. Procurement departments are becoming much more collaborative."
VISTA's commercial and operations director Will Sutton says: "I think procurement is an interesting one because they seem to get this reputation as bad, but I think it's how you engage with procurement that's the most important thing, and how you work with them rather than against them. I suppose they have a job to do and it's a balance between what they need and making sure the end product we deliver is going to meet the stakeholder's needs. It's not just about price, it's about quality."
Guy Horner, managing director at TBA, agrees and argues that savvy agencies embrace working with procurement and don't see them as a barrier. "If you're well managed and transparent then it should be a collaborative relationship. The most important thing is demonstrating how to deliver value," he explains.
And working more collaboratively with procurement functions could prove valuable to agencies as the trend seems to be a return to longer-term contracts and rosters, so rather than the same event being pitched out every year, agencies are being appointed on two- or three-year contracts. For example, dbmt was recently appointed on a two-year contract with Audi and a three-year contract with Mercedes-Benz Financial Services.
Stronger ties
Travel technology firm Amadeus recently underwent a global RFP, which took over a year and resulted in the appointment of Touch and Spark Thinking (Ashfield Meetings & Events partner brand) on three-year global events contracts. Head of group events management Amanda Hoffmeister admits that while the process took a lot longer than expected and was a little difficult at times, it has really helped improve her team's relationship with procurement.
"Procurement isn't so much an issue anymore now we have gone through the agency recruiting process. Finally, procurement realised the complexity of our side of the business, so it's created a much tighter bond between us and them and legal and finance and all the different departments that we need to help us manage all of these events. It's made those ties a lot stronger."
It also means that Hoffmeister can send a brief directly to whichever agency on her roster she feels best suits the event, without the need to send out a formal RFP each time. "It's a great position to be in and means we can be a lot more speedy in getting briefs out without getting bogged down in big contractual processes, which can take weeks. It's better for the agencies, too, as it saves them time and cost in pitching each time," she says.
MORE:
State of the Industry 2015: The outlook for 2016 and beyond
State of the Industry 2015: Full Top 50 Agencies revealed
State of the Industry 2015: Clients confused by event technology
State of the Industry 2015: Top 5 corporate challenges
Click here to view all the content from C&IT's State of the Industry 2015 report

• For more blogs and features as well as breaking news, sign up to C&IT Magazine's daily Newstracker here
Have you registered with us yet?
Register now to enjoy more articles
and free email bulletins.
Register now
Already registered?
Sign in