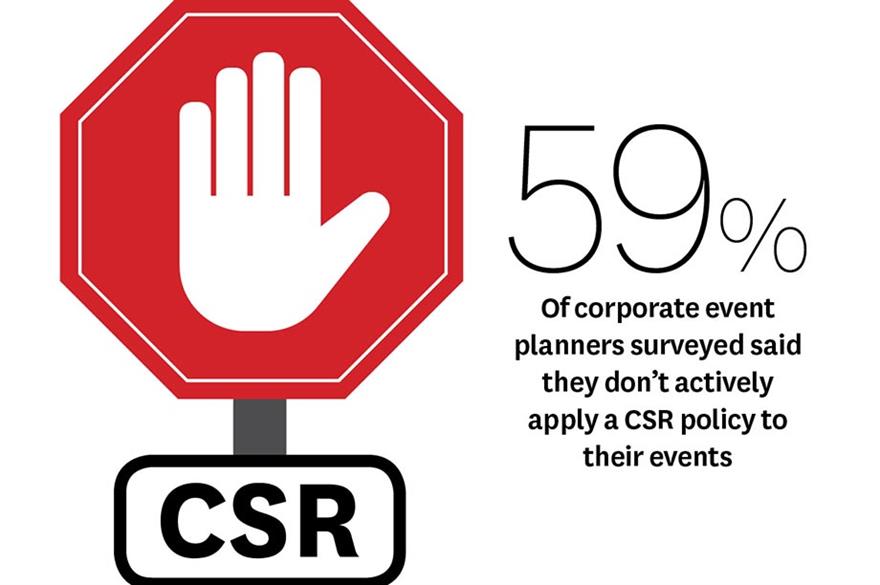 More than half (59%) of corporate event planners surveyed said they don't actively apply a CSR policy to their events, which although down slightly from 61% in last year's survey, shows a distinct apathy for sustainability where events are concerned.
In addition, when C&IT asked agencies what percentage of their clients ask for sustainable or CSR elements, 17% said none of their clients ask for it and 24% said under 5% ask for it. On the flip side, 15% of agencies said more than 40% of their clients were interested in sustainability. Some agencies even stated that a huge 80-90% of their clients are interested in sustainability.
Last year, many argued that the economic crisis was behind client's apathy for sustainability, as it pushed other challenges such as budget and perception to the top of the agenda. But now the economy is improving, and the events industry is growing, why are clients still failing to see the value of sustainability?
"Many clients, particularly FTSE 100 companies, have a strong focus on CSR within their organisation," says Rick Stainton, managing director of Smyle. "But the focus for CSR or sustainability isn't necessarily in the events sector."
However, he argues that while CSR elements shouldn't dominate an events agenda, they should support it. "Corporates do want to be leaders in the industry and set an example," he explained. "If you're promoting sustainable services, this should be reflected across all areas of business."
Chetan Shah, head of operations at Black Tomato says that while most clients don't ask for a CSR element in their event briefs, it's something that the agency always tries to include. "It isn't paid as much attention on the events side, because it's often taken care of by other aspects of the business," he explains. "But I think agencies are definitely pushing the CSR agenda and incorporating it into pitches."
He added that for groups that choose to incorporate a CSR element, it can be the most memorable part of their event. "We had clients that built a new school climbing frame on a visit to India. In the morning they'd visited the Taj Mahal, but the school visit was all anyone wanted to talk about."
These thoughts are echoed by Adam Goodman, owner of aca live, who has helped to arrange events for Colt Technology, a company which actively seeks a CSR elements in its events. "It's definitely something that's gaining popularity. DMCs are generally very open to the idea and can help find meaningful projects that will make a real difference," he explained.
For Colt Technology, finding the right CSR project for a short space of time requires extensive research. "Every year we run an 'inner circle' incentive programme for our top 50 performers. Wherever we go, it's really important that we give something back to the community," says Jason Sullivan, employee engagement and recognition manager at Colt Technology.
Recognising that time is limited, he suggests corporate groups focus on small, well-targeted projects. "Recently we took a group to Croatia. For the CSR aspect of the trip we crossed the border into Bosnia to do some work with a children's football club." To ensure they made the most of their afternoon there, the company had been working with the club during the lead up, arranging donations and renovating the changing rooms.
"When the group arrived, everything was ready for them to complete hands-on tasks, such as painting and clearing the grass area." Every year, the company dedicates half a day of its three or four night programme to a CSR activity, working closely with a local DMC to find a project that's small-scale enough to make a difference in a few hours. "It often ends up being the highlight of the trip," says Sullivan. "It's quite an emotional experience and it really gets people talking to each other."
Technology is expected to play a bigger part in future trends among venues, with some having already invested, or expecting to invest in technology in the coming months, including features such as Apple TV, interactive social media, live web links and streaming and projection mapping.

Many venues say they are also seeing interesting breakthroughs in delegate management systems, locator functions and beacon technology.

On the CSR side, ExCeL London says it is seeing a return to organisers being more environmentally aware and building some of their organisation around the venue's CSR capabilities.

"The science behind food and beverage provision is becoming more important to event planners, in particular conference organisers, and we are evolving our food and beverage provision to meet these changing needs," says Lucy Merritt, marketing manager at ExCeL London.
More:
State of the Industry 2015: Full Top 50 Agencies revealed
State of the Industry 2015: The outlook for 2016 and beyond
State of the Industry 2015: London remains top UK destination for planners
State of the Industry 2015: Auto and finance sectors continue resurgence
• For more breaking news, as well as in-depth features and case studies, sign up to C&IT Magazine's daily Newstracker here
Have you registered with us yet?
Register now to enjoy more articles
and free email bulletins.
Register now
Already registered?
Sign in