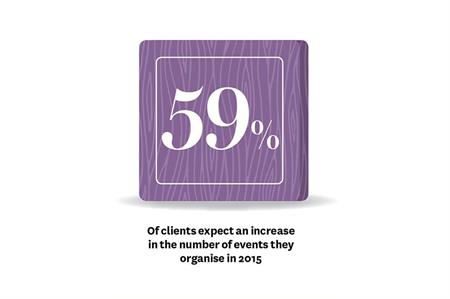 With 81% of event agencies predicting financial growth in 2015, the outlook for the remainder of this year looks positively rosy. But will that growth continue in 2016 and beyond?

The good news is that the majority of event professionals C&IT spoke to are predicting that 2016 will be bigger and better than 2015, with concerns around the General Election having passed, coupled with an improving economy, giving businesses security and time and resources to invest.

Strong marketplace

Research such as the IPA Bellwether Report show that event marketing spend is on the rise, and a confidence in the value of the events sector is returning, something that event planners agreed with.

Luke Flett, head of marketing at Ashfield Meetings and Events, says: "In general the event market place seems to be confident of what lies ahead in 2016. Marketing spend is on the rise according to the Bellwether report, and various sectors and industries are growing and clients are starting to show signs of planning further in advance. On top of this we have seen a rise in reward and recognition and internal employee engagement programmes we are receiving."

The majority of agencies are reporting that bookings for 2016 are either up or on par with bookings taken at the same time last year for 2015, and also confirmed that a number of clients are agreeing to longer-term contracts further in advance.

Nick Terry, CEO at Top Banana, says: "We have more events slated for 2016 than this time last year and we are having more conversations about 2016 than this time last year."

Dale Parmenter, group CEO at drp, adds: "We've probably got more clients looking at 2016 than ever before, and also what we're finding with several of our larger clients is that they're starting to share the long-term process and strategic plans for their events, which is great. It allows us to work more closely with them and we're able to see what needs to be done next and where we can be more efficient for them."

Potential issues
While the majority of planners are optimistic, they are all too aware of potential threats on the periphery, not least the promised EU referendum and uncertainty about the Eurozone, both of which could impact on the sector.

Giselle Ripken, director of meetings and events at Grass Roots, says: "2015 was an election year and there's still a bit of nervousness around Europe and Greece, so it's steady. But I think if we can really continue to steadily grow and be business confident, and not withstanding anything awful in the marketplace, then 2016 will be firm. But the issues around Greece and the EU vote will cause some market nervousness for some industries."

Flett adds: "Indications point to a positive 2016 event marketplace, but as ever we remain cautious in our approach and keep an eye on all external influences that can impact our industry and our clients' event activity. Perhaps a better phrase would be cautiously optimistic."

What next?

Planners are predicting that employee engagement events will be on the rise in 2016, and are also looking to new technology to improve the content of events and get the message across in the most effective way possible.

Clare Moses, head of events, personal and corporate banking at Barclays, says: "We are continuing to see a comeback for internal employee engagements events. We've had overwhelming feedback from delegates that have attended these events and stakeholders are saying that it has made a huge difference and they're seeing a real benefit in terms of building their global network, and sharing best practice and problem solving.

"The next challenge is how technology can help allow the content to live on after the events so we can reach the largest possible relevant audience outside, in addition to inside the room."
MORE:
The Big Debate: Is London pricing itself out of the market?
State of the Industry 2015: Auto and finance sectors continue resurgence
State of the Industry 2015: Incentives and roadshows on the rise
Download the full Top 50 agencies table

Read all the content from C&IT's State of the Industry 2015 report
Have you registered with us yet?
Register now to enjoy more articles
and free email bulletins.
Register now
Already registered?
Sign in