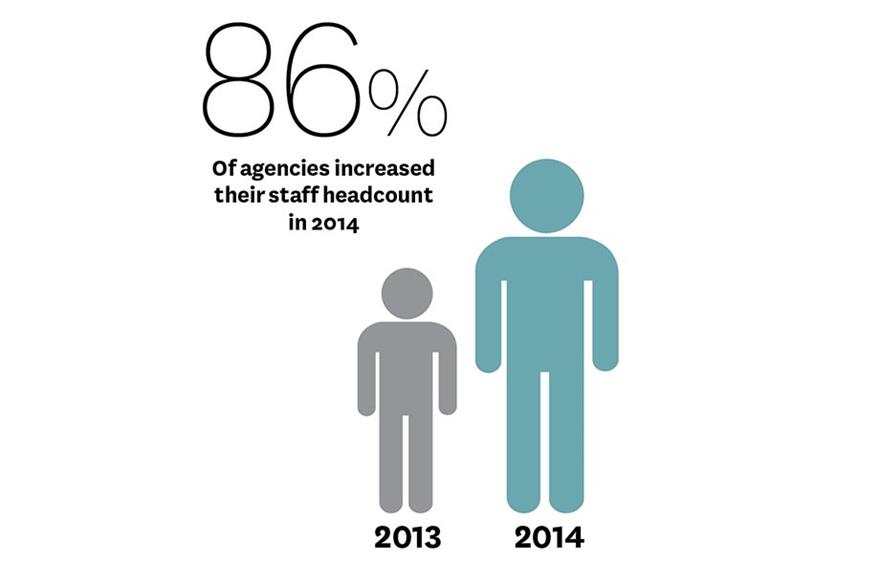 All signs point to a successful year for the UK events industry. The good news is that it's growing - 86% of agencies expanded their headcounts in 2014, and 84% expect to do so in 2015. The bad news is that this has highlighted a rising talent gap, with agencies finding recruitment, particularly at senior level, increasingly problematic.
Talent/recruitment has in fact grown to become the top challenge for agencies, with a fifth (20%) of agencies surveyed describing it as the top challenge facing their business in 2015, up from 15% in 2014.
Also, when they were asked if recruiting/retaining senior talent was more difficult at the moment than in previous years, more than a third (37%) said yes, with a mere 18% saying no and the rest saying it is the same as before. Although many pointed out that recruiting and retaining talent are different challenges, and that retaining talented staff has not been as difficult as finding new recruits.
Shrinking talent pool
Agencies believe there are a number of reasons are behind the dearth of talent, the first being an after-effect of the downturn, which lead to redundancies and too many people for too few jobs, forcing many to turn to freelance work or leave the industry altogether. Now, the situation has reversed, with too few people for the jobs available in expanding companies.
Giselle Ripken, director of meetings and events at Grass Roots, explains: "A number of agencies are doing better at the moment and have expanded their business. This means the pool of talent isn't as extensive as the availability of jobs.
"I think we're also still slightly suffering from when we had the downturn, where a lot of people went out of the industry and did alternative thing, or chose to go freelance. There's always a lag when the industry picks up again to bringing the talent levels back up. I think the lack of talent at the moment is a compounded effect of the current success and the downturn before."
Dale Parmenter, group CEO of drp, agrees and believes that the recession diverted attention away from focusing on talent as businesses focused on battling the bigger challenges on slashed budgets, perception issues and event cancellations. "I think as an industry we haven't been great at keeping new talent at the forefront throughout the recession, we probably ignored that a little bit. That means that now, finding the right talent can be a challenge," he says.
Changing skill sets
Some agencies argue that the talent gap is partly due to individual event professionals own lack of talent, problems with their training or from having too narrow a focus on one area of a vast industry.
Rick Stainton, managing director of Smyle, said: "It's very difficult to find really good, multi-disciplined, multi-sector experience or talent out there at the moment. Candidates have either worked in one sector so they don't really understand any other sector, or they are not particularly commercial, or they are very reliant on delegation rather than getting their hands dirty. We have a variety of different genres we work in, and a variety of sectors, and we need people with versatility.
"Traditionally in the event industry agencies were focused on one or two key sectors, and one or two key industries. That has changed now for a lot of them. There's also been a rise in technological and digital overlap, so roles that were typically separated and didn't talk a lot are now combined. It's quite rare to find someone who can cover the separate disciplines. There's also a variation in quality across the industry anyway and people coming from the client side don't really understand how to work in an agency, are naïve to the intensity, pace and variety and lack of formal structure."
Company culture
But its not just about experience and skills – finding someone who fits in well with the company culture and existing ethos is just as important and equally as challenging.
Charlotte Wilson, managing director of Pure Events, said: "We have a specific brand image and everyone in my office reflects that. It isn't easy to find someone who is motivated and excited and driven by what they do, and our staff have to be committed to driving the business forward and the variety of the events we do.
"When recruiting I concentrate on the synergy of the person sitting in front of me, looking at whether they match the brand, whether they have good experience, whether they appear to have a good head on their shoulders and have common sense, and if they're meticulous."
Look out for The Talent Gap – part 2, coming in the July/Aug issue of C&IT
MORE:
State of the Industry 2015: Top 5 corporate challenges
State of the Industry 2015: Top 20 event agencies revealed
State of the Industry 2015: The Agency Landscape
State of the Industry 2015: Agencies and clients building for boomtime
• For more breaking news and in-depth features, sign up to C&IT Magazine's daily Newstracker here
Have you registered with us yet?
Register now to enjoy more articles
and free email bulletins.
Register now
Already registered?
Sign in