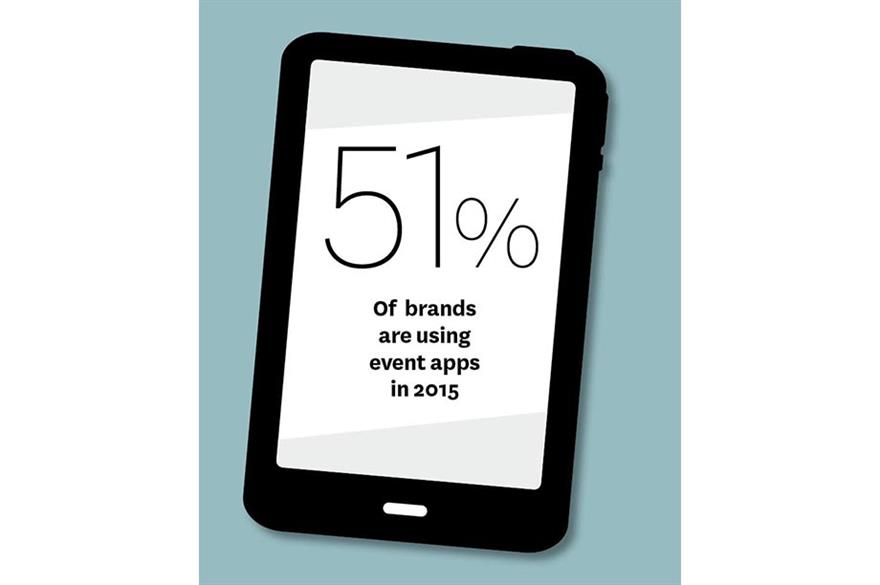 Almost a quarter (24%) of the 116 corporate event planners surveyed for C&IT's State of the Industry 2015 Report said they are not looking to invest in new technology in 2015. And another 18% said that even as they move into the third quarter of the year, they are still unsure if they want to or have budget to invest in technology.
"We've been looking for something that won't cost a fortune to build each time and that retains simplicity but we haven't quite found it yet," says Clare Moses, head of events, personal and corporate banking, Barclays.
Event planners said that they value simplicity over innovation and that the highest levels of engagement among delegates are apparent when the technology is easy to use. Moses adds: "The most effective methods are often the simplest, so we need to keep technology simple for our delegates to engage with it."
The only way is app
With this in mind, it is perhaps no surprise that the most popular area of event technology is mobile event apps, with more than half (51%) of corporate event planners saying they will be implemented into their events in 2015.
George P Johnson executive director of experience planning Gareth Dimelow explains why: "Event apps are the most popular tool, because it is clear what functionality they bring to the experience and the end user. It is clear for the event manager to understand how the event will be made better."
A fifth (20%) of the 87 event agencies surveyed said that they have also invested in mobile event apps in 2015 to meet this demand from clients, which is higher than any other area of technology, including registration systems (15%), delegate management software (15%) and digital media (5%).
"We have a lot of dealings with event apps, which was a big investment for us in 2014," says Laura Derbyshire, events and revenue director, Team Spirit.
Charlotte Wilson, managing director at Pure Events, is also well aware of this trend. "The rise in event apps and the request for them means it's going into every single proposal."
Marissa Irons, executive assistant, events and project management at Experian Cross Channel Marketing UK, also sees the value in event apps but believes there is still more work to be done. "Event apps always spark my interest but, a lot still haven't got it right. It's the simple, intuitive elements that are often the best but which get left out.
Wilson believes that corporates are reluctant to trial new technology they don't fully understand, and therefore favour simpler solutions, such as event apps.
"Clients are terrified by the rise in technology and what it means. A lot of clients know they need to engage in it but are not sure how to and what the correct route is."
This puts agencies in an awkward position, as not keeping up with the growth of new technology could be detrimental further down the road.
Derbyshire explains: "Technology is moving so fast and knowing what is going to stick around and what is just a farce is challenging, particularly when we have short lead times."
Breaking boundaries
Not all corporate event planners are reluctant to explore new possibilities, however. As companies are becoming more and more global, corporates are looking to further the reach of their events and broadcast their messages beyond the four walls of the venue.
"We did two events recently with 200 participants at the event itself and we reached out to 1,200 participants who were watching from their desks," explains Amanda Hoffmeister, head of group events management, Amadeus.
"This kind of technology is proving that we're showing a difference and for the amount of money that's being spent on it we've got a much vaster reach of participants."
Moses says that using technology to increase the longevity of an event is at the top of her agenda as well. "The next challenge is how technology can help allow the content to live on after the events so we can reach the largest possible relevant audience outside the room," she explains.
No gimmicks
Even though investment into some areas of technology is looking positive, the majority of corporates are still nervous about trialing new products. Although this isn't necessarily a negative thing, according to GPJ's Dimelow.
"Brands seem to think they need to be seen as early adopters," he says. "If we're pushing new technology onto clients then we're doing everyone a disservice because if it's not benefitting the needs of an event then it is just a gimmick."
This supports the argument that skeptics of new technology have been proclaiming for some time now, that using new technology for the sake of it is never going to end well. Just look at what happened to Google Glass.
"Agencies should help clients get more comfortable with the technology that already exists and then go from there. It must be presented as a solution," concludes Dimelow.
MORE:
State of the Industry 2015: Top 5 agency challenges
State of the Industry 2015: Top 5 corporate challenges
State of the Industry 2015: Top 20 event agencies revealed
State of the Industry 2015: The Agency Landscape
State of the Industry 2015: Agencies and clients building for boomtime
State of the Industry 2015: Budget and talent are top challenges
• For more breaking news and in-depth features, sign up to C&IT Magazine's daily Newstracker here
Follow @jackcarterhmg39
Have you registered with us yet?
Register now to enjoy more articles
and free email bulletins.
Register now
Already registered?
Sign in