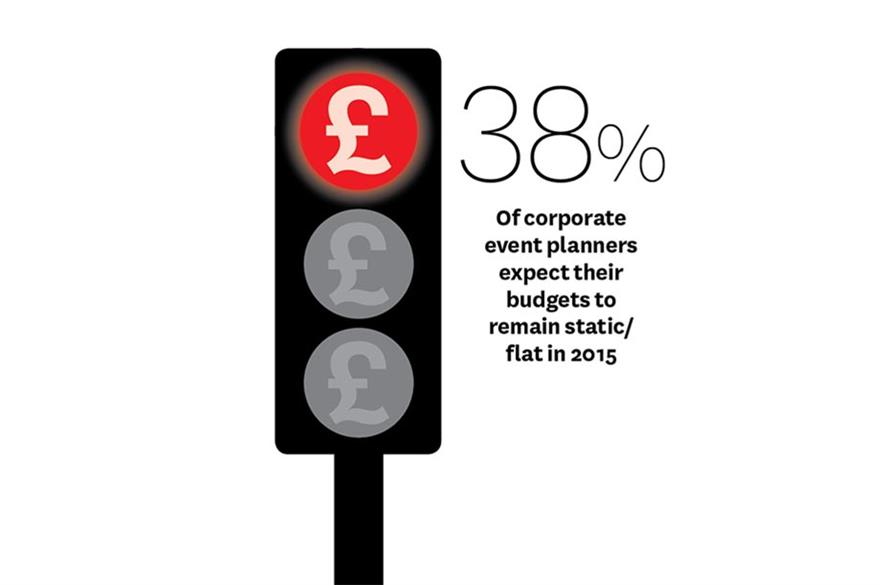 1) Budgets
This year's survey of more than 100 corporate event planners revealed budget remains their biggest challenge. More than a fifth (22%) of respondents, which included brands such as Colgate-Palmolive, Barclays, Molson Coors, Sony Mobile and Centrica, described budgets as their biggest challenge, while a third (35%) said budget is also the biggest internal barrier to holding events.
Amanda Hoffmeister, head of group events management at Amadeus, says: "Ever decreasing budget and the greater need for negotiation on the part of the agencies are the wider challenges. From a venue perspective people really just want the best deals that they can possibly get, and I think the venues are being squeezed harder and harder. And I can see that trend continuing," she explains.
2) Resources
A key theme among corporate event planners is that they are being expected to do more with less, with 13% of respondents saying resources are their biggest challenge. Events are expected to be bigger and better than ever before, and many brands are seeing both event and delegate numbers increase, but the size of internal events teams aren't growing, and neither are the budgets.
"There's no increase in resources - we have fewer people and more demands on our time," explains Suzanne Kinross, sponsorship and PR executive for Heineken UK.
3) Increasing delegates and/or revenue
Many corporates are looking to grow the number of delegates at their events, and the revenue at the same time, with 10% citing increasing delegates and/or revenue to be the biggest challenge.
"Bums on seats is a high priority for our sponsors, they want to see as many advisers as possible," says Amanda Ford, event manager at Tenet Group.
4) ROI
As ever, ROI came up as one of the top challenges, with 5% of corporates stating that proving the value of events is their top challenge.
Jason Hill, events and internal communications manager at Volkswagen Commercial Vehicles, says: "Measuring ROI is a challenge. I think my biggest frustration is that nobody seems to have nailed that yet, it's the golden goose. If an agency could come along with some kind of app or system that allowed you to take an event you're trying to deliver and predict what your results would be, I think that could be incredibly powerful."
5) Innovation
Corporate event planners always want their events to be better than ever before, and 5% cited making events more creative and engaging and finding new innovative venues and destinations as the top challenge.
Executive assistant, events manager and project manager at Experian, Marissa Irons, says: "In terms of locations, trying to find somewhere we've not been to before and that's different to where all our office locations are is a challenge. I've been doing a few fam trips recently to try and find somewhere sufficiently new or exciting. There is also a need to be more creative in how we approach events – I want to come up with something that my boss would never even think of."
Click here for a look at the State of the Industry agency landscape, including key trends such as growing head counts, globalisation and investment in new branding.
Yesterday, C&IT revealed the Top 20 event agencies of 2015 as part of the State of the Industry report.
MORE:
State of the Industry 2015: Budget and talent are top challenges

State of the Industry 2015: Agencies and clients building for boomtime

See last year's Top 50 Agency Ranking
Download the full award-winning State of the Industry 2014 Report
• For more breaking news and in-depth features, sign up to C&IT Magazine's daily Newstracker here
Have you registered with us yet?
Register now to enjoy more articles
and free email bulletins.
Register now
Already registered?
Sign in