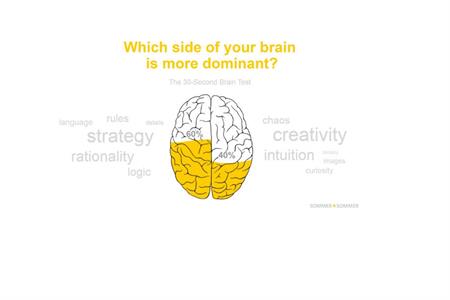 Around 400 event planners were invited to put their brains to the test to gain insight into whether the planning of events is dominated by rational left-brained or emotional right-brained thinkers.
Less than half (39%) said they class themselves as creative thinkers, even though the majority said they have a creative approach to their work.
The research, conducted in partnership with MICEBOOK.com, was developed to mark the launch of the London convention bureau's Love the Event, Love the Experience campaign based on the insight that many of the top 50 convention bureaus focus on the rational benefits of hosting an event within their destination, only a few genuinely promoting the emotional, creative aspect.
The study also found 53% of planners feel under pressure to deliver innovative and pioneering events, yet less than a third said risk-taking is encouraged by their organisation.
Tracy Halliwell, director of business tourism and major events at London & Partners, said: "Ours is an industry within which logic and in-depth planning are absolutely critical to successful outcomes.
"Creativity and innovation are growing ever more important as clients demand event activations that set them apart from their competitors and deliver enduring memories for consumers. The experience itself is now what drives the event, but it's only by combining pioneering ideas with concrete solutions that we can truly surprise and delight."
Leonard Sommer, chief creative officer at SOMMER+SOMMER, the agency that developed the 30-Second Brain Test, commented: "An event without an extraordinary experience certainly has less impact as memory systems in the brain are not fully activated. To ensure an event leaves a lasting brand impression, event planners need to incorporate unique emotional experiences, both to make them memorable and to help overarching messages resonate."
Two-thirds of those surveyed blamed lack of time, while another 53% blamed budget limitations as a hindrance to creativity. However, three-quarters believe that their team members are free to deliver creative ideas and almost half said that within their businesses, ideas are not judged at an early stage.
Chetan Shah, founder and CEO of MICEBOOK.com, added: "Whilst time-constraints and restricted budgets can sometimes hinder creativity, a balance is always needed between the creative and the logical.
"Great teams bring together a mix of personalities, approaches to work and creative or logical attributes. Whether someone is left or right-brained, their attributes and strengths should be encouraged and nurtured, to ensure their events are spectacular, both rationally and emotionally."
London & Partners will host a Creative Thinking session on stand F400 at IMEX Frankfurt at 3pm on Tuesday 19 May 2015.
More:
Opinion: Make the UK a creative contender again
Have you registered with us yet?
Register now to enjoy more articles
and free email bulletins.
Register now
Already registered?
Sign in