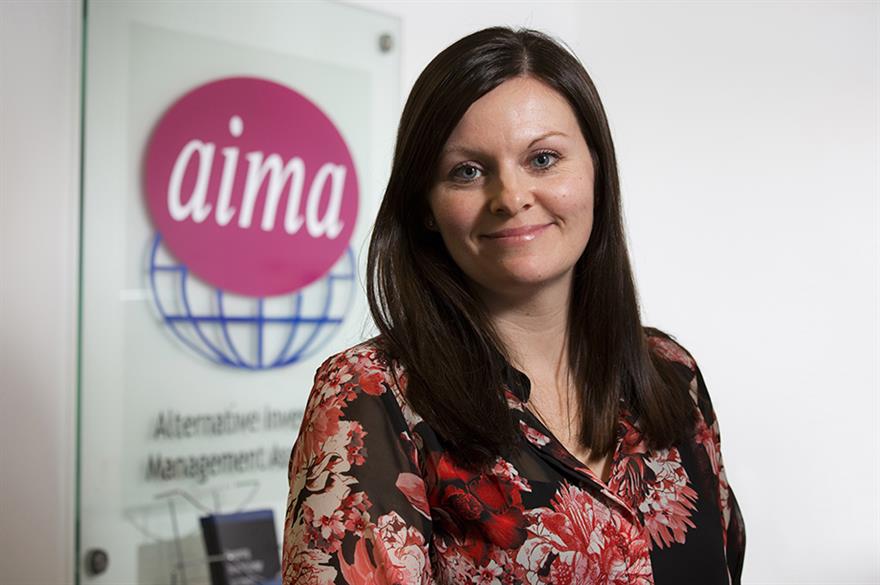 Deborah Babbage, began her events career at the City of London. Working as a PA there, she sat by the events team and offered to help out with badging and registration at evening events. When the role of junior events assistant came up, she jumped at the chance and has never looked back, and now has an events career spanning 11 years, nearly four of which have been with AIMA. "The great thing about working at AIMA is, when you look back at an event afterwards and decide that there's ways to improve or grow that event, they're really good at listening to your ideas and saying go ahead and try it out," says Babbage.
Role expansion
I started off at AIMA as an event manager, and when I joined we only did 16 events per year, which I was responsible for managing. But last year we did just over 100 events, so it's evolved into a massive programme. I'm now head of events here and I have global oversight, we have offices in Hong Kong, New York and other cities that that I look after. Before I joined AIMA the events position was a part time role and events weren't a major priority, but they brought me in to look at the programme and see where we could improve things and bring in new event concepts.
Stressful but enjoyable
One of our flagship events is our Global Policy and Regulatory Forum, which is probably the most enjoyable and the most stressful event for me to plan. We try to hold in different countries and venues so it's a blank page when planning starts, and that creates lots of challenges.
Global Challenges
With global events, one of the main challenges is dealing with time differences. When we held one of our large conferences in Hong Kong, we only had an hour or two every morning to get everything done and communicate with them before they'd gone home to sleep. Also different countries have different traditions. Once we were arranging an event in the Middle East and we initially checked dates that worked for our speakers. Then we found out that actually there was a holiday in the Middle East at that time when everybody traditionally took about four days of annual leave around it, so they'd all be on holiday. We had to change the date.
Venue choosing
I mostly use agencies for their venue finding services rather than the event management side of things. When I first realised that there's not enough time in the day and we need some help outside the office, I tried about five or six agencies and we've done a lot of work with Beyond Certainty who always present viable venue options. Now and again though an agency will contact me or I'll meet them at an event, so I've got a spec I'll send it across to them and see how it goes.
Worldwide service
Moving forward I'd like to concentrate our events globally, it used to be we did our events in head office, Hong Kong handled their events and Singapore did theirs, etc. I'm looking at establishing a complete global strategy for events between our offices, making sure that the UK events structure is mirrored around the world and vice versa.
MY EVENTS
Babbage leads a team of two permanent events staff at AIMA and they work on just over 100 events a year globally, with the largest being its Annual Conference and its Global Policy and Regulatory Forum. Delegate numbers at the events can range from 10—12 at CEO dinners, to 400 at the Annual Conference.
BABBAGE LOVES
Cooking, at the weekend my husband and I try out different dishes, because there's never enough time in the week.
Theatre
I did theatre studies at school and I still love going
Cinema
Though it's mainly kids' films with my daughter
Family time
Weekends spent with my husband and daughter
More association profiles:
Have you registered with us yet?
Register now to enjoy more articles
and free email bulletins.
Register now
Already registered?
Sign in