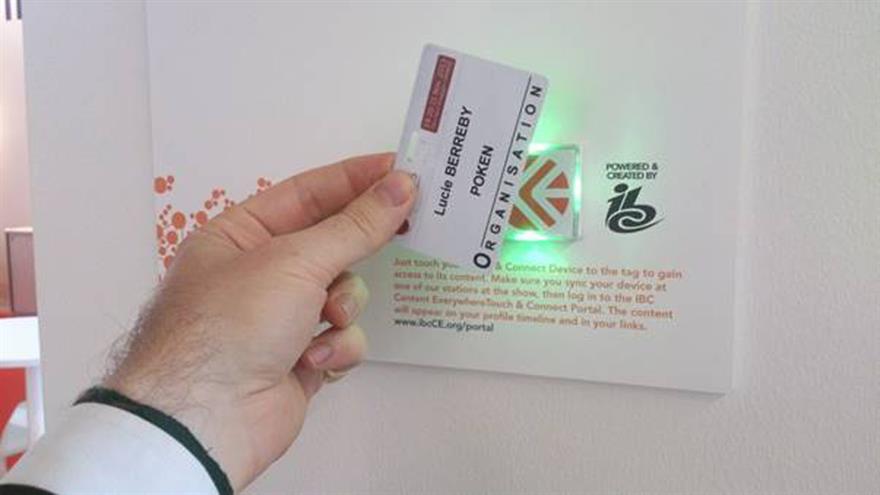 The new Super Touch Point and Real-Time Touch Point features, which include integration with both NFC and iBeacon technologies, were launched at a press conference at EIBTM in Barcelona today.
The Super Touch Point is a digital sticker that enables event attendees to collect digital information, such as company and sales literature, social media links, or video, by simply touching their event badge to the Touch Point.
The digital information contained in the Touch Point, loaded up by the exhibitor using a simple web interface, is sent automatically to the visitors' email or can be accessed through an online web portal.
This new technology is in addition to the company's original Poken USB touch and collect device.
Poken CEO Stéphane Doutriaux said: "This development opens up our technology to the really large events, of around 100,000 delegates, where previously cost or the logistics of equipping every delegate with an additional device made it impractical. It makes paperless events possible on a large scale."

Meanwhile, Poken's new Real-Time Touch Point allows information to be gathered and collected in real time using an embedded GSM module, ideal for events that need up to the minute data collection such as tracking attendance at meetings in real time.

The integration of RFID and iBeacon technology enables delegates to collect information using their mobile phones instead of using Poken devices if they choose.

Doutriaux added: "The new technology also opens us up to new partnerships with other players in the event technology space who want to work with us but haven't been able to in the past so we expect to be announcing more strategic partnerships."

Cartes Secure Connexions 2014, organised by Compexosium, was the first tradeshow to trial the new technology. The Global Event dedicated to payment, identification and mobility took place 4th -6th November 2014 in Paris.


Have you registered with us yet?
Register now to enjoy more articles
and free email bulletins.
Register now
Already registered?
Sign in