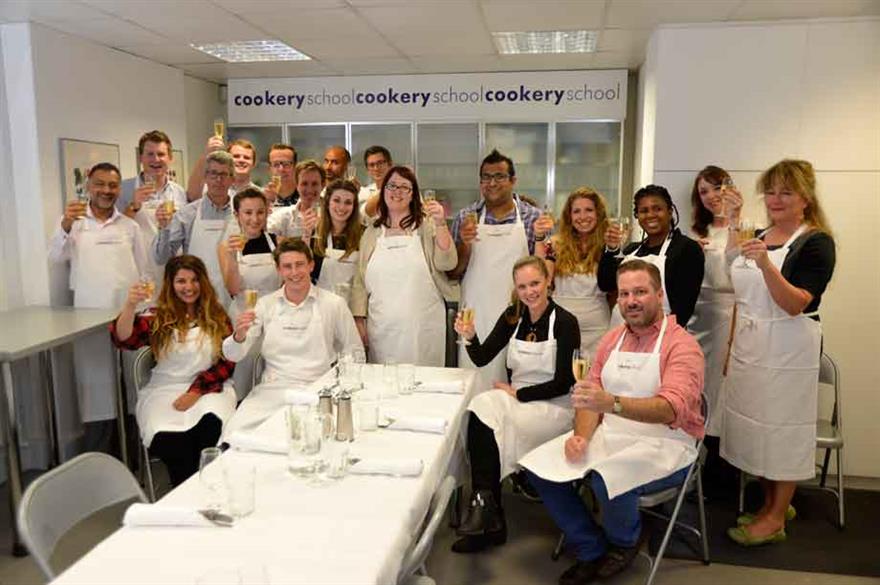 Pre-event planning
In December 2013, wealth management company AAG held its Christmas party at the Cookery School, located on Little Portland Street, London. In July 2014, the venue approached AAG with the possibility of organising a corporate teambuilding day. Richard Balaes, group managing director, AAG, explains: "We had our Christmas party at the Cookery School and I was impressed with the venue and what they can offer. The teambuilding and a Christmas party were an excellent combination and they contacted us to do another teambuilding event in the summer."
Objectives
As a company whose B2B event spectrum stretches to only a few a year, it was important that Balaes and his team used their time effectively to communicate key messages.
"The theme of the day was about taking AAG to the next level. There are things we think we're doing right and there is lots of potential within the company. I want to see people perform at optimal levels and this was another way to get them to engage and perform better."
Challenges
Ensuring the delegates would react positively to a different style of teambuilding that placed them far out of their comfort zones was a concern. The group was made up of 22 of AAG's employees and included a mix of junior and senior staff who were forced to put rank aside and work as a team. "Getting thrown together with different colleagues and being forced to collaborate was always going to generate interesting results," explains Balaes.
Solutions
The day began with a series of problem-solving tasks at AAG's headquarters in Central London that were designed to open up communication and identify areas of weakness within the team. These weaknesses would then become the focal point for the rest of the day.
The group then made their way to the Cookery School where they were separated into four teams. The task was to create a four-course meal with one team in charge of the starter, another the main course, then the desert and finally the petit fours. It was up to the teams to decide on a dish that complimented the other three courses. However, this was easier said than done. Because each group was competing against one another, some teams were reluctant to reveal information on the courses they were preparing. The purpose of the task was to see which would prevail; competitiveness or teamwork.
Balaes was happy with the way his staff responded to the task and although they struggled at first to find cohesion across the teams, the results were pleasing. "The group had the right attitude and everyone wanted to make the effort. As a managing director, it made me feel good that AAG has an environment where we all get along."
Client verdict
"I would definitely say that the messages have carried on to be received post-event. The following day there was an obvious buzz," says Balaes.
"There were several key elements that emerged: how to collaborate and communicate, how to give better feedback, and how to have a better attitude. However, the most important one was that AAG is more powerful than the individual."
Post-event analysis
Balaes says that there was a lot of positive feedback and proof that the messages were received following the teambuilding day. "The staff were able to shed new information on the event after it had taken place, as they were looking back on it from a different perspective."
Timeline

July 2014 - Venue approached AAG
28 July - Save the date invitations were sent to staff
August 2014 - Event took place
September 2014 - Final debrief meeting between staff
Have you registered with us yet?
Register now to enjoy more articles
and free email bulletins.
Register now
Already registered?
Sign in