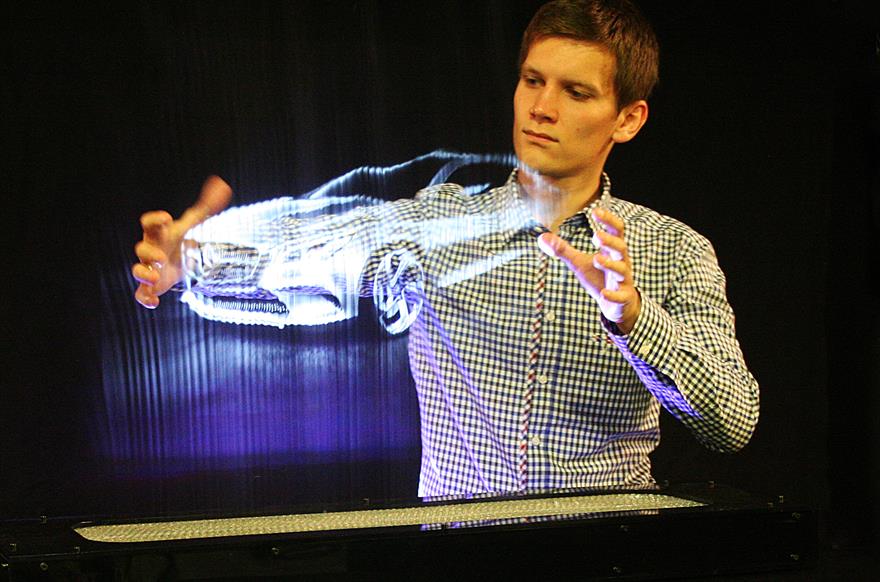 Water mirage
Polish company Leia, named after the Star Wars princess, is taking holographic technology one step further with its Leia Display XL. The device uses laser projectors to beam images onto a cloud of water vapour. The result is a walk-in holographic room, in which 3D objects can be viewed and manipulated from every angle.
3D printing
Manufacturing will be propelled into a new dimension over the coming years as a result of 3D printing. For the event industry in particular it will present new possibilities, perhaps most significantly for the catering industry with the 3D printing of food already being tested by the likes of NASA.
Digital ribbon
ADI's new 6mm modular LED screen can be used in a variety of configurations. At the recent Sports Venue Media and Technology Summit held at ADI's head office in Preston, it was used as a 'digital ribbon' highlighting sponsors on the route into the event.
Holographic telepresence
Musion, the British firm responsible for digitally resurrecting rapper Tupac Shakur at Coachella music festival, is working on a new technology known as holographic telepresence. Best described as 3D video conferencing, it works by beaming moving images onto sloped glass, transmitting a three-dimensional moving image of a speaker at multiple destinations.
Throw the mic
Encourage interaction at your events with a throwable wireless microphone. Catchbox comes in a range of colours and can be customised with the text of your choice. Internal electronics sense the motion of the cube and switch off the audio when it is caught, thrown, or dropped to avoid unwanted noises.
Virtual reality
It is now feasible to shoot live events using a 360-degree panoramic camera so that it can be streamed to virtual reality headsets such as the Oculus Rift or Sony's Project Morpheus. For February's London Fashion Week, high-street retailer Topshop collaborated with 3D agency Inition to allow fans to experience a virtual front-row seat at the show.
YrDesigner
Bring a new dimension to event-gifting with Luma's latest interactive tool YrDesigner. Guests use touchscreens to swipe through a library of patterns and images which they can piece together to create a bespoke garment. Once the design is perfected, the expert team print and press the garment ready for them to take home.
Over the next four weeks, C&IT will publish 101 hints and tips generated by our readers – from their favourite dining experiences and incentive activities, to great new event technologies and fabulous destinations.
Tweet us your ideas using #cit101ideas or email cit@haymarket.com – the best ideas will be published as part of the online guide.
More from 101 Ideas:
101 Ideas: Five incentive ideas, from Split to Svalbard
101 Ideas: Five new London hotspots
101 Ideas: Eight exciting event destinations
Have you registered with us yet?
Register now to enjoy more articles
and free email bulletins.
Register now
Already registered?
Sign in