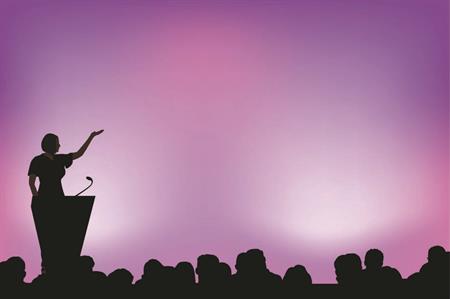 During a corporate panel session at C&IT's Agency Forum in August, Office Depot's head of events, PR and external marketing communications Sophie Christopher said: "Just standing on a stage and presenting Powerpoint is really boring."
It's not the first time an event planner has made a derogatory comment about Powerpoint. Everyone knows the phrase 'death by Powerpoint', though it seems a little harsh that one software programme has become synonymous with poor presentation skills.
Yet despite the criticism, text-heavy presentation slides still seem to be the norm, especially at corporate and staff events.
Research by Media Maker, which surveyed 108 delegates at corporate events in the retail and manufacturing sectors, revealed 82 per cent are failing to engage with conference content. So, should Powerpoint presentations be banned?
Office Depot's Christopher says the problem is that many presenters rely on Powerpoint. "It has become a bit of a crutch to remind presenters what to say, rather than to engage the audience," she says.
Miriam Staley, professional speaker, coach and founder of Make Waves, agrees that presenters rely too heavily on Powerpoint but argues that it shouldn't be banned.
"A few years ago I would have banned it, but slides do show that some preparation has gone into a presentation. It also gives the audience something to focus on so they are not just staring at the speaker," she explains.
"Slides should be designed with the audience in mind. Will they engage? Will the pictures or props invoke a memory or an emotion? If it's not serving the audience, don't put it in."
Slides should not be full of bullet points: if delegates are focused on reading the slides, they can't listen to what the speaker is saying. It also gives very little credit to the audience regarding their ability to retain information.
Live Union's creative strategy director Jez Paxman says bullet points should be banned, not Powerpoint. "When used well, screens can be very powerful," he says. He also believes the tide is turning and corporates are more aware that Powerpoint can be detrimental if used badly. "We are past the tipping point and people definitely have more awareness," he adds.
Paxman suggests corporates look at Pecha Kucha - Japanese for chatter - as an example of how Powerpoint can be used to good effect. Created by two Tokyo-based architects, Pecha Kucha is a format that turns presentations into both an art and a competitive sport: exactly 20 slides displayed for just 20 seconds each. Speakers say what they need to say in six minutes and 40 seconds of exquisitely matched words and images.
It's not dissimilar to the TED Talks concept, where speakers deliver presentations in three-, nineor 18-minute slots. Salome Heusel, deputy director of TEDx and TED Conferences, says: "TED believes 18 minutes is long enough to be serious but short enough to hold people's attention. The 18-minute limit forces speakers, much like Twitter, to be concise. By focusing on their key points they clarify what they want to say."
However, a key issue at internal company events is that often the people speaking - senior executives - are not trained presenters and talking in front of a crowd does not always come naturally, which is why many read from their slides.
"It takes enormous bravery to do something different," says Staley. So how can speakers be encouraged to be brave? Heusel says that rehearsals are crucial: "We build in a lot of rehearsal time before TED conferences and work really diligently with presenters for up to six months."
Another issue at events, says Staley, is the obsession with slides being checked prior to presentations: "The reliance on bullet points in slides is partly to do with bosses wanting to see slides before the event to check what is going to be said. A slide that contains only images doesn't mean anything without the speech accompanying it, so is much harder to check."
If corporates can move away from this need to check the content of slides, and sense-check the speech content during rehearsals, that content will become far more engaging for audiences, who will be more likely to remember the key messages being delivered.
TWITTER BUZZ
People tend to put all their content on slides; it distracts delegates who start reading instead of listening.
@WhiteMassif
Powerpoint, Keynote and Prezi can be highly engaging, even beautiful - when they are done well
@brightfive
PP can be a powerful visual aid. Presenters need to tell a story using BIG images and simple messages.
@Corp_Events_UK
Innovative delivery styles will provoke more engagement. Audiences expect instant gratification.
@PaulaNLuke
Apple Watch: three things event planners should know
Have you registered with us yet?
Register now to enjoy more articles
and free email bulletins.
Register now
Already registered?
Sign in