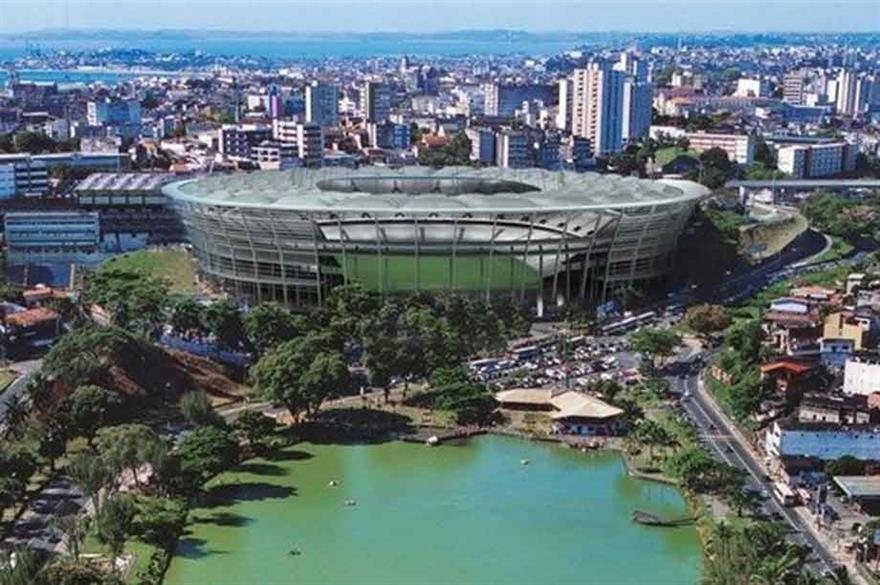 Teams: France, Switzerland, Ecuador, Honduras
Stadia:
Estadio Nacional, Brasilia
Capacity: 69,432
Games: Switzerland vs. Ecuador (15 June)
Did you know? The second-largest World Cup stadium is another environmentally friendly project and will be used for concerts and major cultural events in the nation's capital.
Estadio Beira-Rio, Porto Alegre
Capacity: 42,991
Games: France vs. Honduras (15 June)
Did you know? Nicknamed the 'Gigante do Beira-Rio' (The Giant of Beira-Rio), the largest ground in southern Brazil is home to the Internacional club and will be revamped for 2014.
Arena Fonte Nova, Salvador
Capacity: 51,708
Games: Switzerland vs. France (20 June)
Did you know? The stadium complex – in Brazil's first capital city – will house a panoramic restaurant, museum of football, shops, hotels and a concert hall.
Arena da Baixada, Curitiba
Capacity: 38,533
Games: Honduras vs. Ecuador (20 June)
Did you know? Also known as Estadio Joaquim Americo, the home ground of Atletico Paranaense was built in 1914 and renovated in 1999.
Arena Amazonia, Manaus
Capacity: 39,118
Games: Honduras vs. Switzerland (25 June)
Did you know? In the heart of the Amazon, the sustainable, rainwater-collecting stadium is built to resemble a straw basket. Oh, and England play their opener here, in case you hadn't noticed.
Maracanã – Estádio Jornalista Mário Filho, Rio de Janeiro
Capacity: 74,689
Games: Ecuador vs. France (25 June)
Did you know? One of the world's most famous arenas, The Maracana is the biggest in Brazil and once held 200,000 fans. Rio's second most popular tourist attraction will host seven matches, including the World Cup Final on July 13.
Base camps:
France
Hotel JP, Ribeirão Preto
Distance from Sao Paulo: 308km
Rooms: 162
Meetings space: Indoor and outdoor conference facilities
Switzerland
La Torre Resort, Porto Seguro
Distance from Rio: 1,114km
Rooms: 230
Meetings space: N/A
Ecaudor
Hotel Vila Ventura, Viamão
Distance from Sao Paulo: 1,131km
Rooms: 28 apartments
Meetings space: N/A
Honduras
Hotel Transamerica Executive, Porto Feliz, Sao Paulo
Rooms: 74
Meetings space: Three rooms with a capacity for 120 people
Click here to see C&IT's full round up of Brazil 2014 World Cup Stadia and Brazil 2014 World Cup Base Camps.
Have you registered with us yet?
Register now to enjoy more articles
and free email bulletins.
Register now
Already registered?
Sign in