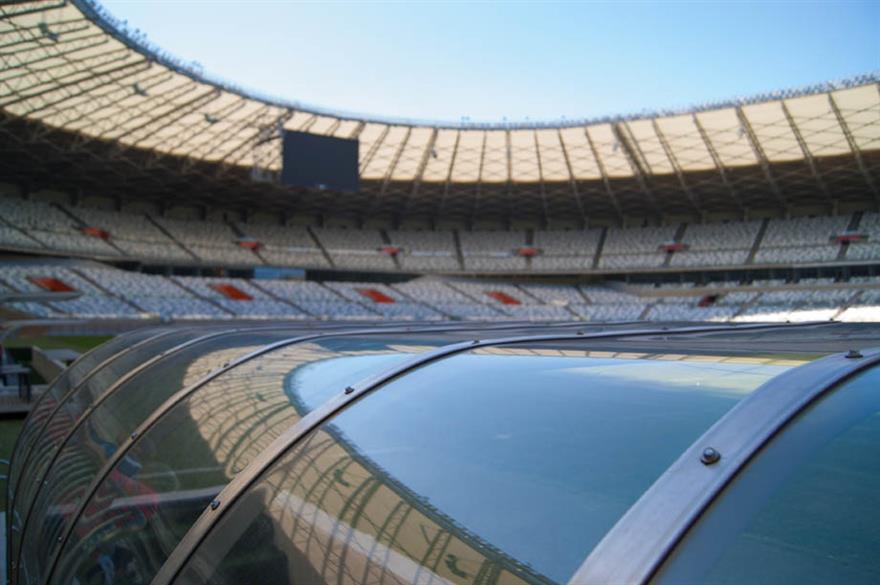 Arena Amazonia, Manaus
Capacity: 39,118
Did you know? In the heart of the Amazon, the sustainable, rainwater-collecting stadium is built to resemble a straw basket. Oh, and England play their opener here, in case you hadn't noticed.
Arena da Baixada, Curitiba
Capacity: 38,533
Did you know? Also known as Estadio Joaquim Americo, the home ground of Atletico Paranaense was built in 1914 and renovated in 1999.
Arena de Sao Paulo, Sao Paulo
Capacity: 61,606
Did you know? It is hoped that construction of the brand-new home of world-famous club Corinthians will aid development of one of Sao Paulo's most deprived areas.
Arena Fonte Nova, Salvador
Capacity: 51,708
Did you know? The stadium complex – in Brazil's first capital city – will house a panoramic restaurant, museum of football, shops, hotels and a concert hall.
Arena Pantanal, Cuiaba
Capacity: 39,859
Did you know? The stadium's nickname is 'O Verdão' (The Big Green), due to its strong sustainable credentials and proximity to Brazil's Pantanal tropical wetlands.
Arena Pernambuco, Recife
Capacity: 42,583
Did you know? Recife is home to three famous clubs: Santa Cruz, Sport and Nautico, with the latter taking over the new stadium post-World Cup as its new home.
Estadio Beira-Rio, Porto Alegre
Capacity: 42,991
Did you know? Nicknamed the 'Gigante do Beira-Rio' (The Giant of Beira-Rio), the largest ground in southern Brazil is home to the Internacional club and will be revamped for 2014.
Estadio Castelao, Fortaleza
Capacity: 60,348
Did you know? The remodelled Castelao will form part of a complex with restaurants, cinemas, a hotel and an Olympic centre in preparation for Rio 2016.
Estadio das Dunas, Natal
Capacity: 38,958
Did you know? The new stadium's 'daring undulating structure' is designed to imitate the incredible sand dunes that the Natal area of Brazil is famous for.
Estadio Mineirao, Belo Horizonte
Capacity: 58,259
Did you know? Another sustainable venture, the remodelled 'Mineirão' – home to Atletico Mineiro and Cruzeiro – can capture, store and re-use up to 6,270,000 litres of rainwater.
Estadio Nacional, Brasilia
Capacity: 69,432
Did you know? The second-largest World Cup stadium is another environmentally friendly project and will be used for concerts and major cultural events in the nation's capital.
Maracanã – Estádio Jornalista Mário Filho, Rio de Janeiro
Capacity: 74,689
Did you know? One of the world's most famous arenas, The Maracana is the biggest in Brazil and once held 200,000 fans. Rio's second most popular tourist attraction will host seven matches, including the World Cup Final on July 13.
Have you registered with us yet?
Register now to enjoy more articles
and free email bulletins.
Register now
Already registered?
Sign in