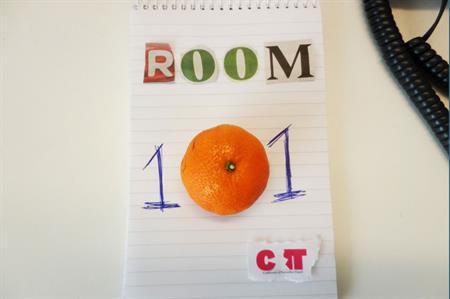 Check out the latest C&IT TV video (above) to see what FICO, TUI Travel and Adding Value put in their Event Industry Room 101.
Look inside many people's Room 101 and what will you find? Jeremy Clarkson? Simon Cowell? Traffic wardens? Probably, but when it comes to event professionals you'll find enough industry related pet hates to make the blood boil...
Extortionate wi-fi and average AV
What's that sound? It's teeth grinding from event professionals across the land. Planners who pay a premium for internet connection want to know when will venues get with the times and start listening to their clients?
"Venues have to be realistic about what they offer. Most clients believe wi-fi should be included in the cost, after all, aren't you just paying for a small black box in the corner of a room?" says Charlie Hepburn, managing director at Vivid Event Group.
Emily Aldridge, sales and marketing manager at Pure Events, says its not just wi-fi that gets on her nerves: "Technology and AV requirements are almost a given, so we find it so frustrating when venues promise us AV and we are given a projector and screen that have seen better days or a team that lacks knowledge about the AV they are providing."
In December, C&IT published statistics from an Etherlive survey saying that 91% of event planners are dissatisfied with venues over their WiFi capabilities.
Venues that are all style and no substance
Rob Bagust, project director at BI Worldwide, thinks the solution for this is obvious: "It is frustrating when venues don't consult planners when designing their event spaces. Industry professionals want something effective and useful, as opposed to a venue that just looks pretty.
Finding a venue that can seat 500 people for the client's gala dinner is fine, but when the room adjacent can only fit 250 you can say goodbye to the all-important pre-dinner drinks.
Food failures
So much planning and preparation goes into all types of events, but when one particular detail is ignored it can be painstakingly obvious, no matter how tiny.
"One of the things we see people complaining about a lot is the choice of refreshments," says Micky Robinson, marketing manager at The Black Tomato Agency. "It's important to get right. Even if the event is a massive success, if you get the food wrong that tends to be the first thing that people complain about."
Talking from experience, Hannah Fletcher, events & marketing manager at Chambers Travel, states: "As trivial as it may seem my biggest bugbear is when caterers do not put food labels on the buffet. Nut allergy nightmare!"
Top of the Tweets
@Sintillatejones
@CITmagazine yes, I was recently asked to pay £20 + VAT per person for wi-fi at a 5 star hotel after already spending £87.00 DDR x 400 pax!
@CITmagazine charging for tastings #eventroom101
@CITmagazine the cost of printing while you're onsite in a 5 star hotel #eventroom101
@BlackTom_Agency
Predicting a few replies about choice of refreshments @CITmagazine. It always comes down to food...
Was your all-time event industry bugbear not featured? Tweet us at @CITMagazine or email jack.carter@haymarket.com to let us know what you'd put in your Room 101!
Have you registered with us yet?
Register now to enjoy more articles
and free email bulletins.
Register now
Already registered?
Sign in