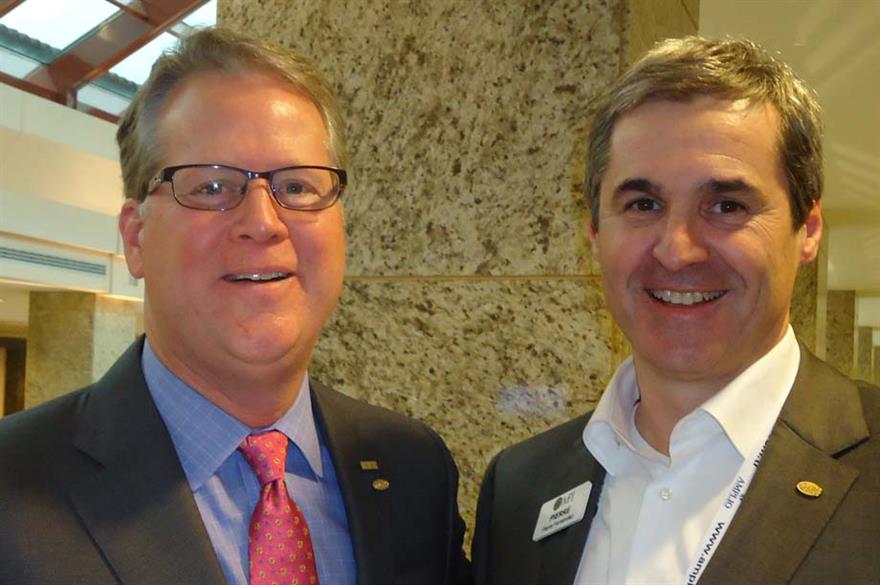 What challenges are event planners facing globally, and specifically in Europe?
Van Deventer: The challenges are consistent globally, but there is a regional impact. North America tends to be restricted by time constraints, but Europe is being affected by financial budgets.
At a conference, there is a financial investment, time investment and a brand investment. Budgets for finance and time are constrained and the brand is getting confused because people have multimedia sources.
Events have to be flexible. With EMEC this year, we have made it a shorter event, which is very common now. Meeting planners are being asked to deliver more content and more takeaway value in a shorter period of time. You have to think creatively, use impactful speakers, offer different types of learning experiences and make an emotional connection that the delegate will take away. There is also the challenge of making the content live beyond the event and incorporating hybrid elements.
Fernandez: In the UK, things seem to be improving, but that's not the case in southern parts of Europe, such as France, Spain and Italy. Germany is a booming economy. It's a complicated picture across Europe.
What meeting trends can we expect to emerge in 2014?
Ven Deventer: When I started in this job, everyone was asking whether hybrid meetings would kill face-to-face meetings. Already we have come through this and we know it is not the case. In fact, research suggests that technology and social media is increasing the number of meetings.
Everyone assumes that millennials spend their time on a smartphone so they don't interact socially, but what we're finding is that the smartphone is driving people to find new groups to get together with, so they actually want to have more face-to-face meetings.
What are your plans for MPI in 2014?
Van Deventer: When I joined 10 months ago, we wanted to stabilise and re-energise MPI. We have re-focused our strategy globally and simplified our message. MPI's focus is on professional career development and being a voice for the industry – it's that simple. Our industry is not promoted very well for its economic value or from a career perspective and it's a great industry for businesses and governments to invest in. We want to make sure that message is getting out there.
Fernandez: We have implemented a number of changes at EMEC this year. The education has been targeted towards business development because we have very senior planners and suppliers here and teaching them to be a planner isn't what they're always coming here for. They want to be better business people. We will be expanding the curriculum in this way across all our events.
In Europe, we will be looking to re-connect with out chapter leaders and their members. We have a new financial business model to support local education.
More from #EMEC14
In Pictures: EMEC 2014 highlights
TEDx event organisers urge planners to 'dream big'
In pictures: MPI EMEC 2014 opening day
Measuring delegate experience is key to SMM
Certification for event planners 'more important than ever'
Have you registered with us yet?
Register now to enjoy more articles
and free email bulletins.
Register now
Already registered?
Sign in