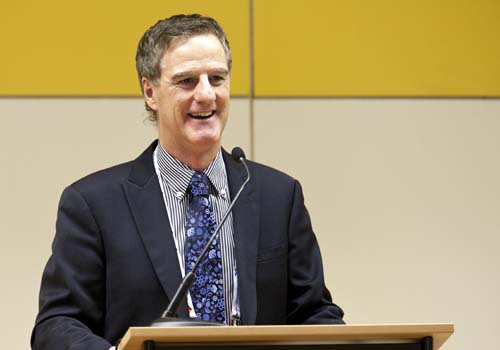 Speaking yesterday (19 November) at EIBTM 2013 in Barcelona, Rob Davidson, senior lecturer in event managment at the University of Greenwich, delivered his annual Trends report.
Key findings presented in the report included: a recovery in the corporate meeting sector; a significant increase in association conferences; a significant increase in optimism in the incentive travel sector; and an inversion of the global growth patterns seen since 2008, with advanced economies strengthening and emerging market economies slowing down.
He said: "There is an improvement in the global economy and a new optimism. When companies feel the economy has stabilised, they are much more likely to dip into their pockets. The recovery last year was fragile, but this year it has been slow but much more stable."
"The Eurozone countries are coming out of recession and there is a north-south divide, with northern countries doing much better.
"The BRIC economies – Brazil, Russia, India and China – have had a disappointing show in comparison to last year with growth slowing. However, they still have growth rates that we envy here in Europe.
"China began 2013 badly but bounced back in the second half of the year."
Key client sectors
Globally, the automotive market grew by 3% in 2013 and it is expected to grow by 4% in 2014.
In the US, new automotive jobs account for 30% of the expansion in manufacturing employment. China remains the global pace-setter.
Davidson said: "Sadly, in Europe, the outlook is less positive with more than half of European assembly plants under utilised."
The pharmaceutical market also saw growth, although not particularly in Europe, where the market dropped by 2%, and by 1% in the US.
"The pharma market in China alone grew by 30%, although just because these companies are based in China, it does not mean that China is where they will hold their conferences and incentive trips," said Davidson.
"There is optimism in the ICT market too. There has been a huge growth in gadgets, which means companies are investing more than ever. The markets that have been earmarked as being the most promising are Canada, Mexico, South Korea and Brazil."
The US, China and India has sent the highest level of employment growth, which is important for our industry too.
'CIVET' nations
Davidson also highlighted the CIVET nations – Colombia, Indonesia, Vietnam, Egypt and Turkey – as a new group of countries that economists believe are set to emerge in the next decade. "These are the countries to watch. They have large, young populations with natural resources and are predicted to be the economic boomers of the next decade."
EIBTM 2013 runs from 19-21 November in Barcelona.
Have you registered with us yet?
Register now to enjoy more articles
and free email bulletins.
Register now
Already registered?
Sign in