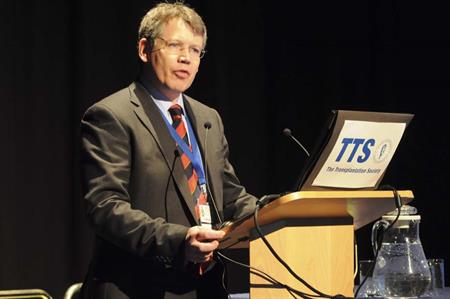 The Transplantation Society explores the cutting edges of functional genomics, proteomics and genetics for transplantation by bringing together a host of scientists and researchers in the field of transplantation.
The organising committee decided to hold its 4th International Conference on Transplantomics and Biomarkers in Organ Transplantation in Cambridge because of the city's world-renowned reputation as a centre of excellence for technology and science and also alumni connections with key conference speakers. The three previous conferences had been held in San Francisco, Barcelona and La Jolla.
Kathy Tsandilas, Meetings Manager for the Transplantation Society explains: "Having chosen Cambridge, the next step was to contact Conference Cambridge, the venue-finding service for the University of Cambridge and the Colleges.
"Having given them our event requirements – a three day conference for 125 people with 78 on-site bedrooms, space for our private formal Conference Dinner and also our poster exhibition – the Conference Cambridge team then circulated these details to all its venues before sending back a shortlist of five.
"From these, we selected two and eventually chose Homerton which could meet all our requirements under one roof and had alumni connections with our Conference Chair Professor Steven Sacks, Director, Medical Research Council (MRC) Centre for Transplantation at King's College London and keynote speaker Dr Jeremy Chapman, Director of Acute Interventional Medicine and Director of Renal Medicine, Westmead Hospital, Sydney Australia."
Challenges and solutions
"One of the key challenges for me was having to make decisions and arrangements without conducting an on-site inspection, as I am based in Canada. However this did not prove to be a problem and was overcome with excellent communication throughout, involving many, many emails and conference calls.
"Inevitably not having a site visit and being able to 'walk the walk' did result in a few minor hitches such as the exact location of rooms and the routes delegates were to take and as with any event, there were some last-minute requests for additional IT equipment and technical support which were handled willingly and efficiently by the Homerton team.
"We also had a change of contact in the Homerton team in the lead up to the Conference, which could have posed problems in terms of continuity, but actually the handover between the leaving member of staff and the person who took it over was thorough and seamless."
Post-event analysis
"Our fourth International Conference was very successful. The facilities at Homerton College were excellent – we used the Ibberson Building for our scientific sessions and The Great Hall provided a perfect backdrop for our Conference Dinner. We also enjoyed poster viewing with cheese and wine which was very enjoyable and encouraged networking and interaction between the delegates.
"The Homerton Conference team including the Porters' Lodge were very pleasant and helpful throughout the event.
"The team at Conference Cambridge was also very knowledgeable and willing to help and really worked as an extension of the on-site team during the event. It was very useful to tap into the 'one stop shop' service in the initial stages which highlighted available venues that could accommodate all our requirements.
"Last but not least, Cambridge was a great city for the Conference. We were delighted with the location of Homerton College in relation to the centre of Cambridge which enhanced the delegates' visit as they were able to take in some of the world-famous sights such as King's College Chapel, punting on the Cam and historic Colleges. Using Cambridge as our base also meant that we could use more local speakers for our sessions which reduced overall costs for the conference."
Factfile:
Organisation: The Transplantation Society
Event: 4th International Conference on Transplantomics and Biomarkers in Organ Transplantation
Date: 4-6 April 2013
PCO: Kathy Tsandilas, Meetings Manager, The Transplantation Society
Venue: Homerton College, Cambridge
Fees: TTS members $375, early-bird rate $325.
Timeline
April 2012
Event enquiry received by Conference Cambridge
24 May 2012
Venue search shortlisted to two
29 May 2012
Conference committee chooses Homerton College
1 March 2013
Early-bird registration deadline
4 April 2013
Event opens
Have you registered with us yet?
Register now to enjoy more articles
and free email bulletins.
Register now
Already registered?
Sign in