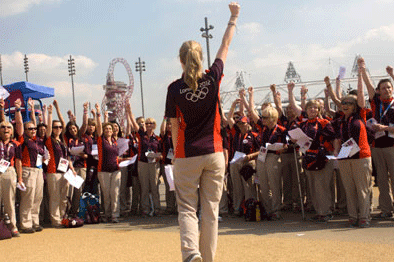 For sponsor BMW, the 2012 Olympics put a huge pressure on workloads, with events unrelated to the grand spectacle up by more than 20%.
Ex-BMW events manager Paul Andrews, who guided the division through the Games, says that measuring the ROI of the event is tricky, and that ROO (return on objective) is a better term. "The event created a huge energy, excitement and pressure for the company. We went in with high level support and clear goals. The UK is our fourth largest market, and we wanted to have a big presence in London so it all came together perfectly," he adds.

The pay-offs were worthwhile and long-lasting, according to Laura Capell, managing director of Sledge, who says there is an increased demand for the theatrical.

"After the Olympics Opening Ceremony, there has been an increased interest in light shows and adding a theatrical element to events, however, budgets are still restricted to the necessities, so clients do not want to use technology that is too frivolous," she adds.

Another positive spill-off from the Games, according to Capell, is that clients are paying closer attention to their CSR policies. "However, I sense it is more of a box-ticking exercise," she adds.
Disruption
For many, the Games was not so beneficial, causing disruption to regular event schedules. Dale Parmenter, managing director, DRP Group attributed a dip in turnover to this effect. "The Olympics, as well as delaying or cancelling much of our regular business was a real highlight of 2012 too. Our paralympic activity with Sainsbury's was a really rewarding and interesting job for us," he adds.
TRO's executive chairman Rob Allen felt a similar effect. "2012 was a year where everything changed. the timings of events was greatly changed due to the Olympic games, which changed the schedules for a lot of corporates. We're not an agency that relies entirely on events as we operate in many sectors. In contrast, 2011 was an unusually buoyant year for us," he adds.
Others didn't benefit directly, but claim that the whole industry will be boosted by the global exposure. Matthew Wall, vicve president operations at BCD says: "The Olympics did not have a negative affect on business, there wasn't a downturn in demand and they gave a good impression of the events industry and what we're capable of," he adds.
Brazil bound
Eyes are now on Rio for 2016's big event, wirth agencies including RT Marketing already confirmign their interest. However, BMW, which reportedly spent £300m on the Games, will not be playing a sponsorship role when the Games heads into Rio. Andrews adds, however, that sponsorship spend at BMW is still high.
A near flawless 2012 put London, and the UK in a glowing light, and while some – including DRP and TRO – saw a dip as a result, its telling that both companies are predicting record years.
Have you registered with us yet?
Register now to enjoy more articles
and free email bulletins.
Register now
Already registered?
Sign in