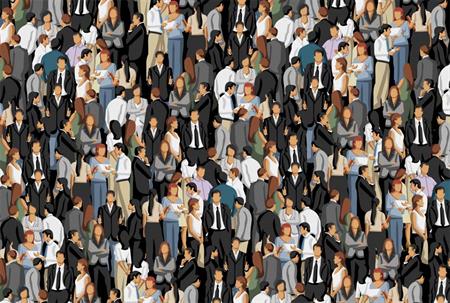 Events and discounts are often cited as the primary benefits of joining an association, so using your events as a key part of your membership marketing strategy should be integral to your event, regardless of its size.
One of the most effective ways to attract non-members is to use your association executives and current members as advocates. Officially recognise these members through an ambassador programme, consisting of those who will encourage others to join. Coloured badges at an event can be used to identify non-members.
Another way to boost members is to develop a marketing campaign that uses members' experiences of your association. Potential members will have a better understanding of what your association can do for them through their colleagues' views, rather than your own marketing. Exceeding expectations will encourage more members to tell their friends, too.
The European Society of Cardiology reports that it has widened its audience by partnering with national and regional associations across the world. Develop relationships with complementary associations by sharing content or speakers, which will attract new delegates and potentially allow you to convert them to members on-site.
Associations should also encourage sponsors to promote the event. "Your sponsors' key customers may not necessarily be your members, and the wider your promotion, the more opportunity you have to increase membership and bookings," explains Sarah Garry, association manager at Kenes UK.
Many events now provide sponsors with a promotional package - web banners, email footers and custom emails. For example, The Horticultural Trades Association says sponsorship prices can be kept low if partners help to promote the launch of an event. Many also offer a cashback package to provide an additional incentive to sponsors to do some of the leg-work.
However, recruiting new members can be costly and the practice should not be solely number-driven, warns Caroline Gutierrez, account manager at Congrex Belgium. "There is of course the cost factor to consider: there is no point spending a lot of money bringing in a few members - it is only worth it if there is a long-term commitment," she says. "Associations need to bring in members who will add a lot of value."
Engaging all generations
Generational change presents a danger. Amy Ledoux, senior vice-president of meetings for the American Society of Association Executives (ASAE), says: "Today's delegates want a personal experience where their needs are met. We live in a world where products are designed so the consumer can create their own experiences, like the iPhone or your coffee in Starbucks. The need for personalisation is now a key driver in delegate satisfaction."
Jason Dorsey, author and chief strategy officer of The Center for Generational Kinetics, explains: "The rate of change continues to increase. For the first time ever, there are four generations serving as members of associations and as association staff. This generational convergence is creating all kinds of new issues in areas such as communication, meetings and events, and member retention.
At The Center for Generational Kinetics, we predict a fifth generation is about to enter the association ecosystem - the iGen."
Associations first need to acknowledge that generations are different, and that there is power in leveraging these differences for the good of members and the association overall. "Look at how differences can strengthen specific aspects of your organisation," advises Dorsey.
For example, more senior attendees may be able to share proven career development strategies, whereas the less experienced can offer insight into technology trends or emerging perspectives. The challenge is finding the power in combining them.
Ann Corbitt, event organiser for the International Gay and Lesbian Travel Association, suggests change should be gradual: "The younger demographic wants an 'un-conference' feel, with shorter, interactive sessions. However, if you introduce too much change all at once, you will not connect with the older generation. It is about adding new components year after year and starting to move or 'train' older delegates and speakers to think in a different format."
Associations can look for answers in their current data too. By looking at the age distribution of current members, retained and non-retained members, new members and event attendees, they can identify trends and take actions that lead to measurable results.
Engaging stakeholders
"Ownership gives stakeholders an incentive to participate in an event they helped design. With an ever-increasing landscape of competition, the need for stakeholder engagement today is even more significant for an association's success," says Ledoux. "If stakeholders do not feel you are listening and meeting their needs, they will disengage and look for learning opportunities elsewhere."
Constraints on money and time are forcing all participants to be more selective about which events to engage with. "In response to the challenges facing associations, there is a wide spectrum of change trickling in to all stakeholders," confirms Richard Torriani, MCI Geneva's vice-president of congress management. "Events will become more participative, and the levels of engagement will be lifted through social media and new technologies."
Ownership from sponsors and exhibitors is essential. Creating opportunities for input with regard to meeting design, show layout, data gathering and technology enhancements to increase the effectiveness of the buyer and seller engagement is a must.
"Because of time and money pressures, there is a reluctance among volunteers to commit too," says Torriani. "This needs to be counteracted by motivating them on a higher level. Volunteers don't want to just show up and pay lip service. They want responsibilities and the capacity to make change."
A remuneration model for speakers should be explored, suggests Torriani. "One group of stakeholders that hasn't been much engaged with is speakers," he says. "There might be 500 people in the room, but, if filmed, a video may get 50,000 views. This creates a larger footprint of impact and extends the reputation of the speaker, and calls for a remuneration model to be considered."
FIVE WAYS TO ENGAGE PROSPECTIVE MEMBERS
1. Develop relationships with complementary associations
2. Use existing members as advocates and consider recognising these members through an ambassador programme
3. Develop a marketing campaign highlighting members' experiences of joining the association
4. Encourage sponsors to promote your event - many events provide sponsors with a promotional package including web banners, email footers and custom emails. Many also offer a cashback package as an incentive
5. Ensure you engage with members who will add value in the long term
Have you registered with us yet?
Register now to enjoy more articles
and free email bulletins.
Register now
Already registered?
Sign in