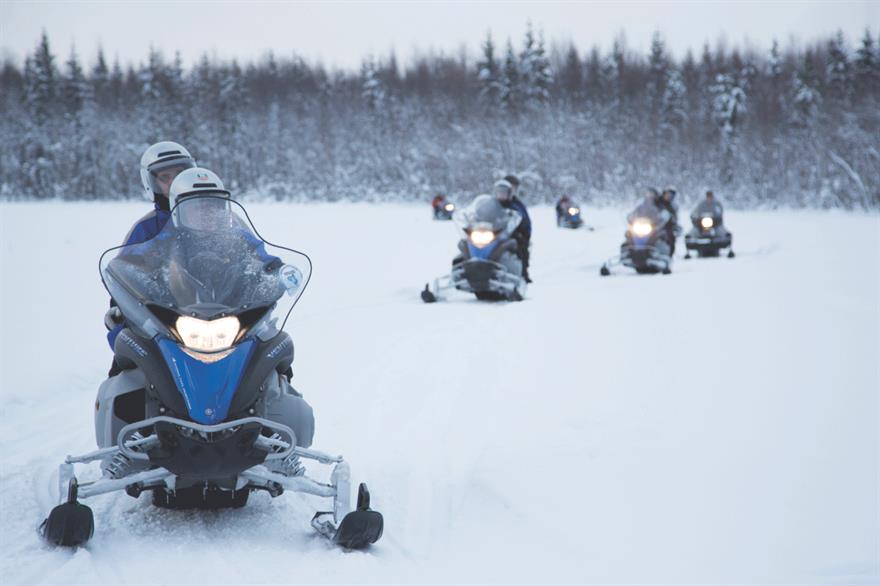 Pre-event planning: At the beginning of 2012, Group Se7en Events began working with Visit Sweden to promote Lulea - in Swedish Lapland - in the C&I market.
In connection with Visit Sweden and the Lulea Convention Bureau, Group Se7en devised a winter incentive competition, which was launched at International Confex in March 2012. Featured in the Confex edition of C&IT, the trip attracted more than 100 entries.
Indesit was chosen as the worthy winner in June and planning began in early July.
Objectives: The trip was designed as a reward for 12 high-achieving employees at Indesit. The aim was to provide a 'money can't buy' experience with an action-packed winter sports programme teamed with cultural activities.
"All venues and experiences had to be truly Swedish to promote Lulea to the MICE market as a winter incentive destination," says Lindsay Jameson, account manager at Group Se7en Events. Challenges
"The winning Lulea itinerary was planned before we knew the demographic of the winners," says Jameson. "So we put forward a programme that had something that would appeal to everyone."
A day in Stockholm was added to the itinerary to provide a contrasting city experience to desolate Lulea, which is a one-hour flight north of the capital. "The difference between Stockholm and Lulea allowed us to showcase the best of traditional and modern Sweden," adds Jameson.
Solution: "The itinerary included a mix of energetic activities and relaxing sightseeing days to appeal to the whole group," says Jameson. "Lulea is a destination that offers something different from most ski destinations that are usually favoured for winter incentives because there is a vast choice of things to do to appeal to all genders, ages and abilities. We suggested a jam-packed 24 hours in Stockholm, too, giving both Indesit and the winners a taste of what the city had to offer, sowing the seed for group members to return."
The programme incorporated a touch of culture with a visit to Lulea's Old Town, a traditional Swedish banquet and activities that ranged from traditional husky sledging to a snowmobile safari and ice driving.
"We wanted to include all of Lulea's highlights, so the stopover in Stockholm was only for one day and night," says Jameson. "To keep with the winter theme, we stayed at the Nordic Sea Hotel in Stockholm. The trip kicked off with a visit to the hotel's Ice Bar before dinner at Niklas, a famous Swedish restaurant. For the party animals in the group, this was followed by a chance to take in the city's diverse nightlife."
To see as much of the city as possible, the trip included a panoramic sightseeing tour, a visit to Stockholm's Old Town, Gamla Stan. It also incorporated Sweden's most famous museum, Vasa, and the Museum of Spirits, which is one of the more contemporary museums in the city. To round off the Stockholm leg of the trip, the group had a traditional Swedish lunch - a giant Swedish meatball and a traditional light ale at the Vasa museum.
In Lulea, the group stayed at the century-old Elite Hotel Lulea, which has its own English pub. Activities took place at Wilderness Lodge Ebbenjarka, 10km outside Lulea, which is set in a forest by a lake. The group enjoyed a rustic Scandinavian lunch in a wooden tee-pee restaurant.
Client verdict: Martin Rogers, Indesit's trade marketing manager, says: "This was no ordinary trip and I have memories that will never leave me thanks to the unforgettable activities that were planned for the group.
"It's not every day that you arrive at a location reminiscent of a Christmas card and where you imagined Santa lived when you were a child.
"To then be given the opportunity to trek through the woods on a husky-pulled sledge, to race go-karts on a frozen lake and to enjoy some of the most spectacular views while hurtling along at speed on a snowmobile was truly spectacular.
"If the business is able to sustain this type of incentive then I can honestly say from experience that those who are lucky enough to attend are guaranteed to return to work ready to give 110 per cent again."
Post-event analysis: Each member of the group wrote a testimonial of the trip and feedback from all delegates was extremely high. The activity day was a highlight and everyone agreed that the trip offered memorable experiences. This was Indesit's first incentive trip and it is looking to implement more in the future.
Jameson adds: "Stockholm is an ideal incentive as it is close to the UK, easily accessible from the airport by train and offers a city experience, while Lulea provides a once-in-a-lifetime experience in the middle of nowhere."
TIMELINE
March 2012: Visit Sweden launches incentive competition at International
Confex 2012
July 2012: Indesit wins competition
July 2012: Planning begins
February 2013: Incentive takes place

Factfile
Company: Indesit
Event: Incentive
Agency: Group Se7en Events
Group size: 12
Date: 14-17 February 2013
Venue: Lulea, Sweden
Have you registered with us yet?
Register now to enjoy more articles
and free email bulletins.
Register now
Already registered?
Sign in