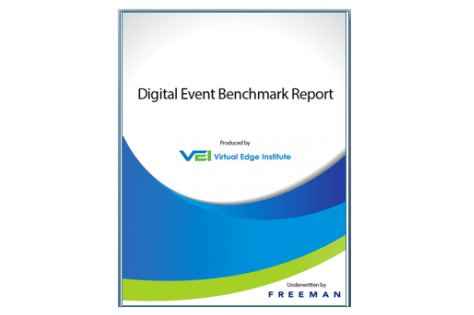 A new report conducted by the Virtual Edge Institute, commissioned by Freeman, found that attendees are increasingly turning to their screens to engage with organisations.
Some 67% of respondents indicate that their online attendance is increasing while 50% of respondents want to make money with their online event activities.
Elsewhere, 40% of respondents said they hope to leverage online events to drive participation in face-to-face events and 35% indicate that average attendees spend more than three hours in an online event.
Less than 25% of respondents charge money for live access to online events.
While the report highlights that many respondents are searching for sponsorship opportunities and new ways to earn revenue from content captured during events, the statistics show that many event producers are failing to promote that content to prospective customers after the event concludes.
A third (33%) of respondents do not have an ongoing marketing strategy to build awareness of on-demand educational content.
The inaugural Digital Event Benchmark Report collected findings from more than 200 event producers. Michael Doyle, executive director for the Virtual Edge Institute, said: "Engaging people using online meeting and event technology has never been more important. Armed with the information from this study, we can help the industry gain insight into best practices for digital events and hybrid extensions in order to improve event marketing ROI and deliver real results.
"Marketing is always an area our consulting clients want to know more about, with good reason. You can have the greatest content and experience built out for your online attendees, but if you don't get the marketing right, it's all for naught. The report has a section devoted to just this topic."
Have you registered with us yet?
Register now to enjoy more articles
and free email bulletins.
Register now
Already registered?
Sign in