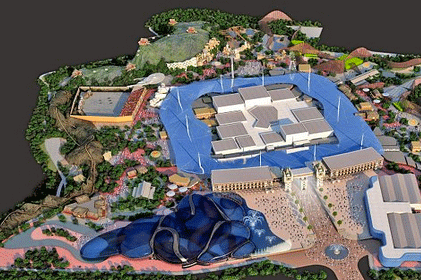 The Paramount theme park is billed as the third biggest theme park in the world, creating around 27,000 jobs and set for completion by 2019.
An environmental audit of the 872-acre brownfield site in the Swanscombe Peninsula in Kent has found it is home to a rare type of distinguished jumping spiders, prompting reports that the build could be put in jeopardy.
However, Tony Sefton, a project leader at London Resort Company Holdings, told C&IT that the reports were unfounded, and that the spiders will be a potential draw for customers.
"Reports in the press have been completely false. The rare spider colony was discovered in previous surveys, and is located on the edge of the park. The project is going ahead exactly as planned," he added.
Meanwhile, Dartford Borough Council told C&IT that the discovery of rare wildlife is commonplace in any large building project. Councillor Jeremy Kite, Leader of Dartford Borough Council, added: "I am actually rather reassured by the open and candid way that the needs of the spiders has been revealed and are being considered.
"An unspoiled natural environment already forms a huge part of these proposals alongside the built elements and it would be pretty arrogant to think that only humans and their projects matter. A solution will undoubtedly be found to secure and perhaps even enhance their future habitat," he added.
Paramount's theme park will include 30,000m2 of event space with attractions including a water park and studio area.
Have you registered with us yet?
Register now to enjoy more articles
and free email bulletins.
Register now
Already registered?
Sign in