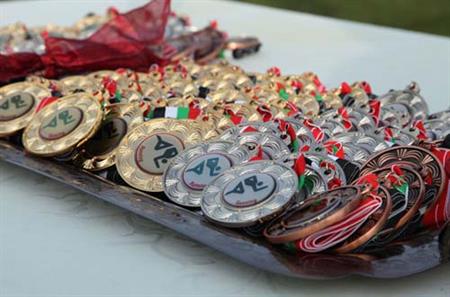 The Middle East Society of Organ Transplant congress (MESOT) addresses the medical and ethical issues in the transplant of human organs and, to raise awareness of organ donation and transplantation and to promote a healthy lifestyle among patients, the MESOT simultaneously organises the 4th Middle East Transplant Games (METG).
This was a two-day event held at the Armed Forces Officers Club in Abu Dhabi for patients who were either donors or recipients.
Ajay Bhojwani, director of MCI Dubai & Abu Dhabi says: "These events take place alongside each other as there is both an emotional bond between patients who are donors and recipients (such as parents and children, siblings and friends). This bond is used to mutually motivate one another and to ensure there is a continued and practiced healthy life style among all involved."
Factfile
Association: Middle East Society of Organ Transplant (MESOT)
Event: The 13th Congress of the Middle East Society for Organ Transplantation (MESOT)
Date: 12–15 December 2012
Venue: Jumeirah Etihad Towers in Abu Dhabi, United Arab Emirates (UAE)
Evening venues: Emirates Palace Hotel: Presidents Dinner; Fairmont Bab Al Bahar: Gala Dinner
Number of delegates: 800
Number of exhibitors: 15
Fees: £264 for early registration
PCO: MCI Dubai & Abu Dhabi
Challenges and solutions:
Marketing and communication
MCI had to develop a mass communication strategy with a social media component targeted to organ donors and recipients. In today's over-communicated environment where all major disease groups are already getting a lot of media attention, MCI had to develop a comprehensive communication strategy.
A huge PR and marketing drive was driven and managed by MCI to build awareness and harness the right audience and speakers. Bhojwani adds: "We were able with the help of our partners in the Government of Abu Dhabi to raise the awareness of the events addressing key ethical and medical areas of Transplantation through a press conference and numerous press releases and interviews in national dailies, online portals and allied media raising the awareness.
Reputation management
The METG has had an inconsistent record of being held in the region in the past decade. MCI's challenge was to re-create and collectively host the 4th METG in Abu Dhabi alongside the MESOT conference.
MCI worked with the METG Committee to gain endorsement and support from the right regional partners in Abu Dhabi and the region.
Raising participants
The other challenge was to bring in all the participants from each of the countries of the Middle East. There is no organised registry in most countries and so organisers had to contact active MESOT members to promote the event.
Post-event:
The Games were attended by 150 athletes from 23 countries who competed in running, swimming, table tennis and bowling heats. Women also competed in separate games – a first for Abu Dhabi.

METG served as a great preparation for Middle East athletes who will participate in the World Transplant Games to be held by the World Transplant Games Federation (WTGF).
The MESOT conference had created a social legacy programme by holding the 4th METG, building awareness on the regional scientific issues on organ transplant and on lifestyle changes endorsed by athletes who have been organ transplant patients.
Have you registered with us yet?
Register now to enjoy more articles
and free email bulletins.
Register now
Already registered?
Sign in