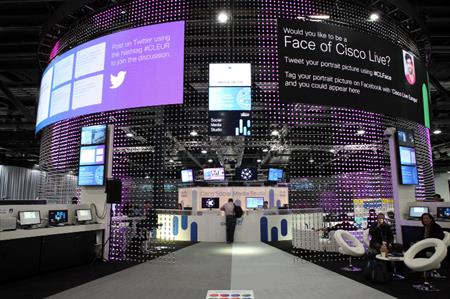 Cisco Live welcomed almost 7,000 Cisco customers, partners, analysts, journalists, Cisco speakers, hosts and executives from more than 70 countries when it arrived at ICC Excel London from Jan 28 – 1 Feb, 2013.
The show attracted 12% more delegates than last year, when 6,155 visitors took in the event. "This is due to more people with World of Solution passes, more Cisco people, more sessions, more speakers and a bigger Cisco Campus area. We also had a few more external attendees," said George P Johnson's vice president sales and marketing Kevin Jackson.
George P Johnson also reported more senior people attending the event for meetings and networking.
The event overall scored 4.50 out of five, Cisco Live's highest rating to date, with 99% of delegates stating it was a good investment of their time, and 99% saying the event met their primary objective for attending.
Delegates took to Twitter to praise many aspects of the content. "This is amazing," said Jackson. "We were pleasing an audience of almost 7,000 people."
Almost 9,000 social media posts were processed through the Cisco Social Miner tool, reaching 3.5m Twitter accounts, providing 37.5m impressions on the Twitter streams.
"We have received 162 blog mentions and dedicated posts to date, and over 1,250 photos and videos were uploaded to social media channels," added Jackson.
Have you registered with us yet?
Register now to enjoy more articles
and free email bulletins.
Register now
Already registered?
Sign in