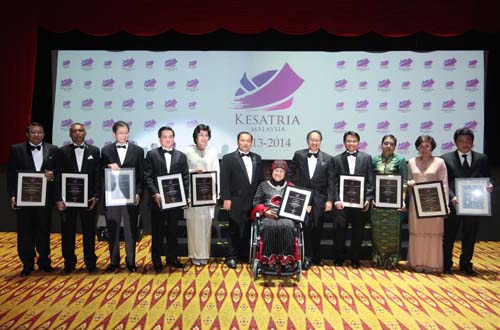 The Malaysia Convention & Exhibition Bureau (MyCEB) has appointed an additional ten Kesatrias ('Knight' or 'Warrior') to its ambassador programme.
The Kesatria 1Malaysia Programme was launched in 2012 with 17 leaders from key industry sectors, including presidents and past presidents of national associations that have planned large-scale international events in Malaysia.

Each leader's role is to promote the region to industry peers and to identify and encourage other potential local hosts to bid for and stage international conventions under the scheme.

The programme has generated 22 conference opportunities for the country, including the Toastmasters convention. These represent a potential for Malaysia to receive 46,000 delegates' arrivals and £114 million in economic impact for the country.
This year's ambassadors were appointed at a Kesatria Gala Evening at the Kuala Lumpur Convention Centre and come from various sectors including science and medical, research and innovations, education and law.

En. Zulkefli Hj Sharif, Chief Executive Officer of MyCEB said: "There is currently a strong, core group of associations in areas such as medical sciences and technology who are actively engaged with their respective communities internationally and are experienced in hosting their own national and regional meetings."

Newly-appointed ambassador, Mary Easaw, Chief Dietitian, Dietetic & Food Services National Heart Institute said her appointment has encouraged her to bring more nutrition and dietetics conferences into the country considering that one of Malaysia's core competencies in the business events industry is in the medical field.

YB Dato' Sri Dr Ng Yen Yen, Minister of Tourism Malaysia, added: "All of the honourable Kesatrias, play a very important role for us to achieve our 2020 goals, that is by incubating the next generation of bids and to promote Malaysia as a business events destination through their professional networks.

"Through their expertise, knowledge, flair and influence, we are confident that we would be able to achieve our goal to grow business tourism arrivals from 5 per cent to 8 per cent which translates to an increase of 2.9 million by year 2020."
Have you registered with us yet?
Register now to enjoy more articles
and free email bulletins.
Register now
Already registered?
Sign in