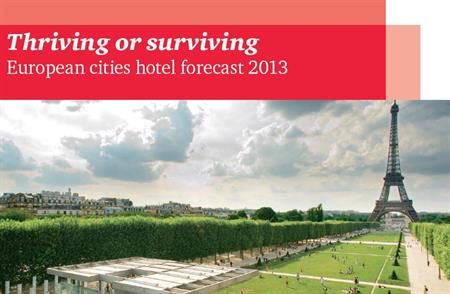 Analysing trends in 19 major cities, the PWC European Cities Hotel Forecast, highlights the need to "seize opportunities", as well as having a "clear strategy and skilful management".
With occupancy rates in London expected to dip to 77.1%, from 80.2% in 2012, the city will slip from first place to third in terms of occupancy, behind Paris (79.1%) and Edinburgh (77.2%).
Meanwhile, London is expected to see negative RevPar growth of 7.9%, according to the report.
PWC head of hospitality and leisure research Liz Hall said: "For London coming off an Olympic high, this is perhaps expected and the city will still enjoy very high absolute trading and profitability levels."
In terms of meetings and events, issues that will be key in 2013 include: meetings approvals becoming more difficult; increasing engagement via social media and a shift to local meetings.
However, top destinations for meetings in Europe are projected to be London, Paris, Amsterdam, Barcelona and Brussels.
PWC hospitality and leisure leader Robert Milburn added: "A return to a steady state of economic growth is not likely in the short term and the hotel industry has to adapt to this 'new normal' as well as to new trends and challenges facing the sector. Our 2013 forecast depends largely on how the eurozone crisis evolves. While currently we expect steady growth in many cities, if the crisis escalates, we may see even less promising results for the hotel industry.
"2013 may be largely about the economy but it will also be about seizing the opportunities created by past investment, a clear strategy and skilful management."
Milburn added that nonetheless, London has a "post Games legacy of modernised and new hotel products to attract visitors and compete with the world's best".
Have you registered with us yet?
Register now to enjoy more articles
and free email bulletins.
Register now
Already registered?
Sign in