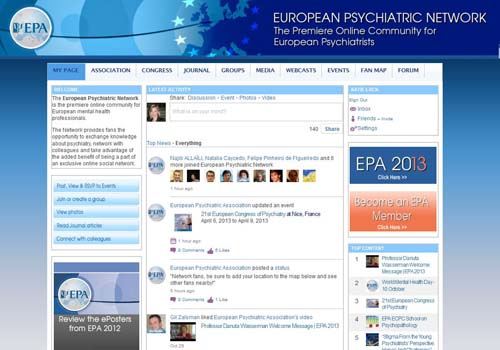 The European Psychiatric Association launched the European Psychiatric Network in November 2011 - a dedicated social network for psychiatrists and related health care professionals. Katie Luck, events and communication manager, looks back on its first year.

Did you consider setting up the network through Facebook or Linkedin? Why did you not use these mediums?
We did consider setting up the network through Facebook or LinkedIn. However, due to the nature of the discussions of our members and of psychiatry in general, the European Psychiatric Association (EPA) decided that a more private network was needed.
Additionally, creating our own network allowed us to brand it entirely around the EPA. We do use Twitter for other purposes and it is integrated into the European Psychiatric Network.
Why did you set it up?
The EPA is committed to helping psychiatrists develop in their careers by enabling them to network, share research and learn from their colleagues and peers across Europe and beyond and benefit from a close and dynamic online community.
The European Psychiatric Network was set up in order to build such an online community for EPA members, EPA Congress participants and other interested mental health care professionals to interact with each other before, during and after EPA events.
Who is the network open too? Just members?
All psychiatrists and related mental health care professionals are invited to join the Network and become fans.
Not only does it allow EPA to promote the association and our events and activities such as the EPA Congress, but it also promotes psychiatry in general.
The network provides fans with the opportunity to exchange knowledge about psychiatry, network with colleagues and take advantage of the added benefit of being a part of an exclusive online social network.
The network will be particularly helpful in promoting EPA's 30th Anniversary in 2013, as many special events and activities will take place and a wide audience can be easily reached.
How will you drive users to it? What will users get out of it?
In a first step, dedicated mailshots promoting the network were sent to EPA's database of contacts as well as our congress database of contacts, managed by our PCO Kenes International. Fans may also invite colleagues to join and we have found that this functionality is very popular.
Exclusive content, only available on the network, is the key way of driving fans to actively use the network.
Webcasts and e-Posters from our congresses are available only through the network. Among other possibilities, fans have a unique discussion forum, an event calendar which allows fans to confirm their attendance and a media area to share photos and videos.
How do users access the network? Through mobile devices? Internet? Is there a fee to use it?
Fans (and future fans!) can access it through internet and mobile devices. There is no specific mobile app right now, however, we are considering this for the future. Access to the European Psychiatric Network is free at this time.
How successful has it been?
Since its launch, fan growth (including Twitter followers) has increased steadily. In December 2011, there were 1,296 fans and as of September 2012, we had reached 1,956 fans. The number of fans increases daily.
What software are you using?
We use an open source networking software.
How will you develop the network?
In the future, there will be even more exclusive content such as dedicated spaces for EPA members and for Early Career Psychiatrists and highlights on EPA Sections and EPA National Society/Association Members.
If you have any questions or comments on this topic, please share below.
Have you registered with us yet?
Register now to enjoy more articles
and free email bulletins.
Register now
Already registered?
Sign in