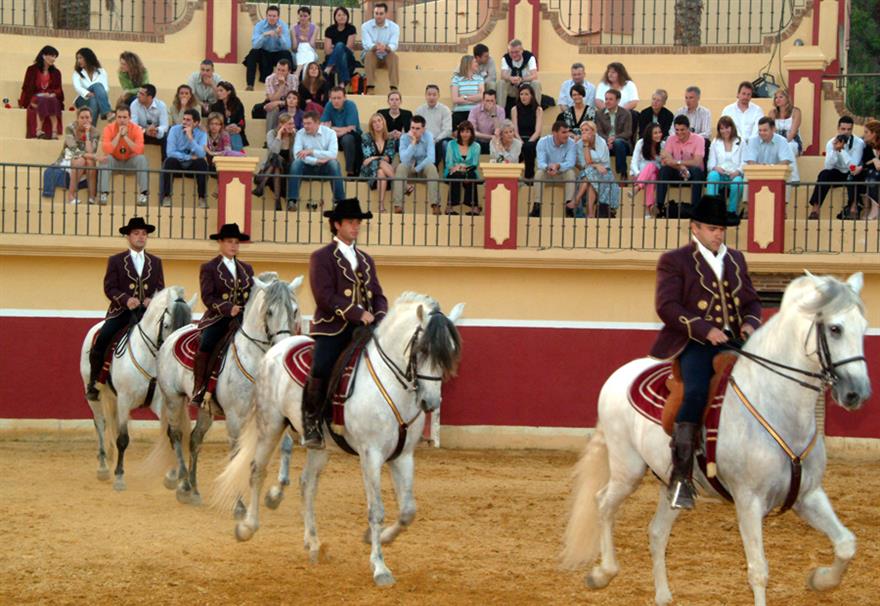 Horse show in Malaga
Situated in Malaga, Cortijo de Cortes is an old Andalusian country house and farm that can be hired by incentive groups for a truly Spanish experience. The venue is five minutes from Puerto Banus, within a short distance of many large corporate hotels for guests to stay in. Guests can enjoy a three-course Mediterranean-themed meal, after which they can be entertained by a traditional Spanish horse show. The venue can be rented for up to 350 delegates to be seated in the bullring to watch the show.
Lauren Hogg, venue consultant at DRP Group, says: "The Cortijo de Cortes is a versatile venue with its three courtyards and two halls for drinks receptions, entertainment and dinner. It means that delegates can move throughout this historic venue to break up the evening. The horse shows also provide a great talking point for guests."
Prices are from £1,045 plus VAT.
Flamenco in Madrid
Flamenco show Corral de la Moreria is next to the Royal Palace in the historic quarters of Madrid. Although the show started in 1956, the venue has been decorated to resemble the 18th and 19th century to create an authentic ambiance.
Delegates are treated to dinner at the 140-capacity restaurant, before watching the traditional Spanish dance show.
Arrangements can also be made for guests to take a flamenco dance class, where they can learn some of the steps to recreate when back home.
From £65 per person for three-course meal and show.
Real Madrid shootout
Home to the world-famous Real Madrid football team, the Bernabeu stadium in the capital can cater for a wide range of events, from a client presentation for ten delegates, through to an event for up to 80,000.
DMC Cititravel can organise an incentive experience that will appeal to any football fan - apart, perhaps, to those of bitter rivals Barcelona. Teams can have the chance to take part in a penalty shootout against the Real Madrid goalkeepers and use the players' dressing room to get changed in. Tours of the stadium can also be arranged, while lunch can be enjoyed onsite through the venue's catering service.
Prices on request.
Wine-tasting in Valencia
Incentive groups can sample Spanish wine at the 12-hectare Pago de Tharsys vineyard in Valencia, which can hold up to 150 people for an event. Tours of the winery can be organised, with larger groups split into two to visit the wine cellar and to taste the wines. Wine tasting courses are also available, and are given by the proprietor.
There is on-site accommodation for up to ten people in the Tharsys Lodge, in the vineyard, and associated catering can be arranged.
"Cheese and wine tastings are really popular in Spain. Guests have a chance to find out about the different regions of Spain and how to combine the various flavours with other types of food," recommends Katherine Needham, team leader, CWT Meetings & Events.
Tours from £2.40 per person.
Paella-making in Barcelona
Few experiences reflect traditional Spain quite like cooking and eating paella. La Viblia, a stylish restaurant on the seafront in Barcelona, allows delegates to get creative in the kitchen by cooking the Spanish dish while enjoying tapas. The venue can cater for groups of between ten and 20 people.
"La Viblia is a flexible space where guests can learn to make tapas along with the paella," says Gill Potter, senior project manager at The Motivaction Group.
"It provides real impact, with stunning views of the Mediterranean from the events room. There is also a stylish outdoor terrace lounge area, which is great during the day and lights up to become a drinks area with real wow factor in the evening."
Classes from £40.
Tomato-throwing in Bunol
Reward staff with a trip to the annual tomato fight festival, La Tomatina, in the town of Bunol. It is recommended that groups base themselves in nearby Valencia and travel the 24 miles by coach or train to the week-long festival, which attracts up to 50,000 people from around the globe.
Often used as a base for festival-goers, the four-star Primus Valencia hotel has 262 rooms and is close to Valencia's historic centre. It has seven meeting rooms that can be adapted to cater for up to 300 delegates.
DMC Ambiance Incentives can organise private showers for corporate groups, including a tent where they can change their clothes after taking part in the tomato-throwing action.
Rooms from £100 per night.
Directory
Spain Convention Bureau
Tel: +34 913 64 37 00
Email: scb@femp.es
Web: www.scb.es
Have you registered with us yet?
Register now to enjoy more articles
and free email bulletins.
Register now
Already registered?
Sign in