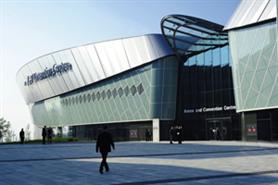 The £40m development at the city's Kings Dock will form part of ACC Liverpool, home to BT Convention Centre and Echo Arena.
Planning application
The city council and ACC Liverpool will now work with ISG to plan the 8,100sqm, three-hall exhibition centre and hotel, with a planning application scheduled to be submitted in March 2013.
Construction of the new facilities is set to commence in autumn 2013, with a scheduled completion date of spring 2015.
The city council is seeking an operator to manage the upscale hotel, which will be integrated with the centre.
Liverpool transformation
Mayor of Liverpool Joe Anderson said: "Building on the success of ACC Liverpool, Exhibition Centre Liverpool will continue our city's transformation into one of Europe's leading destinations for large-scale conferences, exhibitions and events."
Plans for Exhibition Centre Liverpool include meeting rooms, a business centre, public atrium and food and beverage outlets.
The three halls will each be 2,700sqm and will be separated by moveable walls.
The arrival of Exhibition Centre Liverpool will increase the existing 7,125 sqm of exhibition space at ACC Liverpool to 15,225 sqm of interlinked and flexible event space.
It will be directly connected to the existing facilities at ACC Liverpool, via a covered link.
First year
In its first year of operation, Exhibition Centre Liverpool is expected to host about 50 events and attract more than 250,000 visitors.
ACC Liverpool chairman David McDonnell said: "Exhibition Centre Liverpool will see us extend our capabilities and allow us to welcome hundreds of thousands of additional visitors to even more events.
"We are confident that the company will deliver a fantastic venue which will contribute hugely to the development of Liverpool Waterfront."
The city council is also moving forward with plans to deliver a hotel as part of the development. A procurement process will begin shortly to identify an appropriate hotel partner to work with the council, ACC Liverpool and ISG to design and construct the hotel element.
Have you registered with us yet?
Register now to enjoy more articles
and free email bulletins.
Register now
Already registered?
Sign in