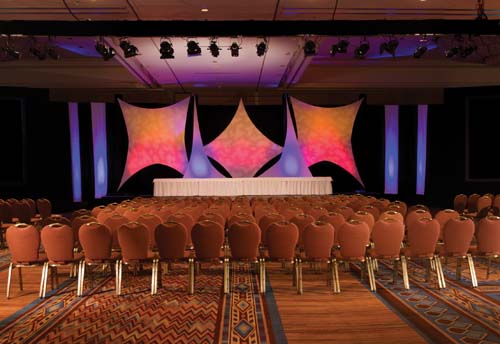 What conference venues are popular with associations in Scottsdale?
While Scottsdale doesn't have a convention centre, there is one in downtown Phoenix, which offers more than 900,000 sq ft of meeting and event space and more than two million in total square footage, making it one of the top 20 convention venues in the US.
In Scottsdale, there are a number of conference hotels that are ideal for association events. The Westin Kierland Resort & Spa offers nearly 200,000 sq ft in meeting space, including 37 meeting rooms and 10 outdoor spaces. The largest ballroom is 24,450 sq ft and can accommodate 1,910 guests banquet-style, 3,600 theatre-style and 1,500 outdoors.
Enhancements to Westin Kierland's existing Marshall's Pavilion were completed in summer 2011. The event space featuring a 3,400 sq ft covered area and 27,000 sq ft of lawn space now boasts new landscaping for added privacy and visual appeal.
As of January 2011, the resort's newest meeting and event space was completed. At 11,300 square feet, Trailblazer's Ballroom features floor to ceiling views of the desert landscape and Kierland golf course.

Fairmont Scottsdale Princess will become the largest meetings resort in the Fairmont Hotels & Resorts portfolio worldwide boasting indoor/outdoor space, including 47 meeting rooms and 21 unique outdoor spaces. The largest ballroom is 22,500 sq ft and can accommodate 2,250 for a banquet, 2,500 theatre-style and 8,470 outdoors.
The Fairmont Scottsdale Princess will debut its new conference centre this month, boasting an additional 52,331 square feet of indoor meeting space, anchored by the 23,000-square-foot Palomino ballroom. In the spirit of the Spanish horses that roamed the Sonoran desert, the new event spaces will exude strength, endurance and beauty.
The most affordable of the three hotels listed is the Doubletree by Hilton Paradise Valley, which offers 40,000 sq ft indoor/outdoor space, 27 meeting rooms and seven outdoor spaces. The largest ballroom is 12,064 sq ft and they can accommodate 850 banquet, 1,800 theatre-style and 1,400 for a reception outdoors.
What hotels are popular for delegate accommodation?
Any of Scottsdale's hotels would be great for association delegates, but assuming that groups would want their delegates to stay at the conference hotel, I'd suggest the three I've already outlined.
Most larger association business would end up falling toward this upper moderate or luxury set of our property membership based on the typical need for large meeting space. Off-peak season rates would tend to be where associations would gravitate.
What is available for evening events?
Receptions
Off-site venues for a reception includes the Scottsdale Museum of Contemporary Art, which has a public 'skyspace' where visitors can experience the ever-changing light of the desert sky; and The Clayton on the Park, which is Scottsdale newest event venue offering a lush, 21-acre urban park. Offering three distinct spaces, with floor-to-ceiling windows framing views of the park, the space can accommodate up to 450 guests, whether for a cocktail reception, formal dinner or gala event.
El Chorro offers an authentic Arizona desert setting at the base of Camelback Mountain, a perfect locale for a unique event; meeting; entertainment or group dining experience.
Evening gala dinner
The Musical Instrument Museum can accommodate 200 for a banquet. Mountain views can be enjoyed by 160 people at the SASSI. For an artistic venue, The Scottsdale Center for the Performing Arts, along with the Scottsdale Museum of Contemporary Art (SMoCA) and Scottsdale Civic Center grounds, house three theatres, six galleries, a 6,200-sq ft atrium and six outdoor venues, including a 2,000-capacity amphitheater.
Unique
Frank Lloyd Wright's Taliesin West can cater for 300 guests or try the Desert Botanical Garden. At Fort McDowell Adventures, 1,600 delegates can enjoy an authentic cowboy cookout under the stars.
Partner programme ideas?
Try a food walking tour of Scottsdale's Old Town, which is the number one rated attraction on Tripadvisor. Hire a Segway or take a shopping tour, courtesy of Spree.
Association events – past and present:

National Rural Electric Cooperative Association; Oct 2011; 1,500 room nights.
Society of Consumer Affairs Professionals in Business; October 2013; 500 attendees expected.
National Court Reporters Association; April 2015; 175 attendees expected.
Have you registered with us yet?
Register now to enjoy more articles
and free email bulletins.
Register now
Already registered?
Sign in